Young Richmond midfielder/small forward Jack Higgins has won the 2018 AFL Goal of the Year.
With Richmond holding a slender four-point lead over arch rival Collingwood, late in the third quarter of their Round 19 blockbuster at the MCG, Higgins showcased his high football IQ by conjuring up a miraculous goal.
SPEECH: Higgins snags Goal of the Year
Higgins set out in hot pursuit of a loose ball in Richmond's forward line, at the Punt Road end of the ground, that was seemingly rolling through for a behind.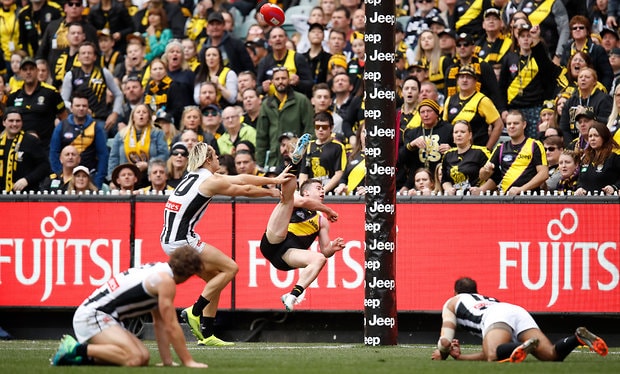 The clever Tiger cub, however, had other ideas . . .
Gathering the ball just before the behind-line, Higgins kept it in play by tapping it upwards, then somehow weaved his way around the right-hand goalpost just in time to soccer the ball with a flying scissor-kick that flew over his head and through the big sticks.
The spectacular six-pointer prompted respected, veteran 3AW commentator Tim Lane to describe it as, "one of the greatest, most creative goals ever kicked in 120 years of this game".
Higgins' miraculous effort against Collingwood beat efforts from Sydney's Luke Parker and Brisbane's Charlie Cameron for the 2018 Coates Hire Goal of the Year.
Richmond's Daniel Rioli won the 2017 Goal of the Year for his banana goal against West Coast at the MCG in Round 3 of the Tigers' premiership-winning season.