Tony Free is Richmond's next Homecoming Hero for the 2019 season.
The Tigers are set to pay tribute to Free in the lead-up to Sunday afternoon's Round 21 clash with Carlton at the MCG.
Free will walk to the Punt Road end of the ground, where he's sure to be warmly received by the Tiger Army.
He'll kick a ceremonial goal, then sign the football and present it to a Richmond fan in the crowd.
Highlights of Free's fine playing career with the Tigers also will be shown on the MCG's big screens.
ROUND 21 Upgrade to a reserved seat or buy your tickets at ticketek.com.au
Tony Free was recruited by Richmond from Victorian country club Lalbert.
He started off playing for the Tigers' under 19s in 1987 and had an instant impact.
During an under-19s match against St Kilda that year, he kicked 14 goals in an outstanding display.
So impressive was Free in his first year at Tigerland that by the end of the '87 season he'd forced his way into the senior side.
Free debuted at the game's highest level in Round 20 against St Kilda at Waverley Park.
The following year, under the coaching guidance of five-time Richmond premiership champion Kevin Bartlett, the tough, tenacious utility player established himself as a key, regular member of the Tigers' main line-up.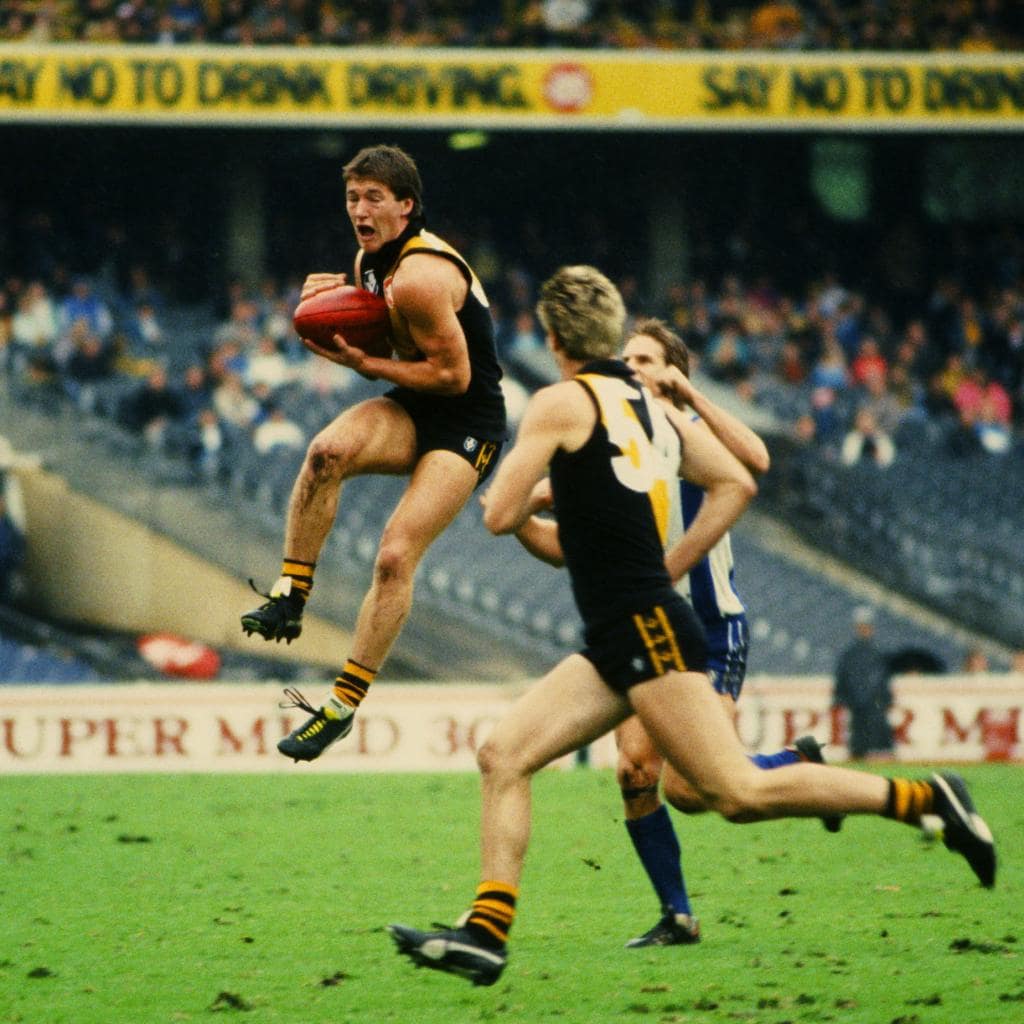 He played 21 games in the 1988 season and averaged 18.7 disposals per match playing predominantly through the midfield.
Free continued to flourish throughout 1989, which was just his second full season of league football.
That year, Free was ranked first in the competition for total kicks per game, and he was rewarded for his top-class, consistent efforts with an inaugural Jack Dyer Medal.
Over the next few seasons, Free defiantly flew the flag for the struggling Tigers.
With his ball-winning ability, ferocious, competitive spirit and vigorous style of play, he was a shining light at Richmond during dark times, and extremely popular with the Tiger Army.
In 1993, Free won his second Jack Dyer Medal after a season where he averaged an AFL career-high 24.1 disposals per game.
It was in the Round 5 match of the '93 season against North Melbourne at the MCG that Free racked up a career-high 39 disposals, despite the Tigers being beaten by six goals.
A natural leader, Free was officially appointed Richmond's captain in 1994. Unfortunately, however, what almost certainly would have been a long, distinguished stint as the Tigers' skipper, didn't eventuate.
Free had an excellent 1994 season and looked likely to lead Richmond into the finals, until the Round 19 clash with Sydney at the MCG, when he "ran into" Dermot Brereton, who was then playing for the Swans.
As a result, Free suffered a broken jaw, while Brereton was subsequently suspended for seven games.
Despite sustaining the injury in the second quarter, Free still managed to play out the game and was one of the Tigers' best players, further underlining his great courage and commitment to the Yellow and Black cause.
At the time of his injury, the inspirational Richmond captain was the leading disposal-winner in the AFL.
Bad luck followed Free into 1995, when he broke his jaw again during pre-season training.
He managed to recover quickly and was ready for on-field action again by the time the opening round of the '95 season came around.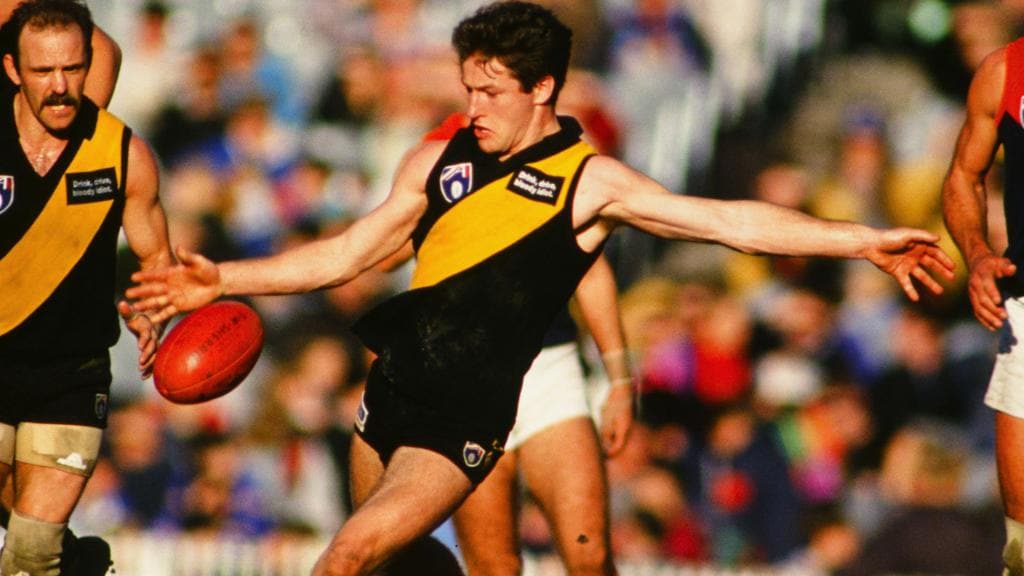 Just one month into the new season, however, Free's luck on the injury front went from bad to worse.
He tore his ACL in the Round 5 match against Brisbane at the MCG and consequently underwent a knee reconstruction that sidelined him for the remainder of that season.
Sadly, he played only one more senior game, early in the 1996 season, before being forced into a very premature retirement because of on-going problems with his knee.
DONATE NOW Donate to the Alannah & Madeline Foundation and help stop online bullying
Free was just 26 years of age at the time his 133-game AFL career with Richmond came to an end.
He would later return to Tigerland and serve on the Club's board of directors for several years.
Tony Free profile
Born: 27/6/1969
Height: 178cm
Playing weight: 79kg
Recruited by Richmond from: Lalbert
Guernsey number at Richmond: No. 30 and No. 49
Senior debut at Richmond: Round 20, 1987 v St Kilda, Waverley Park
Games at Richmond (1987-1996): 133
Goals at Richmond: 46
Honours at Richmond: Captain 1994-1996, dual Jack Dyer Medallist 1989, 1993
Here is a list of Richmond's Homecoming Heroes since 2014...
| | | |
| --- | --- | --- |
| 2014, Rd 2: Michael Green | 2014, Rd 4: Kevin Bartlett | 2014, Rd 6: Bryan Wood |
| 2014, Rd 13: Kevin Morris | 2014, Rd 14: Wayne Walsh | 2014, Rd 16: Barry Richardson |
| 2014, Rd 19: Rex Hunt | 2014, Rd 20: Francis Bourke | 2015, Rd 2: Bill Barrot |
| 2015, Rd 5: Andrew Kellaway | 2015, Rd 7: Mark Lee | 2015, Rd 9: Derek Peardon |
| 2015, R12: Dale Weightman | 2015, R15: Matthew Richardson | 2015, R17: Dick Clay |
| 2015, R20: Barry Rowlings | 2016, R6: Matthew Rogers | 2016, R7: Jake King |
| 2016, R8: Nick Daffy | 2016, R12: Nathan Foley | 2016, R14: Dan Jackson |
| 2016, R17: Scott Turner | 2016, R20: Jim Jess | 2016, R21: John Ronaldson |
| 2016, R22: Graeme Bond | 2017, R2: Roger Dean | 2017, R3: Richard Clay |
| 2017, R8: Mick Malthouse | 2017, R10: Michael Mitchell | 2017, R13: Shane Tuck |
| 2017, R14: Paul Broderick | 2017, R18: Stephen Mount | 2017, R20: Graham Burgin |
| 2017, R23: Trevor Poole | 2018, R3: Michael Roach | 2018, R4: Michael Gale |
| 2018, R7: Craig Lambert | 2018, R10: Stephen Rae | 2018, R16: Chris Naish |
| 2018, R19: Tony Jewell | 2018, R20: Gareth Andrews | 2018, R22: Mark Eustice |
| 2018, R23: Nathan Brown | 2019, R2: Geoff Raines | 2019, R9: Darren Gaspar |
| 2019, R10: Andrew Krakouer | 2019, R12: Jeff Hogg | 2019, R17: Greg Tivendale |
| 2019, R18: Ivan Maric | 2019, R21: Tony Free | |