Richmond assistant coach Adam Kingsley provides Richmond Media with an insight into Dion Prestia's form this year with a full pre-season under his belt.
WHAT'S YOUR FINAL 5? Attend any five of our last seven games at the 'G
His first full pre-season at Richmond
"We've seen the benefits of that. When he came here, he had injuries to his ankle, hamstring and knee. This year, he's been able to string together a full pre-season. From day one, he was up and about, really running strongly and training hard. He hasn't shown any signs of fatigue by having such a long and strong pre-season, so I'm really excited for him and he's playing really well. It's very important (to have a full pre-season) … to get that fitness base up and going, to get a feel for the structures and be immersed with their teammates to really learn and connect."
No. 1 ranking at Richmond for disposals and clearances this year
"They're great (numbers), and that's probably not the strength of his game. He's a fantastic transition player, his ability to get back and support his defence and get forward and hit the scoreboard has been really important for us."
His two-way running ability
"I think it's one of the best in the AFL. As I said, his ability to get back and support his defence, and he goes with speed, which is really important. It not only helps us defend but then gets our ball use up and going. And his ability to get forward, he's just a fantastic runner. There's not too many midfielders in the competition who can run both ways with him."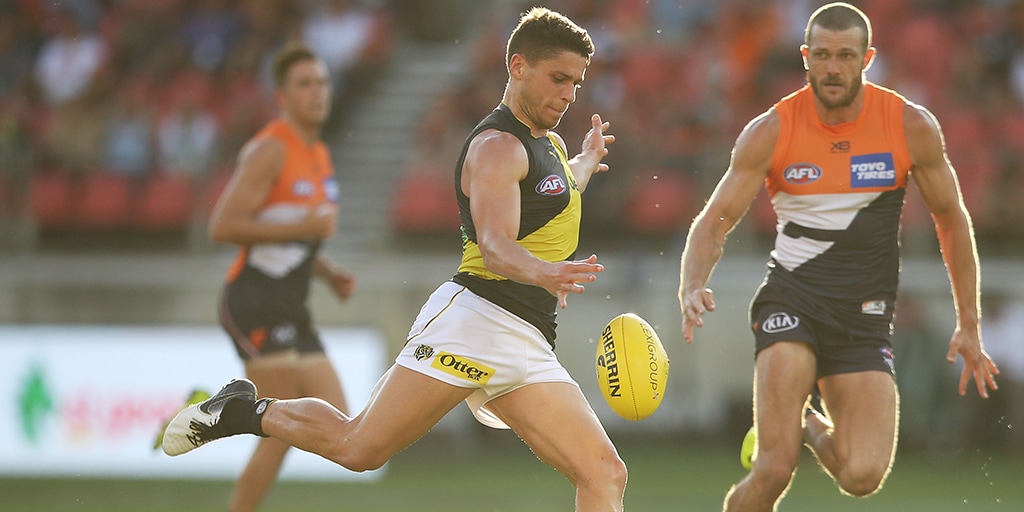 Leadership qualities
"He's really taking control of the midfield (in Cotchin's absence), certainly around stoppage and the structural part of the game, his ability to communicate, and get organised and get his teammates organised is really important for us, he's done a great job."
His balance
"I think that's why they call him the little meatball... he's short, stout and very hard to tackle, and really well balanced."
His preparation
"The way he prepares is a little different to most. He doesn't get too intense, he's quite relaxed and generally pretty quiet but goes about his business in a relaxed manner. I think that helps the other guys around him relax a little bit themselves. He's really important to our group and we're sure his form will continue."
Goal kicking
"He gets forward at the right time, it's just a matter of when to go and when to stay. He's got a pretty good balance of both. But certainly, if we can tidy up our ball use and help transition it a little better, he'll get involved (in scoring goals)."
View this post on Instagram