Merv Keane is Richmond's next Homecoming Hero for the 2019 season.
The Tigers are set to pay tribute to Keane in the lead-up to Sunday afternoon's big Round 22 clash with West Coast at the MCG.
Keane, a triple Richmond premiership player, will walk to the Punt Road end of the ground, where he's sure to be warmly greeted by the Tiger Army.
He'll kick a ceremonial goal, then sign the football and present it to a Richmond fan in the crowd.
Highlights of Keane's excellent playing career with the Tigers also will be shown on the MCG's big screens.
Merv Keane was recruited by Richmond from Victorian country club Wycheproof.
He started off with the Club's under 19s in 1971, was a member of the reserves premiership side that year, and then made his senior debut for the Tigers in Round 9 of the 1972 season against Fitzroy at the Junction Oval.
After four senior appearances during that '72 season, Keane went on to establish himself as a permanent member of the powerful Richmond line-up in 1973.
Keane played a valuable role as a half-back in the Tigers' 1973 Grand Final triumph over Carlton, and again the following year, with the Yellow and Black making it back-to-back flags, defeating North Melbourne in the premiership-decider.
When Richmond captured its next premiership in 1980, by virtue of a crushing Grand Final victory over Collingwood, Keane starred in the big game playing as a ruck-rover, picking up 27 disposals and kicking two goals.
Across his 13-year, 238-game league football career, Keane was an exceptionally reliable performer and worth his weight in gold for the Tigers.
He consistently curbed dangerous opposition players through his close checking and exemplary disciplined approach to the task at hand, which ensured he always put the team ahead of any personal accolades.
Keane went about his football business with minimum fuss and maximum efficiency.
Although he may have been under-rated by those outside Tigerland, he was held in the highest regard within the Club's inner sanctum.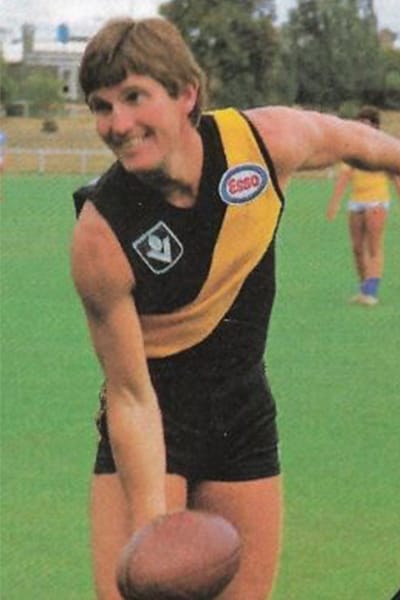 In an era where Richmond was blessed with some of the best players to ever wear the famous Yellow and Black guernsey, Keane contribution to the Tigers' cause was no less significant.
Aside from his first-class defensive attributes on the field of battle, Keane also possessed an impressive skill set. He was a fine mark, good kick, clever reader of the play, and had excellent poise.
Keane averaged a respectable 15.7 disposals per match throughout his playing career at Richmond, which underlines he could win the ball, as well as stop opponents from getting it.
Tiger 'Immortal' Kevin Bartlett was a huge fan of the way Merv Keane went about his football.
Here's what Bartlett had to say about Keane in his book "KB: A Life In Football" . . .
"He was a half-back who just kept beating his opponent, week in, week out.
"He was an exceptionally strong mark for his size. He had a strong sense of gravity and he held his feet. He wasn't flashy, nor exceptionally quick, and nor did he take skyscraping marks, he just beat quality opponents with monotonous regularity.
"He played the half-back flank almost his entire career. In the 1980 Grand Final, he made a rare foray out of the backline, at least for a while, when he played as a ruck-rover, changing at half-back with Terry Smith."
Keane was selected on a half-back flank in Richmond's Team of the Century. He's also a Tigers Hall of Fame inductee and Club life member.
Merv Keane profile
Born: July 29, 1953
Height: 185cm
Playing weight: 82.5kg
Recruited by Richmond from: Wycheproof
Guernsey number at Richmond: No. 40 and No. 18
Senior debut at Richmond: Round 9, 1972 v Fitzroy, Junction Oval
Games at Richmond (1972-1984): 238
Goals at Richmond: 36
Honours at Richmond: Triple premiership player 1973, 1974 and 1980, member of the Tigers Team of the Century, Richmond Hall of Fame inductee, Club life member
Here is a list of Richmond's Homecoming Heroes since 2014...
| | | |
| --- | --- | --- |
| 2014, Rd 2: Michael Green | 2014, Rd 4: Kevin Bartlett | 2014, Rd 6: Bryan Wood |
| 2014, Rd 13: Kevin Morris | 2014, Rd 14: Wayne Walsh | 2014, Rd 16: Barry Richardson |
| 2014, Rd 19: Rex Hunt | 2014, Rd 20: Francis Bourke | 2015, Rd 2: Bill Barrot |
| 2015, Rd 5: Andrew Kellaway | 2015, Rd 7: Mark Lee | 2015, Rd 9: Derek Peardon |
| 2015, R12: Dale Weightman | 2015, R15: Matthew Richardson | 2015, R17: Dick Clay |
| 2015, R20: Barry Rowlings | 2016, R6: Matthew Rogers | 2016, R7: Jake King |
| 2016, R8: Nick Daffy | 2016, R12: Nathan Foley | 2016, R14: Dan Jackson |
| 2016, R17: Scott Turner | 2016, R20: Jim Jess | 2016, R21: John Ronaldson |
| 2016, R22: Graeme Bond | 2017, R2: Roger Dean | 2017, R3: Richard Clay |
| 2017, R8: Mick Malthouse | 2017, R10: Michael Mitchell | 2017, R13: Shane Tuck |
| 2017, R14: Paul Broderick | 2017, R18: Stephen Mount | 2017, R20: Graham Burgin |
| 2017, R23: Trevor Poole | 2018, R3: Michael Roach | 2018, R4: Michael Gale |
| 2018, R7: Craig Lambert | 2018, R10: Stephen Rae | 2018, R16: Chris Naish |
| 2018, R19: Tony Jewell | 2018, R20: Gareth Andrews | 2018, R22: Mark Eustice |
| 2018, R23: Nathan Brown | 2019, R2: Geoff Raines | 2019, R9: Darren Gaspar |
| 2019, R10: Andrew Krakouer | 2019, R12: Jeff Hogg | 2019, R17: Greg Tivendale |
| 2019, R18: Ivan Maric | 2019, R21: Tony Free | 2019, R22: Merv Keane |