Richmond and Williamstown will add another chapter to their storied rivalry as they fight for premiership glory in the VFL Grand Final on Sunday at Ikon Park.
It will be the second Grand Final for the Tigers in three years after Richmond eclipsed Port Melbourne by 26 points in last Saturday's preliminary final, while the Seagulls toppled Essendon by the same margin.
SUPERSTORE Gear up for Finals with the Tigerland Superstore and show your support this September
The pair has met once this year, with Richmond putting in one its best performances of the season to knock off Williamstown on their home patch at Fort Gellibrand, a feat the Club had never before achieved.
The Tigers will look to repeat the dose on Sunday.
VFL backline coach, Ryan Ferguson, spoke on SEN on Tuesday night about the "healthy rivalry" the two clubs have built over the last few years.
"I think the message coming out of both camps is the healthy rivalry that we have," Ferguson said.
"We respect each other so much but we also love playing against one another and want to prove a point to each other, so I think the respectful rivalry is going to be huge on the weekend."
There's a subtle blend of Yellow and Black in the Williamstown camp. The 2016 Guinane Medallist for Richmond VFL's Best and Fairest player, Adam Marcon, captains the side while former VFL Tiger, Nick Mellington, will also suit up for the Seagulls.
Ferguson had a short stint at Downer Oval as a player, but his allegiances are well and truly entrenched at Punt Road.
"I do have fond memories of being there (Williamstown) but we'd love to beat them on Sunday," Ferguson said.
A blossoming rivalry, coupled with the ferocity that both sides will bring, means gaining the edge in the clinches could hold the key to victory.
"(Williamstown is) similar in some ways to us as they love the contest," Ferguson said.
"For any fans out there thinking about going along, it's going to be a great game.
"It's going to be an old-fashioned contested game of footy, so that's going to be pretty cool."
Seagulls forward Nick Ebinger bagged five majors last week against the Bombers and was aptly supported by swingman, Billy Myers, who booted four.
Richmond's defensive unit was at its imperious best in last weekend's win over the Borough, and Ferguson is aware of the attacking weapons that Williamstown has in its arsenal.
"Their ability to find ways to score goals…they've got some big tall guys that can take marks and they've got those medium types and wily smalls, so they've got lots of different avenues to goal," Ferguson said.
"It's certainly going to prove a challenge for us and we'll back in our team defence and our connection amongst each other with our backs, but also our forward pressure and our midfield contested stuff."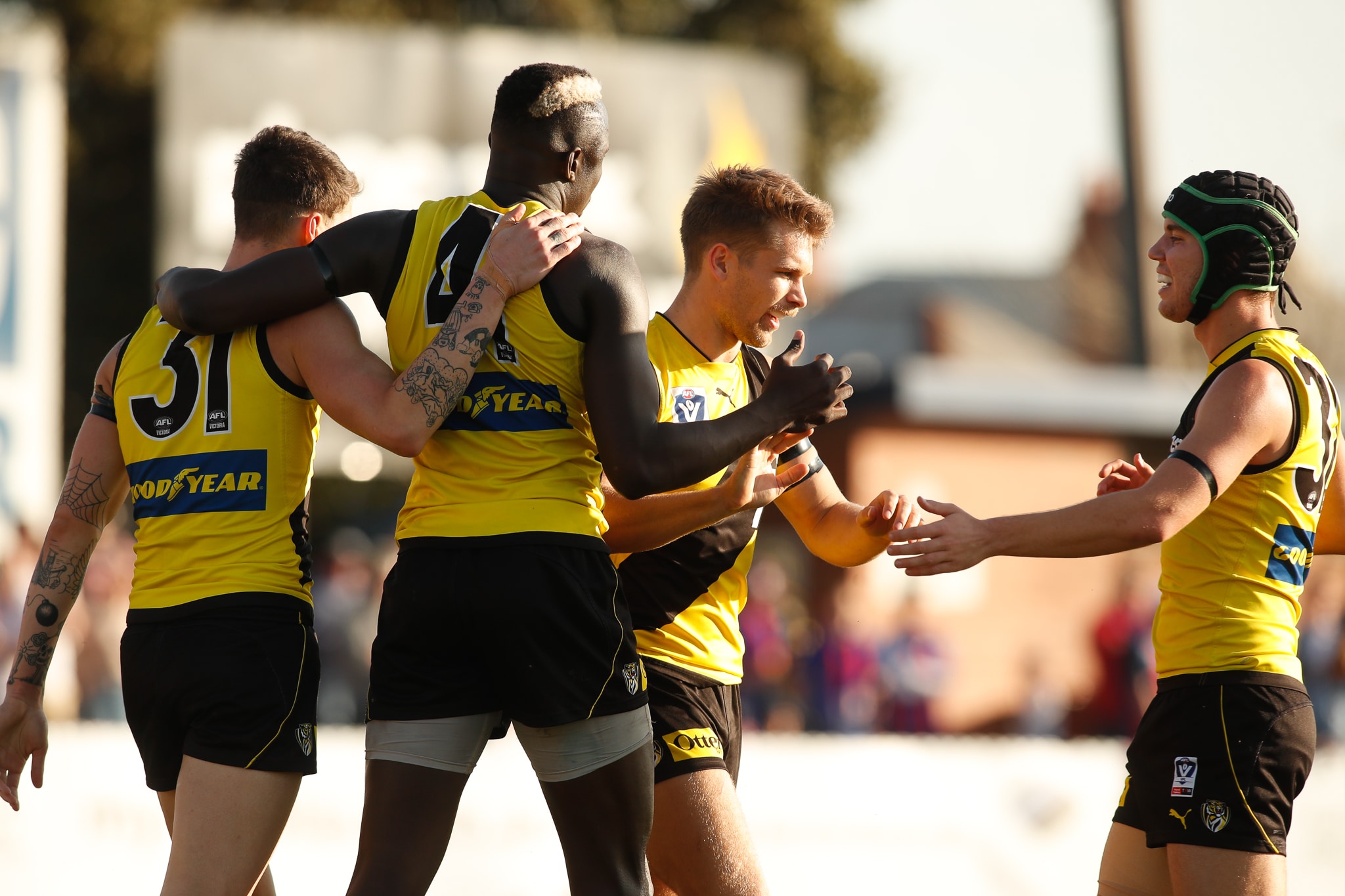 One of the strengths of Richmond this year, which has afforded the Tigers the opportunity to etch their mark in history, is the strength of its VFL list.
Fielding three VFL players in its preliminary final win means that some hard conversations will have been had this week.
Players who have given so much of themselves will need to be told that they'll be watching the game from the stands.
VFL coach, Craig McRae spoke at the VFL press conference on Tuesday about the difficulty of delivering such tough news.
"It's heartbreaking really," McRae said.
"With a heavy heart I have the conversation…those guys invest so much in our program and they're the reason we're in this position.
"We've got a great culture. We've got 24 VFL-listed players and they'll train knowing that they may not get an opportunity, but they turn up, they work all day."
Ferguson also spoke about the importance of the core group of VFL Tigers, who have carried the load for a large chunk of the year.
"We've got a whole lot of development coaches in a way, Steve Morris, Hugh Beasley, Dan Coffield, Jacob Ballard, Tom Silvestro. I don't know if people know about them, but we love them and they make our AFL guys better," he said.
"Some of these guys have to stand aside to give these AFL guys a great experience.
"We just love our culture among the AFL list, the VFL list, our connection. We see that as a competitive advantage."
Nick Meese is Williamstown's lion-hearted ruckman and put in another masterful display in his side's preliminary final win over Essendon, finishing with a mammoth 70 hit-outs, 25 disposals and four tackles.
When asked how he'll look to combat Meese, McRae was pragmatic with his response.
"Thankfully we've got Ivan Maric to take care of that because clearly I didn't win too many hit-outs in my career," McRae said, with a wry grin.
"(Maric) does a fantastic job with our developing ruckman and he'll go to work on the tape and have a look at how we can combat (Nick Meese's) influence.
"We've got three young developing ruckmen who are obviously going to ask some questions of (Meese) as well."
One of those young developing ruckmen is Callum Coleman-Jones, who put in another sterling performance last Saturday, finishing with 17 disposals, 24 hit-outs and three marks.
Another player whose name has been put up in lights this finals series is Marlion Pickett. Silky, courageous, graceful and steely—Pickett is all those things and more. He has been a key player of this finals series.
Recruited via the mid-season draft, Pickett has had limited time to adapt to his new surroundings and teammates, a point that McRae touched on, on Tuesday.
"Ultimately, he didn't really know the 'Richmond Way' that well and he's learning on the job, so he's getting better and better and I'm really excited about this week," McRae said.
Tickets to the VFL Grand Final are available here. Those unable to make it to the clash can watch it live on Channel 7 from 1.30pm.
Tiger fans can also follow live updates from Ikon Park via the Richmond VFL Instagram and Twitter accounts.
Richmond has selected a strong 27-man squad for the Grand Final, featuring 20 AFL-listed Tigers.
First-year star Sydney Stack has been named on the interchange, in what would be his return from an ankle syndesmosis injury sustained last month.
Tom Silvestro, Blake Grewar, Jacob Ballard and Daniel Coffield round out the inclusions.
Out of the side that defeated Port Melbourne by 26 points in the preliminary final is Jake Aarts, who has been suspended for four weeks for rough conduct against the Borough's Tom O'Sullivan last Saturday.
The squad will be trimmed to 22 players on Sunday.

VFL Grand Final
Richmond vs Williamstown
Sunday, September 22
2.15pm
Ikon Park
B: 43. D. Eggmolesse-Smith, 42. R. Garthwaite, 33. K. Mcintosh
HB: 37. C. Menadue, 46. B. Miller, 31. O. Markov
C: 7. D. Butler, 26. R. Collier-Dawkins, 28. F. Turner
HF: 45. P. Naish, 41. M. Chol, 64. T. Silvestro
F: 16. M. Weller, 40. C. Coleman-Jones, 36. C. Moore
R: 38. N. Balta, 50. M. Pickett, 27. J. Ross
Int: 44. S. Stack, 21. J. Townsend, 32. L. English, 78. D. Coffield, 56. B. Grewar, 51. S. Morris, 54. J. Ballard, 53. H. Beasley
23P: 55. L. Street
In: T. Silvestro, B. Grewar, J. Ballard, D. Coffield, S. Stack
Out: J. Aarts