Michael Pickering is Richmond's final Homecoming Hero for the 2019 season.
The Tigers are set to pay tribute to Pickering in the lead-up to Sunday afternoon's big Round 23 clash with Brisbane at the MCG.
THANK YOU Join us at Sunday's Round 23 'Thank you Tiger Army' match against the Brisbane Lions
Pickering will walk to the Punt Road end of the ground, where he's bound to receive a warm reception from the Tiger Army.
He'll kick a ceremonial goal, then sign the football and present it to a Richmond fan in the crowd.
Highlights of Pickering's fine playing career with the Tigers also will be shown on the MCG's big screens.
Michael Pickering was recruited by Richmond from Melbourne suburban club Vermont.
He started off with the Club's under 19s in 1981, won their best and fairest award the following year, and went on to make his senior debut for the Tigers in the opening round of the 1984 season against Footscray at the Whitten Oval.
It was an impressive first-up performance at the game's highest level by the then 20-year-old – 19 disposals, eight marks and three goals in his role up forward.
Pickering made 12 senior appearances all-up that season, kicking 17 goals and winning Richmond's Best First Year Player award.
The following season, he played 14 games and booted 35 goals, including his best return in a match for the Tigers of six against Geelong at Waverley Park (Round 21).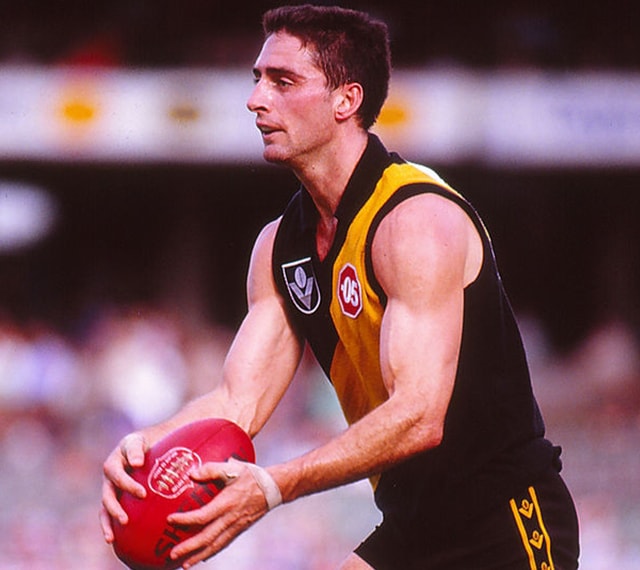 Over the next few years, Pickering provided Richmond with excellent service, playing across the forward line, plus stints on a wing and as a ruck-rover.
His career at Tigerland was defined by his running ability, marking prowess, durability and copious courage.
Despite having a relatively slender build, he consistently displayed great bravery in hurling himself into packs to compete for marks.
Pickering was fearless in pursuit of the ball, either at aerial or ground level, and he absorbed plenty of punishment on-field without ever flinching.
He was an excellent mark and, although not quick, covered plenty of ground during matches due to his elite endurance.
The individual highlight of Pickering's time with the Tigers came in 1988, when he won the Jack Dyer Medal. That year, he averaged 22.5 disposals and 7.2 marks per game and kicked 26 goals.
TICKETS Don't miss Sunday's blockbuster clash against current ladder-leaders Brisbane at the MCG
In 1989, he was appointed Richmond's vice-captain, and he led the team on several occasions when regular skipper Dale Weightman was out injured.
Pickering left Tigerland at the end of the 1991 season after a first-rate 136-game, 160-goal career and subsequently had two years with Melbourne.
Michael Pickering profile
Born: November 30, 1963
Height: 187cm
Playing weight: 76kg
Recruited by Richmond from: Vermont
Guernsey number at Richmond: No. 35
Senior debut at Richmond: Round 1, 1984 v Footscray, Whitten Oval
Games at Richmond (1984-1991): 136
Goals at Richmond: 160
Honours at Richmond: Jack Dyer Medal winner in 1988, Club vice-captain 1989
Here is a list of Richmond's Homecoming Heroes since 2014...
| | | |
| --- | --- | --- |
| . | . | . |
| 2014, Rd 2: Michael Green | 2014, Rd 4: Kevin Bartlett | 2014, Rd 6: Bryan Wood |
| 2014, Rd 13: Kevin Morris | 2014, Rd 14: Wayne Walsh | 2014, Rd 16: Barry Richardson |
| 2014, Rd 19: Rex Hunt | 2014, Rd 20: Francis Bourke | 2015, Rd 2: Bill Barrot |
| 2015, Rd 5: Andrew Kellaway | 2015, Rd 7: Mark Lee | 2015, Rd 9: Derek Peardon |
| 2015, R12: Dale Weightman | 2015, R15: Matthew Richardson | 2015, R17: Dick Clay |
| 2015, R20: Barry Rowlings | 2016, R6: Matthew Rogers | 2016, R7: Jake King |
| 2016, R8: Nick Daffy | 2016, R12: Nathan Foley | 2016, R14: Dan Jackson |
| 2016, R17: Scott Turner | 2016, R20: Jim Jess | 2016, R21: John Ronaldson |
| 2016, R22: Graeme Bond | 2017, R2: Roger Dean | 2017, R3: Richard Clay |
| 2017, R8: Mick Malthouse | 2017, R10: Michael Mitchell | 2017, R13: Shane Tuck |
| 2017, R14: Paul Broderick | 2017, R18: Stephen Mount | 2017, R20: Graham Burgin |
| 2017, R23: Trevor Poole | 2018, R3: Michael Roach | 2018, R4: Michael Gale |
| 2018, R7: Craig Lambert | 2018, R10: Stephen Rae | 2018, R16: Chris Naish |
| 2018, R19: Tony Jewell | 2018, R20: Gareth Andrews | 2018, R22: Mark Eustice |
| 2018, R23: Nathan Brown | 2019, R2: Geoff Raines | 2019, R9: Darren Gaspar |
| 2019, R10: Andrew Krakouer | 2019, R12: Jeff Hogg | 2019, R17: Greg Tivendale |
| 2019, R18: Ivan Maric | 2019, R21: Tony Free | 2019, R22: Merv Keane |
| 2019, R23: Michael Pickering | | |