Richmond has appointed Lauren Tesoriero as the Club's first AFLW/VFLW Recruiter.
A former Collingwood AFLW player, Tesoriero joined the Tigers' VFLW program this year and played eight games in yellow and black.
With the Club entering the AFLW competition in the 2020 season and building on its VFLW program, there was a gap that needed to be filled.
"As far as I'm aware, Lauren is the first female in a full-time role as a recruiter in women's football," Richmond's AFLW Female Football Operations Manager Kate Sheahan said.
"Lauren really stood out with her deep understanding of one, football, and two, women's football.
"(Richmond VFLW and Academy coach) Tom Hunter and I had really good chats about getting her on board in a full-time capacity. At the time we probably didn't know what that would look like and we identified that we really needed a women's recruiter."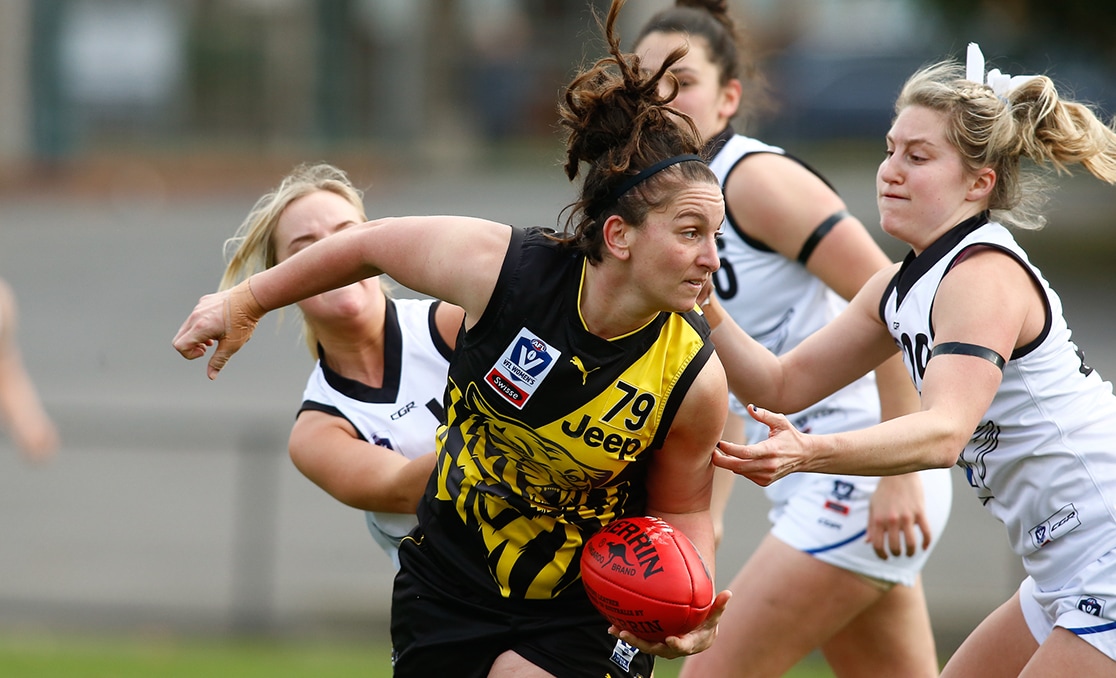 Tesoriero is currently identifying talent following the AFLW Draft and through Talent ID Days – in metropolitan Melbourne and the Club's Next Generation Academy Zone.
She met Sheahan at Collingwood, where she went on to play 11 games for the Pies before she was delisted at the end of the 2018 season.
"(Kate) had approached me at the end of my Collingwood season and I wasn't sure what I was going to be doing with football," Tesoriero said.
"I came here, had a tour, loved it and had been doing a little bit of work after playing during the season with watching talent and all that sort of stuff."
Tesoriero brings a unique skill-set to the position as Richmond's inaugural AFLW/VFLW Recruiter.
She has played football for over 10 years and spent two years training and competing at the highest level.
She said her on-field experience would help with her new role with the Tigers.
"Because I've played I think that helps connecting with the girls and understanding the challenges that come with it," Tesoriero said.
"But just getting out there, our NGA area is far away for us – regional Victoria - so it allows me to get up there and spend time with the young girls coming through and really getting to seeing what (talent) is out there."
Tesoriero said the Club had set its sights on searching for talent within its NGA region – which includes the Goulburn Murray, Bendigo, Sunraysia, and North Central areas of Victoria.
"There's a lot of talent," Tesoriero said.
"It's coming through from everywhere in Victoria, the kids that are playing football now are students of the game. They understand the game better than most people, because they've been in it for so long."
Richmond will next hold Talent ID Days in Shepparton, Wangarrata and Wodonga.
Shepparton
Friday, November 31 from 5pm to 8pm
Wangaratta
Saturday, December 1 from 11am to 2pm
Wodonga
Sunday, December 2 from 11am to 2pm
Further details on how to register and locations will be communicated next week.