Richmond members and supporters have raised a record breaking $235,672 to help keep children safe from violence and bullying.
The Club's preferred charity partner since 2012, the Alannah & Madeline Foundation, is a national charity that advocate for the safety and wellbeing of children.
The 2018 Richmond contribution includes money raised from Foundation memberships, a dedicated match-day and 5% of all net merchandise sales.
Richmond CEO Brendon Gale praised the support of the club's members and supporters.
"It's impossible not to be inspired by the work of the Foundation and clearly our members and supporters understand the critical nature of that and the importance of protecting children," Gale said.
"Once again the generosity of our members and supporters has directly contributed to deliver on the Foundation's vision that every child will live in a safe and supportive environment.
"Football is our core business and always will be, but partnerships such as these speak to what we stand for beyond football and what we value. I hope every Richmond member and supporter, takes as much pride in this contribution as our staff and players do. The Alannah & Madeline Foundationpartnership is one we truly value."
The Foundation's CEO Lesley Podesta said the contribution was invaluable, real and measurable.
"The Foundation has reached more than two million children through our care, prevention and advocacy programs over the past 21 years. We don't do it by ourselves," Ms Podesta said.
"It is because of partners, such as Richmond Football Club, that we can create a safer world for children.
"We rely on the support from Richmond's membership, supporter base and leadership of the Club to help us make a real difference in the lives of children."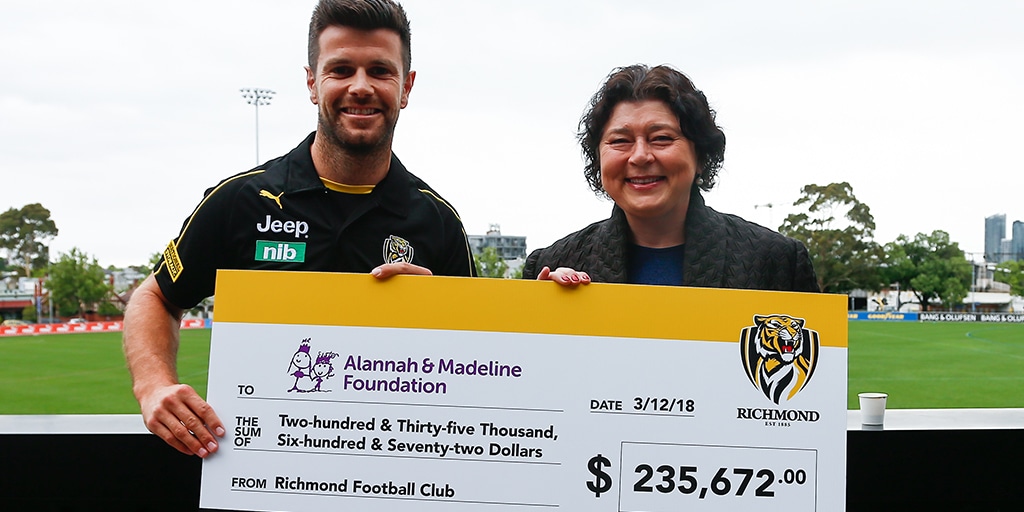 The Foundation's Buddy Bags program supports children who arrive in emergency accommodation, many with only the clothes they are wearing. They are given a Buddy Bag, a backpack containing a toothbrush, toothpaste, hairbrush, pillowcase, face washer, PJs, underwear and socks, as well as a book, activity kit, photo frame and the all-important teddy bear.
Buddy Bags help restore a sense of safety and security into children's lives during a time of trauma, which is one of the vital first steps to recovery.
Richmond Football Club's contribution of $235,672 has funded close to half of the 10,000 Buddy Bags distributed to vulnerable children during 2018.
By the end of the year, the Foundation will have given 90,000 Buddy Bags to children entering emergency accommodation.
"Unfortunately, the need for our work is never ending," Ms Podesta said.
"With a report of child abuse, neglect or family violence every two minutes in Australia, we know we will have to do more. With the help of Richmond Football Club we will continue to be there for the children who need us."