Mick Malthouse is Richmond's next Homecoming Hero for the 2017 season.
The Tigers will pay tribute to Malthouse during the pre-game build-up at this Sunday afternoon's Round 8 clash with Fremantle at the MCG.
Malthouse, a key member of the 1980 Richmond premiership side, will walk to the Punt Road end of the ground, where he'll receive the plaudits of the Tiger Army.
He'll kick a ceremonial goal, then sign the football and present it to a Richmond fan in the crowd.
Highlights of Malthouse's playing time with the Tigers also will be shown on the MCG's screens.
Mick Malthouse started his league football career at St Kilda in 1972, after being recruited from North Ballarat, which was part of the Saints' country zone back then.
He played 53 games with St Kilda before legendary coach Allan Jeans told him he'd struggle for further opportunities in the senior line-up because of an abundance of similar-style players at the club.
Richmond subsequently threw him a football lifeline, and he transferred to Tigerland just before the then June 30 clearance deadline during the 1976 season.
With his tough, tenacious, no-nonsense style of play, Malthouse quickly established himself as a permanent member of Richmond's line-up.
Although he was initially used in a few different on-field roles at Richmond, it was as a small back pocket that Malthouse made his name with the Tigers.
He thrived on the discipline required to sacrifice personal gain for the overall betterment of the team.
His primary focus was negating the influence of the opposition's dangerous small forwards – and it's something he managed to do extremely well.
Dale Weightman, a 1980 premiership teammate of Malthouse, outlined the uncompromising back pocket's importance in the Richmond line-up . . .
"He was a real hard nut out on the field," Weightman said.
"Me, being a rover, every now and then I got a run on the ball, when KB (Kevin Bartlett) went off it.
"With Mick (in the back pocket), you knew that you could run the opposition down because they never wanted to go rest in the forward pocket because he used to belt the crap out of them . . . he'd give it to them the whole time.
"He just gave everything he had . . . he was a ripper.
"You could tell that he was going to go into coaching because he was the leader of our back half and got it all organised so well."
Despite Malthouse's penchant for the defensive aspects of the game, he also had the ability to win his fair share of the ball himself, at ground level or in the air.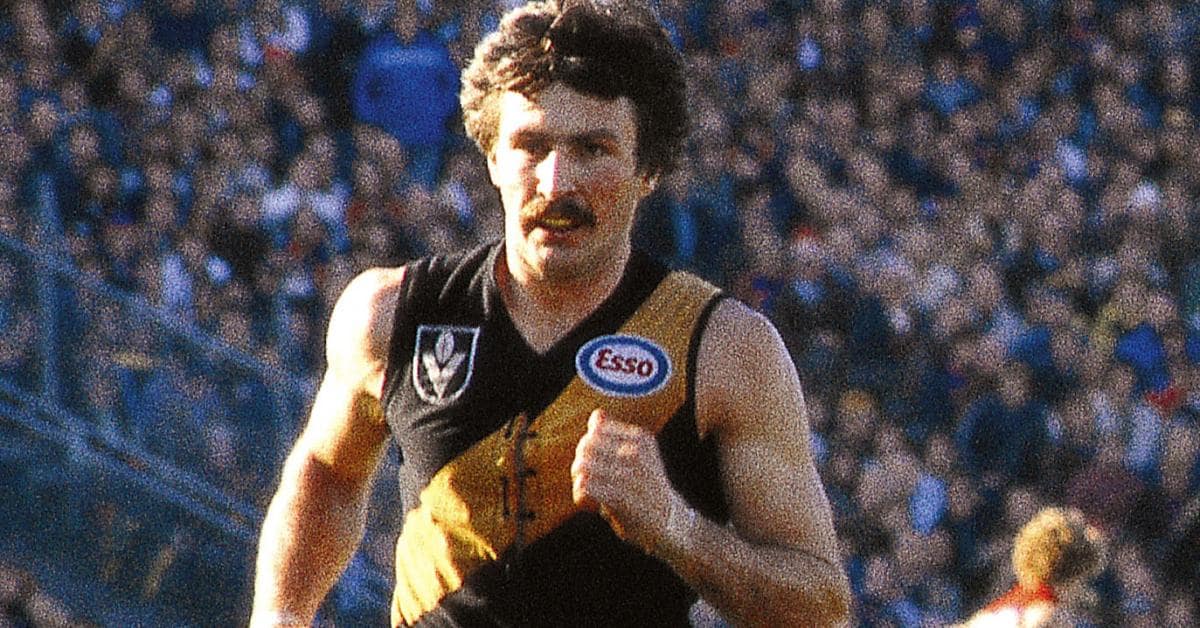 He was a fine mark for his size, and used the ball effectively by both hand and foot.
In 1978, Malthouse won the Club's Most Determined Player award.
Two years later, he was a key member of the Richmond side that thrashed Collingwood by a then-record league margin of 81 points to capture the premiership.
Malthouse did not have the sheer star quality of many of the players in that all-conquering Tigers' team, but he more than compensated through the other attributes he possessed.
Unfortunately, Malthouse couldn't take his place in Richmond's 1982 Grand Final side against Carlton due to a dislocated shoulder.
To this day, Richmond people are convinced had Malthouse been fit to play that day, the Tigers would have won the '82 premiership, given the significant role he played in their defence.
He retired early in the 1983 season, having been such a valuable contributor throughout a 121-game, seven-year stint at Tigerland, and then embarked on a highly-successful AFL coaching career.
Mick Malthouse Richmond playing profile
Born: 17/8/1953
Height: 180cm
Playing weight: 76kg
Richmond trade history: Traded to the Tigers by St Kilda mid-season in 1976
Guernsey number at Richmond: No. 28 and No. 7
Debut at Richmond: Round 14, 1976 v Collingwood, MCG
Games at Richmond (1976-1983): 121
Goals at Richmond: 10
Here is a list of Richmond's Homecoming Heroes since 2014...
| | | |
| --- | --- | --- |
| 2014, Rd 2: Michael Green | 2014, Rd 4: Kevin Bartlett | 2014, Rd 6: Bryan Wood |
| 2014, Rd 13: Kevin Morris | 2014, Rd 14: Wayne Walsh | 2014, Rd 16: Barry Richardson |
| 2014, Rd 19: Rex Hunt | 2014, Rd 20: Francis Bourke | 2015, Rd 2: Bill Barrot |
| 2015, Rd 5: Andrew Kellaway | 2015, Rd 7: Mark Lee | 2015, Rd 9: Derek Peardon |
| 2015, R12: Dale Weightman | 2015, R15: Matthew Richardson | 2015, R17: Dick Clay |
| 2015, R20: Barry Rowlings | 2016, R6: Matthew Rogers | 2016, R7: Jake King |
| 2016, R8: Nick Daffy | 2016, R12: Nathan Foley | 2016, R14: Dan Jackson |
| 2016, R17: Scott Turner | 2016, R20: Jim Jess | 2016, R21: John Ronaldson |
| 2016, R22: Graeme Bond | 2017, R2: Roger Dean | 2017, R3: Richard Clay |
| 2017, R8: Mick Malthouse | | |