Former tough-as-teak Tiger midfielder Shane Tuck will make his professional boxing debut when he steps into the ring at the Melbourne Convention and Exhibition Centre this Wednesday night (November 11) in a cruiserweight division fight against Lucas Miller.
This bout is part of the undercard to Anthony Mundine's silver light middleweight title fight against Charles Hatley.
Tuck developed his boxing skills throughout a successful 173-game AFL career with Richmond from 2004-13.
He excelled in the ring under the tutelage of the Club's long-time boxing coach John Vickery and did plenty of sparring with former world champion Sam Soliman.
The ex-Tiger fan favorite is continuing a Richmond tradition that stretches back to the Club's days in the old VFA (Victorian Football Association) more than a century ago.
Bill Lang played in Richmond's 1905 VFA premiership side and was a pioneer member of the Tigers team that entered the VFL competition in 1908.
At 182cm and 89kg, Lang was a full-back and follower, renowned for his courage and fearless approach.
He went on to play 14 games over the course of the next couple of seasons, but at the end of the '09 season, decided to hang up his boots, so that he could concentrate on his other great sporting love – boxing.
Lang, whose real surname was Langfranchi, was no ordinary boxer, either.
He started his professional boxing career in 1905 and quickly rose through the heavyweight ranks.
His first big fight was in front of 15,000 people, under lights at the old Richmond Racecourse on March 4, 1907, when he took on glamor American boxer Jack Johnson.
The brilliant Johnson, who subsequently went on to win the world heavyweight title, knocked out Lang in the ninth round.
Not to be denied, however, Lang restored his reputation and ranking in the heavyweight division with a string of wins, which set up a title bout on September 3, 1908 against world champion Tommy Burns.
The fight was scheduled for 20 rounds, but Lang was knocked out in the sixth round by the Canadian.
Five months later, Lang fought Bill Squires in a 20-round bout for the Australian heavyweight title, and proceeded to knock him out in the 17th round.
Later that year, he successfully defended his title in a rematch with Squires, knocking him out in the 20th round.
And, before the year was out, Lang again defended his Australian crown, with a 12th round knockout of triple world title-holder Bob Fitzsimmons in Sydney.
Lang eventually lost his Australian heavyweight title to Tommy Burns, on a points decision over 20 rounds, in April 1910.
He then fought overseas, in both America and England, before returning to regain the Australian heavyweight title with a knockout victory over Bill Squires.
In September 1911, Lang lost his title to Jack Lester in a points decision over 20 rounds.
Lang's last professional fight took place in November 1916, when he was knocked out.
All-up, Lang had 44 fights for 34 wins, with three of his losses on points over 20 rounds.
In 2004, Lang was inducted into the Australian National Boxing Hall of Fame, in recognition of his achievements as a heavyweight on the world stage.
Jeff Patterson was a tough, colorful character, also described as a lovable larrikin, who played 14 senior games for Richmond from 1953-54.
Patterson, who also had stints at South Melbourne and Fitzroy, was a professional boxer before entering league football ranks.
He briefly resumed his professional boxing career after leaving the league scene, and later became a boxing promoter (among a myriad of entrepreneurial enterprises he involved himself with).
Maurice Rioli never fought professionally, but those who saw him at amateur level, and in sparring sessions at WAFL club South Fremantle, have no doubt he could have been a champion in the ring.
Rioli won the WA welterweight Golden Gloves title in 1977 and represented the state at the national titles in Hobart that year.
There's a celebrated story of Rioli punching the daylights out of powerfully-built, full-forward Mark 'Jacko' Jackson (pre his VFL career) one day in the boxing ring at South Fremantle, where they were teammates under the coaching guidance of Mal Brown.
Rioli went on to enjoy a brilliant 118-game league career with Richmond, including two Jack Dyer Medals (1982 and 1983), second placing in the Brownlow Medal (1983) and a Norm Smith Medal (1982).
Given his boxing expertise, it's no surprise the Indigenous football superstar didn't encounter any problems with racial abuse, which was a reasonably common factor on the league's playing fields at the time.
Kayne Pettifer has a 100 percent strike-rate in his professional boxing career – one win from one fight.
Pettifer, who played 113 games and kicked 132 goals for the Tigers in his league career from 2001-09, scored a unanimous points decision over Thai boxer Terkiat Sitheppitak in December last year.
It's not known when, or if, Pettifer is planning on stepping into the ring again.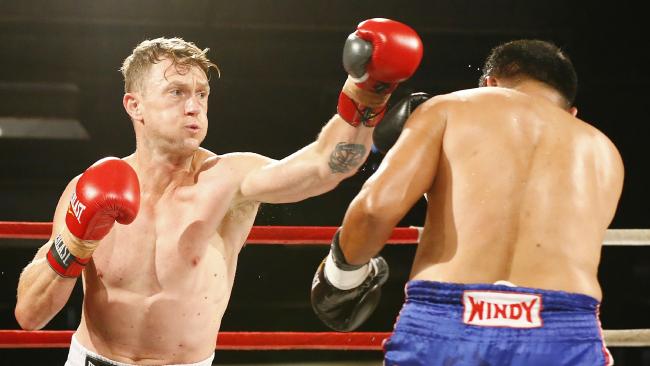 Kayne Pettifer defeats Terkiat Sitheppitak in December last year (source: Herald Sun)