Richmond is proud to announce that its total contribution to the Club's preferred charity partner, the Alannah & Madeline Foundation, has surpassed $1 million.
The Foundation, which has partnered with the Club since 2012, is the leading national charity working to protect children from violence and bullying.
"Our supporters should take enormous pride in this contribution. They have got behind this partnership since day one and provided so many children with much needed support and protection," Richmond CEO Brendon Gale said.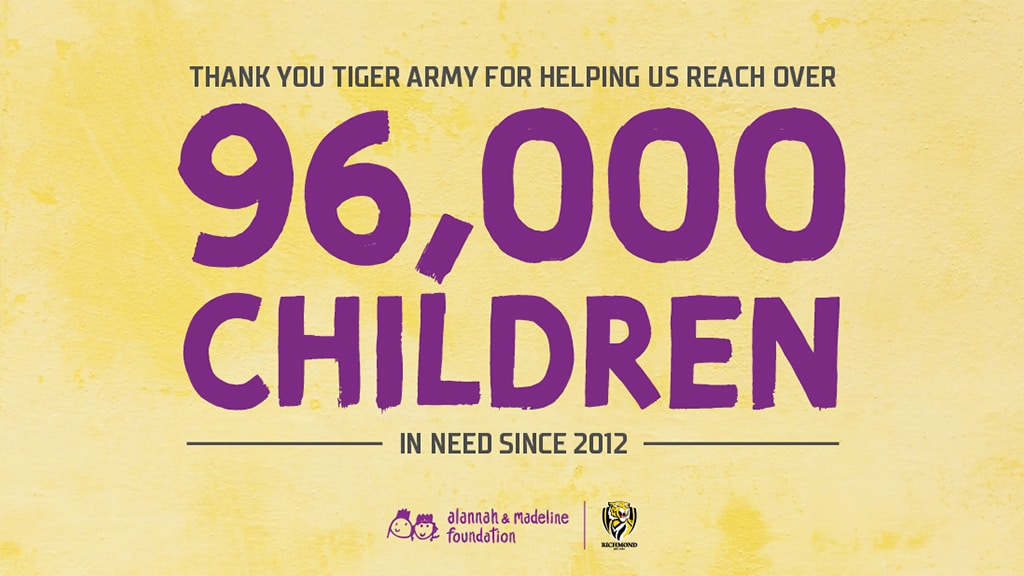 "The work of the Foundation is critical, and it is a privilege to have them as our preferred charity partner. As I've said previously, nothing is more important than the safety of our children and we are incredibly proud that we can support what they do in such a meaningful way."
The milestone comes as a result of a record breaking 2019, where the Tiger Army banded together to raise $299,356, including a record match day figure at the annual dedicated fixture. Funds have also been raised through the establishment of the Club's Alannah & Madeline Foundation Membership and the 5% contribution from Club retail sales.
This year's focus on 'Lighting the Darkness' around cyber safety enabled the Club to provide 3,400 eSmart Digital Licences to help support young kids to become safe online.
In total, the Club has helped support more than 96,000 kids in need since the partnership began seven years ago.
This includes contributing to the distribution of 75,000 Buddy Bags for vulnerable children in emergency accommodation and the support of more than 355 young people through the Children Ahead initiative, which helps young people aged up to 18 who are recovering from significant trauma or violence.
The Alannah & Madeline Foundation's CEO Lesley Podesta said that the Club's contributions helped to make an enormous difference in the lives of Australian children.
"The Foundation has reached more than 2.5 million children through our care, prevention and advocacy programs over the past 23 years," Ms Podesta said
"It is because of partners like the Richmond Football Club and its members, supporter base and leadership that we can create a safer world for children. We are very grateful."
To make a further donation to the Alannah & Madeline Foundation, visit www.amf.org.au/donate.