"I don't have Troy in my SuperCoach team," says Gary Chaplin, 58, father of Troy, Richmond's gun recruit from Maryborough (via Port Adelaide), as his son stands St Kilda's 200cm-tall Rhys Stanley before the bounce. The confession says much about the father of the player. For Gary, football is a rational business. It's about method, structure, percentages. He reads the game like others read a balance sheet. There's logic to how it's played. He's proud of his son's football career, but in his SuperCoach competition at work he simply cannot find a spot in his team for his boy.
I watch Friday night's game with Gary and Kathy Chaplin and it's a revelation. Theirs is a very football story; about club and community in regional Victoria, about their two sons who left home to chase football dreams, and about now coming to the biggest stage of them all – the MCG – to watch their first-born play his second game for his newest club in what shapes as a long, final act to his on-field AFL career.
It's a story also about pragmatism. Gary watches the game as if he's by the boundary at Jubilee Oval, home to the Maryborough Rovers, where the Chaplin name adorns clubroom walls. "It doesn't worry me where I sit," he says. "I just love watching football and seeing how they go about doing it."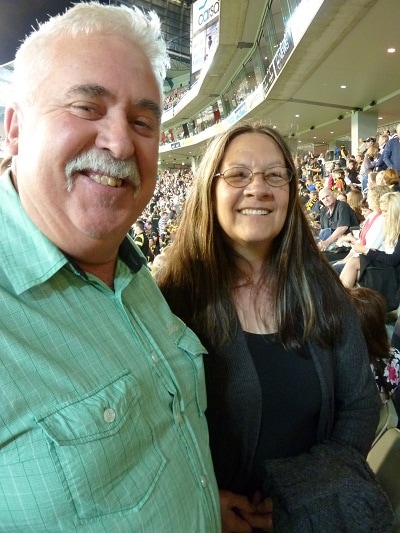 His interpretation of the game is as a former player, a stout, right-footed half-back flanker, 5 foot 11 inches ("what they used to call a Collingwood six-footer"), who in his prime ran about in the Ballarat district league. Now, on Friday night, he calls the play with a backman's clipped economy. "Come on boys, get it out." "Get it off the ground." "Shepherd". "Too much on it." "Be patient with it." "Mark the bloody thing!"
His matter-of-fact analysis is comforting. "Bad entry in, which hurts," he says, when St Kilda kick a rebound goal late in the first. When Nick Riewoldt takes one of his many lead-up marks, he offers: "When he's that far up the ground it doesn't matter." And, when his son Troy misses a long-range shot for goal, his response? "Doesn't kick many."
I nudge him with an elbow when Troy monster-tackles Nick Riewoldt late in the first, winning a free kick as the Saints captain readied for a shot. "That's my boy!" says Kathy, smiling. Gary is deadpan: "He is a lot quicker than what a lot of people think he is."
**
Friday night's game was a pleasing affair. Partly because from the first tier behind the city-end goals, I find myself sitting in front of Richmond royalty – Maureen Hafey, wife of Tommy – and partly because being among the players' parents gives a whole new perspective on proceedings. But it pleases mostly because the Tigers find another way to win. They hold sway in the last quarter. They keep their nerve. They do what it takes to get the points.
Coaches at Richmond saw something in Ricky Petterd and their belief on Friday night was rewarded. His was one of the most complete debuts for the Club in some time, highlighted by a gutsy contested mark in the third quarter, playing loose in defence. It was a single act that won over doubters. He became a Tiger. He was welcomed to the fold.
And Dylan Grimes was back. Before the game, coach Damien Hardwick, in a piece to camera with Bruce McAvaney, said of his inclusion: "He's got the head of a 200-gamer." Presumably it was a compliment. Certainly, he looks like an old-fashioned footballer. He has the lean physique of someone from hard times, when footballers had jobs in factories on the river flats, when Richmond was called 'Struggletown', when the game seemed a simpler pursuit.
Dylan Grimes is a pure footballer. He had only eight touches on Friday, but that was no measure of his worth. His game was faultless. When he punches the ball, it is an act of beauty. He plays with no malice because he needs not to. He is a ball player, and they're always the most attractive to watch.
Within the collective pursuit, each game has feats of individual derring-do, and Friday night was no exception. Most talk afterwards was of Jake King's audacious climb in the goal square (#ThingsPushUpHates trended on Twitter last week, and dropping this mark is now one of them).  But for mine, Dylan Grimes's punch to the boundary line – halfway through the last quarter – burns just as bright in the memory.
It was an act of eloquence. Poetry could be written about this punch (peeling off his man/reading the flight/a right fist/the ball/Beau Maister sprawled on the grass). If there's been a Richmond footballer with a more graceful defensive punch than Dylan Grimes', I've not known him.
Shane Tuck, on Friday night, again was a workhorse. Stevie Morris stands a mark with an intensity that mirrors his work ethic. Dan Jackson again shirked no contest. If my life depended on a player, I'd want Jackson in my corner. He speaks French. He puts his body on the line. He plays with white-line fever.
And, Luke McGuane continues to turn heads, again playing more game time than all others on the ground. Two games don't a season make, but he's become that most valuable of commodity – a defensive tall forward. None in Friday night's game took more contested marks. He's re-shaped perception. He's won admiration. Never mind the missed shots . . . The key is the chances he's created, the opportunities he's forged.
Jack was back, not that he ever went away. He jumped for his marks, he led hard, he corralled his opponents into errors, he kicked straight – including a crunch set shot in the last quarter. He has a showman's appetite for the contest. Under the Friday night spotlight, he lived-up to his star billing. He's a player who stands apart, one who knows he can win a game off his own boot.
Shane Edwards was all courage and verve. Alex Rance was the master of one-percenters. And, Jake King continued his role as team barometer. When he's up, the team invariably is up, and on Friday night he got up as high as anyone on the ground. His leap was a thrilling spectacle, but it's what he did next that deserves the kudos – bounced up and laid a tackle on Jarryn Geary. Reflections on personal disappointments can wait. Team cause is all that matters on the field of battle.
**
"I always reckon our younger son Jarred was a better footballer to what Troy is," says Kathy, before the game. "Troy was a better basketballer than footballer," she says, recounting days making the four-hour round trip to Melbourne to ferry him to state basketball training. "It wasn't until he was 16 that the football started."
As a junior, he played in an under-13s Maryborough side called the Wallabies, alongside Brett Deledio (whose father, Wayne, joins Gary for a chinwag at half-time) and Brisbane Lions co-captain, Jed Adcock. Next step was Maryborough Rovers, where as a 15-year-old, he played his first game of senior footy, on a wing, at a club where the Chaplins are known well enough.
"Funny thing is, Troy's the only one whose name's not up on the honour boards," says Kathy. She's a life member. Her son Jarred won a senior's best and fairest. And Gary, well, he's done just about everything at the club there is to do. "One of my mates asked me to come back after eight years of district football," he says. "So I did, and I've been at Rovers ever since."
But Troy's aptitude for the game took him away from home; to a Ballarat Rebels development side, an under-16s state carnival in Perth, an under-17s All-Australian tour of Ireland, then the national draft where, as a 17-year-old, he was picked up by Port Adelaide, training alongside Damien Hardwick in his first year, when the Power won its premiership.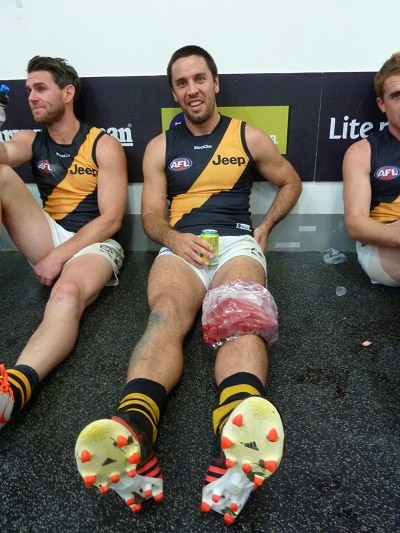 "Port was the only footy club that came to the house," says Gary. "They came and saw us and threw all sorts of questions at us. We were happy when they took him. They looked after him well."
**
Brandon Ellis, in the last quarter, is 'subbed' on, and may well have changed the game's course. His first contest was superb – running from the wing and back into a collision with a rampaging Nick Riewoldt, in disputed ground on the edge of the centre square. The Tigers are four points up. Ellis makes the contest. The ball spills. His second effort is to bang it forward, into the path of Shane Edwards, and his third effort locks the ball inside our forward-50.
In 18 minutes of football, he chases down and tackles St Kilda runners, he takes strong defensive marks, he presents as an option – he does all that could be asked of him when thrown into a game already set in its ways.
But from this voice in row J, seat 18, on the second level of the Ponsford Stand, Reece Conca is the night's most telling contributor. There's a lot to like about the way this 20-year-old from Perth goes about it on the field. First, however, a disclosure . . . Those who know me, are aware that for the past two seasons, I've had a 'man crush' on two Richmond players – Bachar Houli and "my man Reece". I say this only because on Friday night I sat four seats from Reece's girlfriend. She needs to know my crush is only platonic. I'm no threat to her.
I love the way Reece attacks the ball. I love the way he uses it. I love the way he opens up play. I love his tackles, I love his goalkicking. I love that he plays with a smile. I love his exuberance. And, I love it when late in the last quarter he gathers a loose ball near the boundary, turns inboard, and jinks a spearing pass ("threads the needle," as they say) to Ivan Maric. It's a goal-assist that helps seal the win.
But, what I love most about Reece Conca, is how he celebrates the success of others. Watch a replay of the game and mostly every time a Richmond player kicks a goal, it's Conca who's first to greet them. And, nothing is half-hearted about his show of appreciation. He hugs his teammate. He embraces them. It's an intimacy that speaks of his self-confidence. Here's a man not afraid to reveal his emotions, who wants to share in the happiness of others.
Football does have logic, but it's a game also of passion, confidence, and showmanship. It's a psychological puzzle – how to get a group of disparate young men to band together in the pursuit of a common purpose. This is the enduring challenge. In Reece Conca, there's somebody who acknowledges the good work of others. His enthusiasm is infectious. It lifts those around. He makes them feel better about themselves. He brings a team together.
I hope Reece Conca has a full season of sharing the love. I hope he never tires of giving hugs.  
**
"We've got a game on our hands," says Gary Chaplin at the end of the third quarter, with the Tigers up by 11 points. Early in the final term, arms crossed on his chest, his appraisal isn't good. "They're not playing accountable footy."
I tell him this is a plight of being a Richmond supporter, of game days full of yearning and uncertainties. No game is ever a sure thing when you barrack for the Tigers. Cliff-hangers are what we do best. "Problem is, you can't have too many get-out-of-jail cards," he says.
Sitting next to Gary Chaplin, I come to an understanding and greater appreciation of his son. I learn that as a child he practised for hours in the backyard, kicking balls into rubbish bins off both feet. That he learned to cook when living with a host family in Adelaide, and now's a dab hand in the kitchen. And, I learn that his height comes from his maternal grandfather. "Kathy's father was six foot, thankfully the genes have gone that side," says Gary.
I learn also that Troy and his wife have a two-year-old daughter, and are expecting another child in June. And, I learn something of the discipline and demands he adheres to as a league footballer. This is his job. He has a family to support. He is playing for keeps.
At home after the game, I watch a replay late into the night and cannot sleep. I wish to send Gary and Kathy a text message, telling them what I have realised. I watch Troy's game again, within the confines of the TV screen, and notice all the little acts I'd missed. He took the team's first mark, and nine others thereafter. He's in the top-five possession winners (only midfielders handle the pill more often). No other Richmond defender spends more time on the ground.
For a big man, he's good with his hands in tight. He's composed. He tackles hard. He blocks with his body. He provides a contest. He chips nicely to targets. He provides a steadying influence. And, with his experience, comes a willingness to shoulder responsibility.
He's the only player on the Richmond list to have played in an AFL Grand Final.
I write in my notes after the game: "Richmond is a better team with Troy Chaplin". What I think now is that Richmond also is a better club for having Troy Chaplin, his wife and young daughter, and his two parents, who'd travel the breadth of the country to watch him play. They are good people. Welcome them to Tigerland.
Tiger, tiger burning bright.
or Twitter: @dugaldjellie