Hard-working VFLW midfielder Alana Woodward has been elevated to Richmond's inaugural 2020 AFLW side.
Woodward's selection comes due to a recently introduced rule, which allows expansion clubs the opportunity to add additional Academy players to their list before the draft.
MEMBERSHIP Become one of the Club's first inaugural Women's Football Foundation members
As a result, Woodward has been chosen using Richmond's final draft pick.
Richmond nominated a total of four academy players through the new rule, with the remaining three players' selection subject to a bidding process with opposition clubs.
Woodward, who has been a part of the Richmond Women's program since its inception, showcased her tenacity across nine VFLW games in 2019, averaging 8.3 disposals and 8.4 tackles per game.
She was a standout in Richmond's Round 13 win over Williamstown, recording a whopping 20 tackles.
A much-loved member of the VFLW Tigers' 2019 leadership group, Woodward has led by example through her dedication and optimistic attitude.
 

 

 

View this post on Instagram
When asked by Richmond Head of Women's Football Kate Sheahan how she felt after hearing the news of her AFLW selection, Woodward had just one word, "proud."
"It wasn't so much that I was proud of myself, but I was just so proud to be continue as part of the Club," she said.
"Being part of the VFLW has meant so much to me, and being able to continue to be part of that team and part of that culture that I'm been involved in since it all started, is just so special to me."
But it hasn't been an easy journey for Woodward.
The 29-year-old was forced to make a number of sacrifices on her path to AFLW, and battled a string of injuries along the way.
"I moved down from the country and (walked away from) the security of having my own house and an established career, to follow a dream of playing footy," she said.
"I had this burning desire to give it a go and see where it would take me, and I knew I would always have this regret if I didn't chase the dream.
"I have worked hard and I think that's because (football) is not something that comes totally natural to me. I do have to work hard at it and I will continue to do so."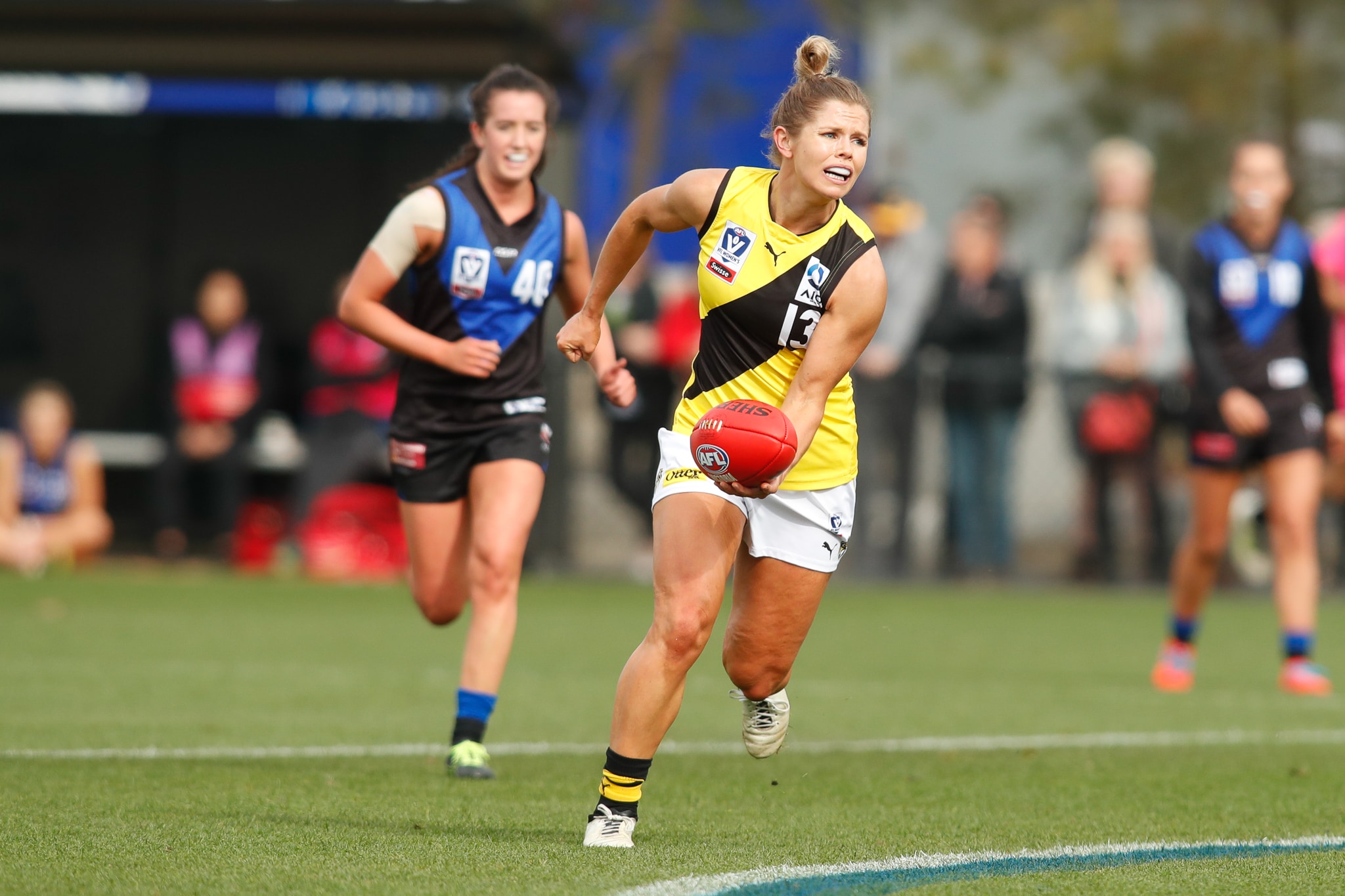 Woodward had surgery in the off-season on a troublesome ankle but continued to be plagued by the injury throughout 2019, sidelining her for seven weeks of the VFLW season.
It was a tough setback, but after applying herself throughout the rehabilitation process, she is back to top form and primed to take her game to the next level.
"During my injury…everyone in the Club rallied around me. It's such a special organisation and culture to be a part of," she said.
"No one ever discounted me because I was injured, there was always support and belief…I'm incredibly grateful.
"I just really want to play my role for the (AFLW) team. Whatever that looks like, I'll give it 100 per cent."
BROWSE Find a 2019 membership package suited to you
Woodward was this year recognised for role modelling Richmond's core behaviours and values through nomination in the Club's annual peer-voted Bunjil Awards.
She also received the 2018 Richmond VFLW Players' Player award, voted by her teammates.
Sheahan said Woodward has stood out with her genuine care for her Club and teammates.
"Throughout her two seasons at Richmond, Alana's been given roles against some of the AFLW's best midfielders, including Emma Kearney, Ellie Blackburn, and Jaimee Lambert, who have all had really significant influence on the VFLW competition," Sheahan said.
"She really played her role for the team and shut those players down.
"We're really proud of the development our players have undertaken, because it's not just the Richmond Football Club that is interested in our girls, they've caught the eye of other Melbourne-based clubs as well."
Richmond inaugural AFLW players for 2020:
Katie Brennan
Phoebe Monahan
Iilish Ross
Maddy Brancatisano
Christina Bernardi
Sabrina Frederick
Monique Conti
Hannah Burchell
Courtney Wakefield
Tayla Stahl
Alice Edmonds
Grace Campbell
Rebecca Miller
Akec Makur Chuot
Gabby Seymour (rookie)
Kodi Jacques
Alana Woodward