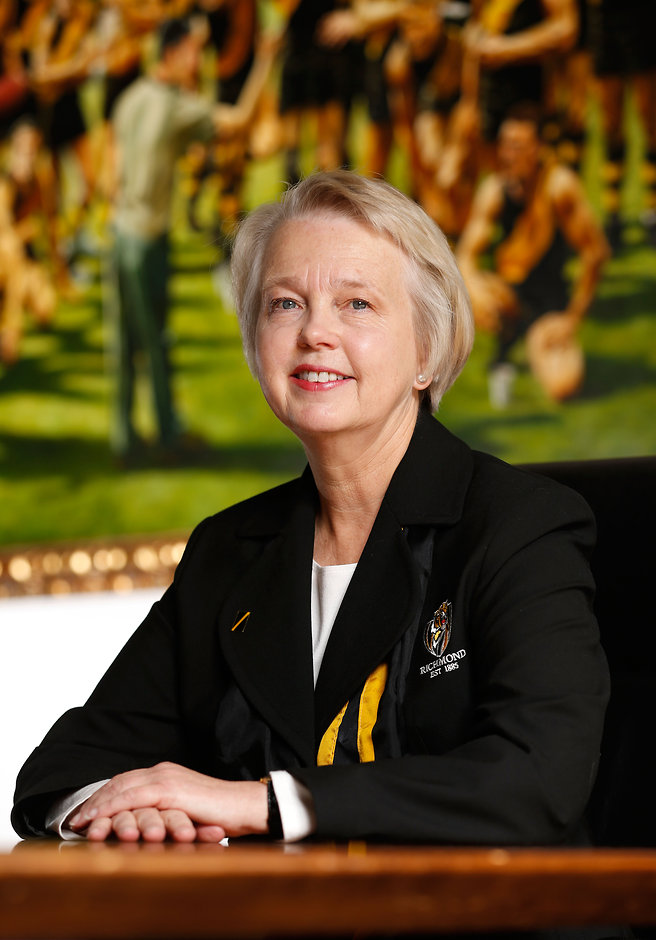 PEGGY O'Neal's first day as a Richmond supporter got off to an auspicious start.
Not long in Australia, having moved from the mountains of Virginia in the US, she turned up to watch the Tigers on a bright, sunny day at the MCG wearing a red, wide-brimmed hat.
"Oh my god, you can't wear that!" shrieked her friend, whose goal that day was to indoctrinate O'Neal into all things Richmond.
"That's the colour of Melbourne and that's the team we're playing today."
With that, O'Neal disappeared briefly, found a merchandise stall and returned sporting a more suitable yellow and black cap. It was the start of a commitment to Richmond that has grown steadily over the last quarter of a century to now, as she enters her second season as president of the Tigers.
O'Neal grew up as a fan of basketball in the US rather than American football, liking the physicality but without the padding. That's what drew her towards Australian football when she first moved here, as did the idea of supporting the local club.
She moved into Richmond – the suburb – and loved the thought of following the club that was based and which played its games just a short walk from home.
Moving through the ranks of a prestigious Melbourne law firm, O'Neal also came to understand that football was the great conversation starter in her new home city.
"As an outsider you learned a lot about Melbourne through the game," she told AFL.com.au in a recent interview. "I quite understand how it gives an outsider - if you're interested in sport – an entrée into the types of conversations Melbourne has for much of the year.
"Once you took a team you have a tribe and once you're in, it doesn't matter much about your background. You have that sense of belonging and understanding of the community that little bit better.
"I like the sport, but really like how it's connected to the community in which you live."
Her devotion grew bit by bit. She gave money to the 'Save Our Skins' campaign that kept the Tigers from death's door in the early 1990s. Once she became a partner of her law firm, she would schedule the mandatory 'work on the weekend' sessions so that she could be at the football in time for the opening bounce whenever Richmond played.
She sponsored players and helped establish the Tommy Hafey Club. In late 2005 she joined the board at the behest of then chief executive Greg Miller. And she became president at the end of 2013, breaking new ground as the first American-born president of an AFL club, but more significantly, the first woman.
Her friends and relatives back in the US find it intriguing that she heads up a football club. In their eyes, the title of 'president' is akin to that of 'owner' and they forever grill her about whether she flies to games in her own private plane.
The female side of course, is more significant. When the presidency became a consideration she knew she had the skills to do the job well. Deciding whether she was the best representative for the club took a bit more thinking.
"I have always recognised that when opportunities came up for women, that they should step up and take them when it's their turn. I can't deny that there was an element of this being a novelty at first and how would that wear with me. But I wanted to be a good president and it was my turn. I knew I was ready for it."
Richmond is no longer the volatile club it once was. The days of ruthlessly sacking its coaches are long gone and as O'Neal rightly points out, both Danny Frawley and Terry Wallace served out their full terms as coach. Damien Hardwick has already had his contract extended once since his appointment in 2010.
But it is a quirky club. The football world fell in love with the Tigers in 2013 as they marched into their first finals series in 12 years and watched with fascination as they slumped to a 3-10 start last year.
What was remarkable about Richmond's slump last year was that while the supporters were apoplectic as the losses mounted, the club itself maintained an admirable impression of calm and unity.
There were few angry outbursts from former greats. Neither O'Neal nor chief executive Brendon Gale gave the media anything even slightly worthy of a screaming headline despite calls from them to do so, chiefly from Matthew Lloyd, who got into a shouting match with Caroline Wilson on Footy Classified one evening when he demanded to know what O'Neal brought to the club in this time of apparent crisis.
"It wouldn't have happened to a male president," Wilson said. "Peggy did so much behind the scenes and because she and her high-profile chief executive didn't speak out, it was amazing.
"One of the reasons the club didn't implode because it had a woman president, someone who was steadying the ship. She maintained that air of stability and kept things calm."
O'Neal says her silence should not have been mistaken for a lack of concern. "I'm still surprised that people think that if they're not reading about it in the paper, then nothing's happening," she said.
"I think the best work is done when you have the freedom to talk among yourselves and not have to pay attention to those who may not have your best interests at heart. The ones who have committed many years with the club and have the right talent are the ones who will go through the process to get us out of this."
It is this sort of calm and measured approach, perhaps shaped by years working among the minutiae of financial services law, that sees people such as Hardwick become unabashed fans of O'Neal.
"What she does really well is not ask a lot of questions but ask the right questions," he said. "That's the sign of a great leader and that's what Peggy is. She makes really solid decisions and doesn't rush into things. You give her answers and then she makes decisions. I have found her to be outstanding."
O'Neal's appointment as president is symbolic of the sort of club the Tigers are striving to become. Even before her appointment, the Tigers were concerned that a breakdown of their membership numbers showed they were in the bottom quartile for female members. 'Wayne from Wantirna', the Coodabeen Champions archetypal forty-something Richmond supporter was actually close to the mark.
So the club eagerly embraced the opportunity to take part in a research project, Gender Equity: What Will It Take To Be The Best, in conjunction with the AFL and the Australian Sports Commission.
The club will be outlining some key announcements before long in this area, but has set itself the target of having women comprise 40 per cent of its key committees and executive by 2017.
"There's more everyone could do," said O'Neal of the AFL industry as a whole. "It's interesting we can still count the number of women on boards but not men. The clubs that want to be better in terms of decision-making and business are those that are trying to bring all types of women into the organisation."
Like those who have gone before her since the club's last premiership in 1980, she dreams of a Tiger premiership flag being unfurled once more. The celebrations will really be something special. But she is front and centre of a profound change for Richmond and for football and she will leave a legacy behind, irrespective of whether the 11th premiership cup makes its way to the trophy cabinet in the interim.
"I think Richmond didn't understand how things were moving on for a number of reasons and has since been playing catch up," she said. "But we have caught up and now we're making the big leap to go ahead."