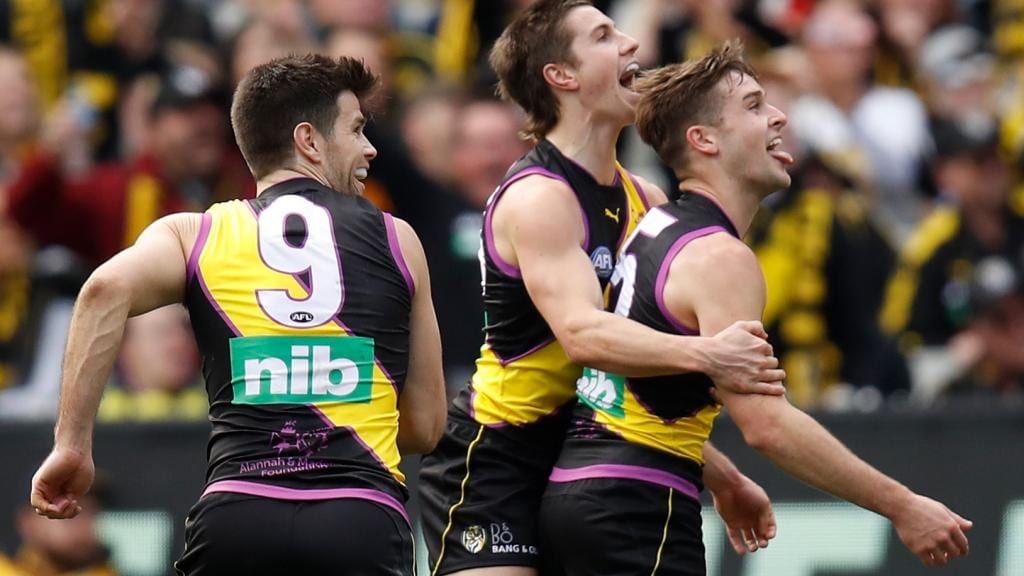 Konrad Marshall sat down with talented small defender Jayden Short earlier this month to kick-off a new series of long-form features on current Tigers by the author of Yellow & Black - A Season with Richmond.
Click here to read Part 1 of the feature, if you missed it.
Jayden Short was taken by Richmond in the 2015 rookie draft, along with Kane Lambert, Jason Castagna and Ivan Soldo - part of a solid haul from the list managers. He knew he would be overlooked in the national draft. "No one was telling me 'You're gonna get drafted' so I had no expectations," Short says. "I think it was better that way."
He lived at home with his parents for two years, then going into his third year moved into a house in Northcote with Lambert. "Kane works his arse off, and he's polite, and you go home and he introduces you to all his mates, and they become your mates, making you feel really comfortable. He's the perfect man, really."
Around that time Short also began learning lessons from the famously dedicated Lambert, almost by osmosis, about everything from recovery and diet to cleanliness and mindset. He had already established his reputation as a bubbly jokester. That was just him being himself. "A loud annoying kid, trying to have fun, trying to take the piss out of a few people, get a laugh out of them and make their day a little better."
MEMBERSHIP The Hunt Continues in 2019; join as a member today
Short plays jokes on any and every teammate, of course, but also peripheral figures. The gameday doormen. A security guard. He'll see a tradie walking through the club and call out to him - tell him he needs to report to the front office, for no reason at all. Last season, I was embedded at the club during the finals campaign and I kept hearing my name called out in meetings - "Konrad!" - or between meetings - "Konrad!" - or while I was standing on the sidelines - "Konrad!" I fix him with a look: That was you, wasn't it!
Short flashes a sheepish, guilty grin: "I get a few people. I've pulled it on pretty much everyone, but you kept biting, snapping your neck every time I had a try. That's why I kept getting ya."
As his time at Tigerland went on, Short added something to his repertoire, perhaps after seeing Lambert modelling his formula for success. Taylor says things changed for Short in his crucial third pre-season. "The grit came through," Taylor says. "Jayden came back and had taken about 45 seconds off his 3km time. That's phenomenal. You could see he had some resolve, that he wanted to make it. And he has."
Shane McCurry, who leads the playing group's leadership and culture sessions, sees this, too. "When I think about leadership, I don't think about seriousness, or positivity - I think about contribution. He's one of the biggest drivers of the fun, but he mixes that with hard work. He's not one or the other - he's both."
Short himself enjoys flicking that toggle switch between the hard stuff and the fun stuff.
"Having a laugh while you're slogging away, it gets you through the work, and you end up making the most of it. You don't want to dread your job. I speak to my mates and they're tradies, and they don't really enjoy their work. For them it's another day, another dollar. I wake up and this doesn't feel like a job. It's never a burden. We work hard, we laugh a lot, we get it done, and when the hard conversations need to come we can have those, too. What else would I rather be doing?"
Emma Murray, watching the same intraclub match at training, says Short has found a balance because he needed to. He has an obvious gift for holding the energy in the room, whether creating a new nickname or simply smiling. "He's like this little energizer bunny, vibrant with his voice, always grinning, always happy, and that's awesome," she says, "but I don't think we can sustain that forever."
Murray more fondly remembers a moment on pre-season camp, when she happened to be sitting next to him on the bus in Queensland, on the way to a set of hill sprints. They shared a lovely conversation about nothing in particular: girlfriends, family, footy, life. "And there was no masking - just comfort in his own skin," she says. "Watching Shorty grow, for me, has been watching him learn that he doesn't always have to play that high energy role. That he can just be where he's at - he doesn't always have to be up, up, up. It's such a subtle growth but such an important one."
Short has considered this. He wants to be taken seriously - not to allow his persona to drift into any kind of clownish caricature. And in one-on-one meetings, including this interview, he gives whoever he is with a kind of undivided recognition of the other. He nods as he listens. He holds eye contact. "I want to be real," he says. "But when it's an environment where I can spice things up, and give someone else my energy so they're having fun as well, why wouldn't I? Doing it all the time could take a toll but I don't see it that way. I feed off everyone else, too. When I get a laugh out of someone, I get that buzz back from them. That gets me up."
He bought his own house in Northcote recently - a double fronted four bedroom Victorian weatherboard. He has renters - Liam Baker and Ryan Garthwaite - but is adamant neither one needs mentoring. Garthwaite is as serious as they come – the yin to his yang - and Baker has been living away from home since he was 17. Short doesn't feel old enough to play any kind of elder role anyway. He just turned 23 - he's shocked he owns his own home.
"It's frightening!" he says. "But my manager was telling me, you need to start thinking about buying somewhere, and I'd push it aside. 'Are you looking?' he would ask. 'Yeah yeah', but I wasn't. Anyway, I bit the bullet, but throwing my hand up at auction to spend that money - that's one of the scariest things ever."
BROWSE Find a 2019 membership package suited to you
On field, his role is as it has been these last two years. He starts as a defender, there to beat his man, to make his day difficult and to do that - in part - by taking the game on, exploiting any weaknesses while opening up the ground for the Tigers down field. It's a clarity of purpose that saw Short land in All Australian calculations last year. He deflects any praise.
"Bringing your strengths is about helping out your teammates," he says. "If I don't bring my strength - my run and carry - then maybe Grimesy's gotta do it for me, and then he doesn't get to focus on his game. If I do what I need to do, that bond in the backs can be formed."
He wants to grow as a player, of course. This is not his ceiling. Sharpening the axe at training for Short means many things. Right now, it's extras in body work. It's going into a drill and understanding - knowing - exactly what he wants to learn and better within himself.
"If it's a contest drill, long down the line, and I'm playing on a small forward, I can't be taking off and running to the contest, forgetting my man. I need to get some physicality on him, make life difficult for him, rather than hoping that I get the ball and he doesn't," he says. "There's also opportunities for me to intercept the ball a little more. We rely a lot on our keys to intercept the ball, but sometimes I need to go."
Making those calculations and considerations is what will help him avoid any repeat of the biggest toweling of his career so far, against a perhaps unlikely toughest opponent: Ben McGlynn of the Sydney Swans. "I didn't know what I was doing. It was my second year at the club, first year playing. His experience around goal - he really challenged me. He caught me out of position so many times by getting to the right spot. I think he kicked five goals on me. I learned something from it though, so I'm grateful he showed me."
Short is, of course, being unfairly hard on himself. The game in question was Round 23, 2016, when Richmond capitulated to Sydney in the final game of a disastrous season, losing by 113 points, in what coach Damien Hardwick called "our kick in the backside". Short was hardly alone.
He's looking forward to the season ahead, of course. He thinks Oleg Markov will be knocking on the door of senior selection more often than not, perhaps even breaking it off its hinges. Another one to watch, he says, is young ruck/forward Callum Coleman-Jones. "Big boy. Big body. He's really impressed me."
I ask Short, finally, what he enjoys most on the football field. I want to hear his favourite individual thing, and I have to pry it out of him. Turns out it was exactly what he was doing in that intraclub match, and what he did up at Shepparton the following weekend – winning the ball as a half back, hitting a target, following up, then moving down the field as one part in a flowing, unbroken, yellow and black chain of possession. "If you do one of those even once," he says, smiling, "it feels like you're connected to the whole game, like you're part of everything."
But his real favourite thing, he has to add, is celebrating. "If you watch the vision of someone kicking a goal for us, I'm just wrapt. I just want to get around them. I'm sure there's footage somewhere of me kissing Butler," he says. "It's just an awesome feeling, when the boys kick a goal, and you turn around and run back to the backline. I feel like I've kicked the goal. It's not about doing things - it's about seeing other people do them. That's what really lights me up. Yeah, that sets my mood real bright."
Konrad Marshall is the author of Yellow & Black - A Season with Richmond, and a writer for Good Weekend Magazine.