The Richmond Football Club is delighted to announce the appointment of Tom Hunter as the Club's inaugural AFLW senior coach.
Hunter, 28, is the Tigers' current VFLW and Academy coach, a role he has held since its inception in November 2017.
MEMBERSHIP Become one of the Club's first inaugural Women's Football Foundation members
An AFL Level 3 Accredited Coach, he developed his coaching prowess as an assistant coach with Richmond VFL and the Calder Cannons.
Hunter said to be chosen as Richmond's first ever AFLW coach was "really special".
"I'm really grateful for the opportunity that the Richmond Football Club has given me…to be there since the start, with the VFLW and now leading into AFLW, I'm really grateful and in a really lucky position to take my coaching to the next step," he said.
"I'm pretty proud of what we've been able to put in place for the women's program at Richmond. It started with the VFLW and we're 18 months into that and now, leading into the AFLW, it's really exciting."
Hunter's coaching career came to fruition after his own AFL career was cut short at age 20.
A talent junior footballer, he was drafted by Collingwood with pick 18 in the 2010 AFL Rookie Draft before a series of neck injuries in his second year forced him into early retirement.
He was heartbroken, but determined to continue to be involved in the sport he loved.
"It was a really tough time but I wanted to stay involved in footy," he said.
"For me, coaching was pretty hands on but it was also somewhere I could make an impact and help others get better, and that's something I'm really passionate about."
Hunter also pursued a career as a primary school teacher, something he believes has translated well to his coaching.
"Part of coaching is managing but it's also educating," he said.
"I think my time teaching certainly helped my coaching and my time as a coach has certainly helped me as a teacher."
Hunter credited Richmond VFL coach Craig McRae as someone who has had a huge influence on his development as a coach.
"Hearing him speak about the VFL program and seeing what he did with that, I wanted to have something like that as well…For me, it's just about having something I can make an impact in and help others get better and get the most out of themselves," he said.
Richmond's 2020 AFLW side is taking exciting shape, with Hunter joining 10 confirmed players.
Under his stewardship, he hopes to continue to build an environment that fosters both success and enjoyment.
"We want to be successful right from the word 'go'… and we want to have fun while playing as well," he said.
"We want people to come and watch our games and really enjoy watching us play, to see us a Richmond jumper and go 'that's definitely a Richmond side'."
The VFLW Tigers have started this season 5-0 under Hunter, after four wins in their debut season in 2018.
Richmond General Manager of Football, Neil Balme, said the Club is thrilled that Hunter will continue his fantastic work in shaping the Richmond Women's Football program.
"Tom has been heavily involved in our AFLW recruitment process, and is the perfect person to lead this team's exciting step into the competition," he said.
"The way the playing group has been able to thrive and develop under Tom is a testament to him and the elite football program he has helped to build.
"We have the utmost confidence that Tom with his enthusiasm, strong communication skills and passion for development is the right person to coach this group into the AFLW."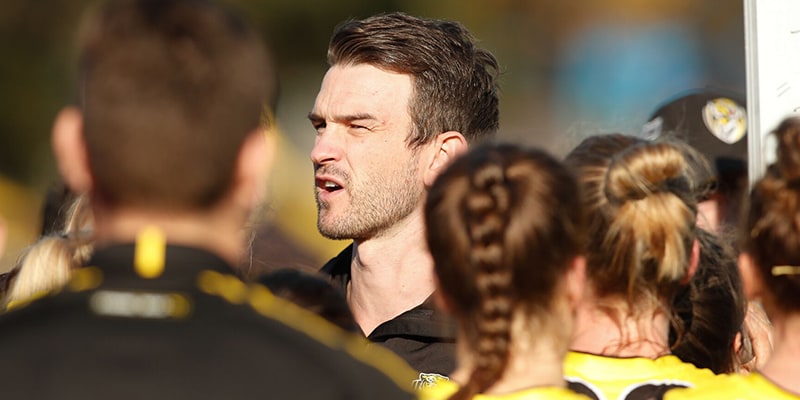 Richmond inaugural AFLW players for 2020:

Katie Brennan
Phoebe Monahan
Iilish Ross
Maddy Brancatisano
Christina Bernardi
Sabrina Frederick
Monique Conti
Hannah Burchell
Courtney Wakefield
Tayla Stahl