Richmond are hitting the regional Victorian communities of Albury-Wodonga and Shepparton for the Club's annual AFL Community Camps.
A group of Richmond players will travel to the Victorian border on Monday, February 25 for a two-day camp.
While in town, the players will visit up to 12 local primary schools, local junior football clubs, the Albury-Wodonga Aboriginal Health Service, and hold an open training session at Martin Park, Wodonga for fans to attend.
MEMBERSHIP Join as a 2019 Richmond member today
The open training session will be from 9:45am on Tuesday, February 26, with mascot appearances, giveaways and player signings after the session.
Later that week, a squad of Tigers will descend upon Shepparton for three days from Friday, March 1 to engage in community activities ahead of the Club's first JLT Challenge match against Melbourne in Shepparton on Sunday, March 3.
Fans can meet their Tiger heroes at the Maude Street Mall from 3:30-5:30pm on Friday, March 1 with player signings, Q&A sessions, giveaways, mascot appearances and kids' activities available.
The Club will hold an open training session at 10am on Saturday morning at Deakin Reserve, fans are encouraged to attend, with player signings and Richmond merchandise available.
The players will also attend a lunch function hosted by AFL Goulburn Murray at Shepparton Football Netball Club on Saturday, March 2. The function will include a two-course meal, player interviews, auctions, and giveaways.
While in the region, the players will also engage with GV Health, AFL Goulburn Murray Football Academy which includes participants from Richmond's Next Generation Academy. The Club will also attend Rumbalara Football and Netball Club and Academy of Sport and Health Education (ASHE).

The regions are significant to Richmond, with the Club's Next Generation Academy zone covering both areas, the Club's wholly-owned subsidiary businesses, Aligned Leisure manage the major health and recreation facilities in Albury-Wodonga, as well as the Richmond Institute of Sport Leadership - delivered in partnership with Swinburne University of Technology - also expanding into the border this year.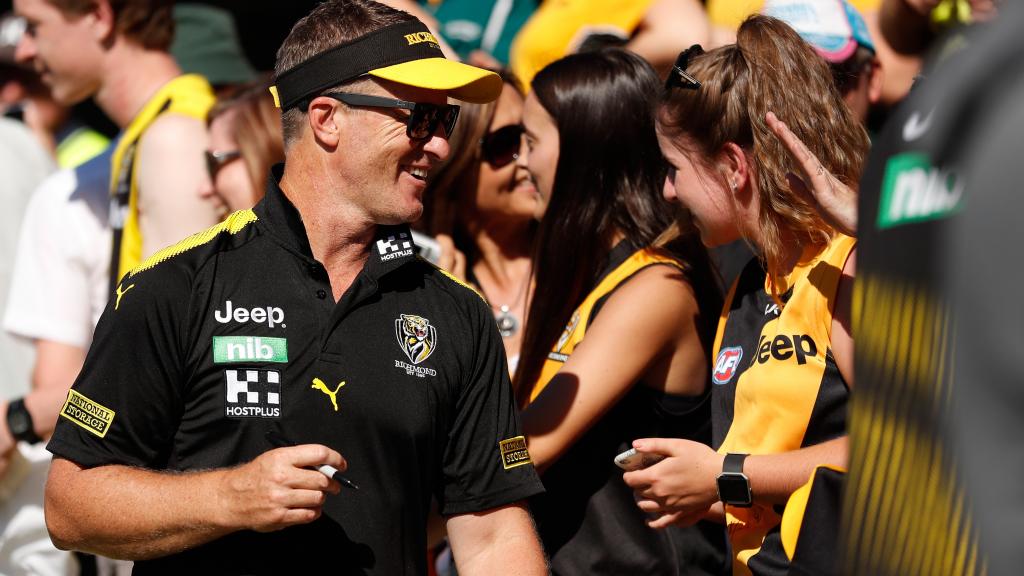 Richmond CEO, Brendon Gale said the Club and players are looking forward to spending time with regional Tiger fans.
"It's always exciting for our players to visit regional areas, and interact with Richmond fans who may not have as many opportunities to see us throughout the year," Gale said.
"The Club has a strong presence in both Albury-Wodonga and Shepparton year-round with our junior multicultural and Indigenous football Academy and subsidiary businesses operating throughout the regions, so it's exciting to bring the players up there to spend time in those communities too.
"We hope to attract some great crowds to the various open training sessions, events and also our game in Shepparton, it's always a great atmosphere when we play in regional areas."
Richmond AFL Community Camp Fan Engagement Opportunities:
Albury-Wodonga:
Open Training
Tuesday, February 26, 9:45am
Martin Park, Gordon St, Wodonga
Shepparton:
Maude Street Mall
Friday, March 1, 3:30pm-5:30pm
inflatables, handball targets, player signing, Q&A's, giveaways, mascot appearances
Open Training
Saturday, March 2, 10am
Deakin Reserve
Lunch Function
Saturday, March 2, 11:30 – 2pm
Shepparton Football Netball Club, Harold St Shepparton
$70 ticket includes 2 course meal. Drinks available at bar prices. Player appearances, interviews, auctions and giveaways
Tickets purchased from: aflgoulburnmurray.com.au/tigers-on-the-prowl
JLT Challenge
Richmond v Melbourne
Deakin Reserve, 4:40pm