For Akec Makur Chuot, her selection in Richmond's 2020 AFLW side was "a long time coming".
Chuot played six games for Fremantle in the 2017 maiden AFLW season, but was delisted at the conclusion of her first year.
MEMBERSHIP Become one of the Club's first inaugural Women's Football Foundation members
While it was a disappointing setback, Chuot was resolute she would return to the top level one day.
So, in 2018, she relocated to Melbourne in the hopes of restarting her AFLW career.
After one year in Carlton's VFLW program, she moved across to Punt Road, quickly becoming a much-loved member of the Tiger family with her vivacious nature and strong work ethic.
And as she puts pen to paper and re-joins the AFLW ranks, Chuot said the second chance "means a lot".
"Once you have a group of people that just believe in your ability and what you can bring, it's really easy for you to believe in yourself and have that confidence," she said.
"The Tigers have really done that for me and I'm really glad I made the decision to not walk away from the game but to come to Tigerland and play footy.
"To know I'll be going into the AFLW with girls from the (Richmond) VFLW is really exciting… and we get to go through this journey together, it's going to be phenomenal."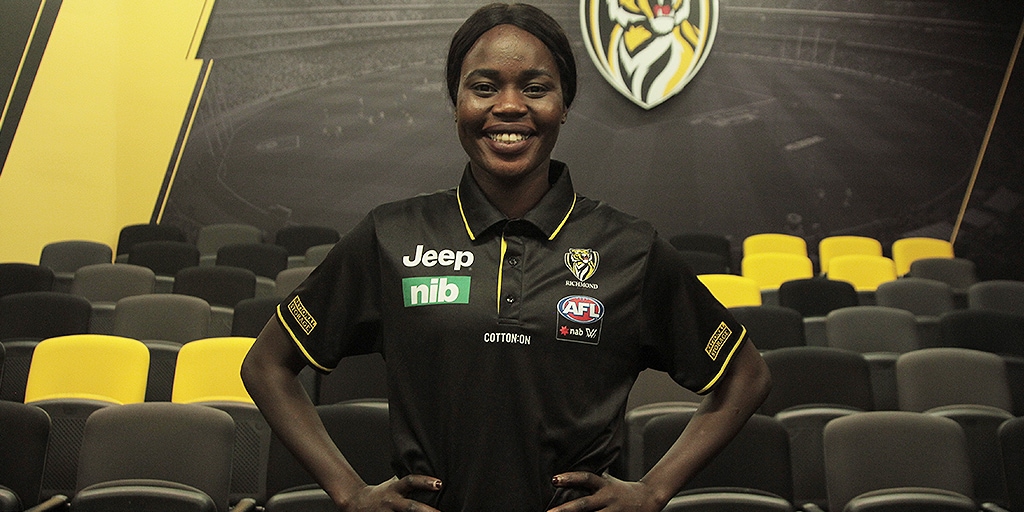 But the 26-year-old's fabled journey is one that extends well beyond the football field.
Born in South Sudan, Chuot arrived in Australia at the age of 12 after spending nine years in a Kenyan refugee camp.
She had never played sport before, let alone Australian rules football.
When she did finally pick up a Sherrin in high school, her raw talent was clear, and she hasn't put it down since.
On the field, Chuot provides great dash off half-back. Her long kicking is a feature of her game and she has averaged 11 disposals and three marks for Richmond this year.
After showing promise all over the ground in her first season as a VFLW Tiger, Chuot hopes to continue expanding her versatility.
"I'm just looking for the opportunity to grow and develop… I'm going to make myself a utility as much as possible," she said.
 

 

 

View this post on Instagram
When asked what she's going to bring to Richmond's inaugural AFLW side, Chuot had just one word, "myself."
"What I'm going to bring to the Club is who I am, sharing a bit about my culture and where I'm from. I think that's really important," she said.
Chuot considers her AFLW selection an opportunity not only for herself, but something that can inspire the next generation of female footballers.
"For me, I have a massive task because there's not a lot of African girls running out there. Just having that presence as an African woman, I feel like it will really encourage young women to chase their dreams," she said.
"I love this game and the opportunities it's opened up for me, so that's why I continue."