Oh we're from Tigerland
Stories of being Richmond
Chris Rees, 48, South Hobart
Favourite all-time player
Duncan Kellaway - "He was just defence through-and-through. He was no frills, he was very fair, and he had a lot of courage."
Favourite current player
Jack Riewoldt - "It's his leadership. He's playing four quarters and is extremely consistent. He's finding new facets to his game each year."
Who remembers Renato Dintinosante or Tony Pastore?
One played two games for Richmond; the other, one. All were losses in 1987, when West Coast and the Brisbane Bears joined the competition and Richmond 'won' a wooden spoon. Two Richmond footballers and both a footnote in the history books, until Chris Rees came along.
"They're the soul of the duffle," says Chris, a Hobart-based illustrator and graphic designer, a family man, and Tigers fan whose support is more creative than most. "Collingwood, Carlton and Footscray have had a lot of Italian players, but we haven't. These two played not that long ago but few recall them. But they're both now on the duffle."
He's talking about the Virtual Duffle Coat, his fan-based honour board that brings a crowd together, making a club as one. Rees has put a badge of Tony Pastore (three kicks, one mark, three handballs) alongside Bartlett and Weightman, and a woven name tape of Renato (20 kicks, three handballs, one tackle, no goals) beside 'Richo'.
An artist's trick, he's made football's playing field level.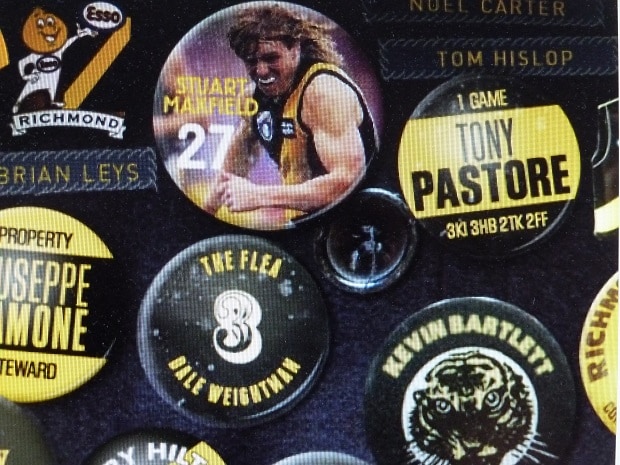 Tony Pastore (one game): his make-believe badge, high on Chris's Virtual Duffle Coat near the likes of KB (403 games), the 'Flea' (274 games) and the club's current property steward, Giuseppe Mamone (0 games).
"There are people at all clubs who are easy to forget if you don't make the effort to remember them," says Chris. "Nobody would have actually bothered to manufacture a Tony Pastore badge because he was a struggler in the seconds who filled a hole one week, but I've made one. I've faked it up. I've made it look as though Tony got every bit as much attention as Geoff Raines or 'Disco' Roach, or Mark Lee."
Using the tools of a graphic designer and his own creativity, Chris has brought all at Richmond – past and present players, coaches, administrators, barrackers; the living and shared history of a football club – together on a page as a big family. And all of it in the colours that for so many, are charged with so much meaning.
"Black and yellow is a fantastic combination," says Chris. "But you need the right proportions."
Few others would consider so regularly these two colours as much as he does. "I'm always trying to do them in other ways, but I've found equal stripes of yellow and black don't have the graphic strength of the sash. And the two colours become 'muddy'."
"It's the big block of black and the small amount of yellow that works," he says. "It's the simplicity of the jumper design that grabbed me as a kid."
Who said there's no place in football for nostalgia?
Chris Rees was born and raised in Burnie in north-west Tasmania, the son of a school teacher (a Carlton man, if put in the witness box), with his early understanding of football coming at the height of Richmond's heyday. "They were a powerhouse, the Hawthorn of their day, winning back-to-back premierships."
Another influence was his local team, the not-so-mighty Burnie Tigers (who in 1987 became the Hawks, then from 1995 the Dockers). It's where Brendon Gale first played senior football. "Like a lot of people on the North West coast, and in other parts of the country, I transferred the colours of my hometown team to a VFL team."
From Burnie, Chris went south to complete a fine arts degree at the University of Tasmania in Hobart and then moved to Melbourne for work in 1990, where he saw his first game of VFL/AFL football. It was Round 2, Friday night, his Tigers versus the Kangaroos at the MCG. Chris went by himself. Brendon Gale played his second game. North kicked 13 goals in the first term and won by 141 points; their biggest-ever win and highest score. He witnessed Richmond's biggest-ever loss.
"We weren't going well so it wasn't a great surprise, but the blow-out was hard to take. But I did enjoy the experience of going to the G at night, the stadium lit up – the theatre of it all."
Any who know of Chris's football artworks would understand this aesthetic appreciation. In the past few seasons he's established a loyal following among football devotees, especially for his graphic designs honouring two Tiger heroes: Robbie 'Bones' McGhie and Maurice Rioli.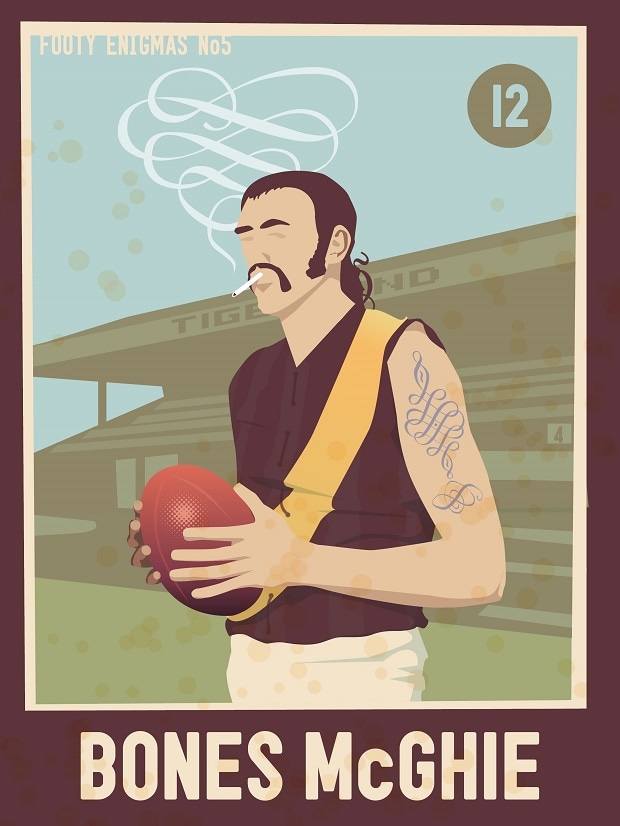 Bones McGhie: A Tiger hard man, a footballer as still life (and a shout out to his son, Lucas, wishing him all the best from all at Tigerland)
Both tell a story that blurs the lines between footballers and fans.
Three seasons ago, finding himself out of full-time work and looking for opportunities, Chris decided to marry two of his passions – the football players of his youth, and graphic design. The result was a series he calls '1970s Footy Enigmas', with plans initially for one design motif for each of the 12 VFL clubs.
Vince Catoggio is his face of Carlton, Peter McKenna Collingwood, Geoff Blethyn Essendon, Robbie Flower Melbourne and for Richmond, the hard-knuckle boys from old Struggletown, he used Robert 'Bones' McGhie.
He based his 'Bones' image loosely on Melbourne photographer Rennie Ellis's famous pictures of the centre-half back with a beer and cigarette after the 1974 Grand Final ("I created a kind of squiggly arabesque for his tattoos which is mimicked by the cigarette smoke"), and borrowed also from the styling in his Scanlens Gum football card collection. The result is a still life of a rugged Tiger, a portrait of a game from another time, a work of art.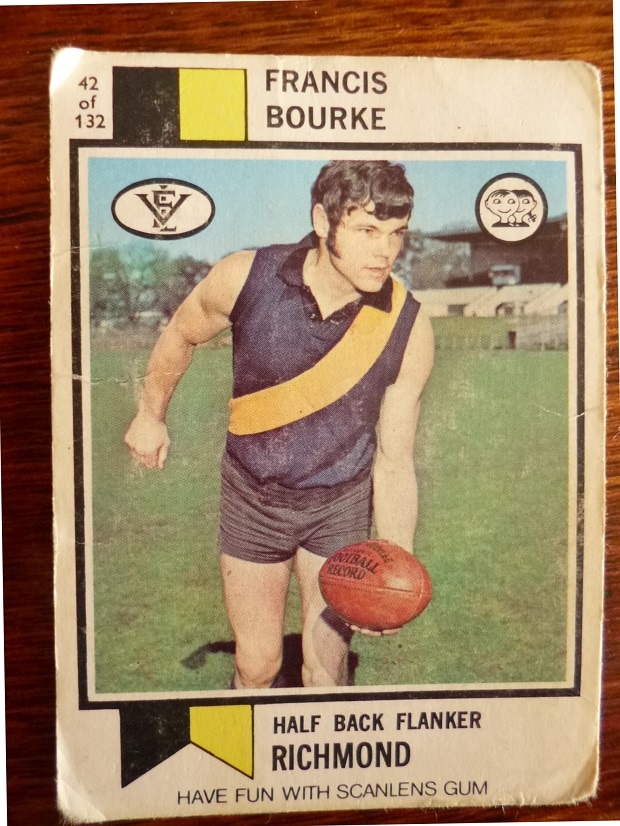 Half back flanker: Saint Francis, as depicted in on one of Chris's Scanlens Gum footy cards, used as the colour palette for his Bones design.
"Robbie was pleased to be remembered and happy to be celebrated in this way, and his daughter Kalon later sent me an email," says Chris. "She said how her dad's eyes light up when they talk about it, and how it continues her dad's legacy as a footballer."
Matt Corbett, a beef farmer near Byron Bay who has a prized black Angus bull called 'Richo' (and a cocky who sings 'Oh we're from Tigerland'), bought a Bones McGhie t-shirt online and contacted Chris in Hobart, floating the idea of him creating an artwork to acknowledge one of his favourite players, Maurice Rioli.
From an idea, inquiries made connections between people who love the game in all corners of the country. From Byron, the project led to Adelaide, to former Central Districts Bulldogs player Sonny Morey, who contacted his fellow-Indigenous teammate, Wilbur Wilson, in nearby Elizabeth Downs. Wilbur eventually located Gavin Rioli, Maurice's son, in Perth. Matt Corbett in Byron called him. And Chris in Hobart had the green light for his art.
"I always loved his name," says Chris. "He played with calmness and poise, and no wasted effort. I hope the artwork captures that balance, and introduces the memories of Maurice to a whole new crowd of Richmond supporters."
And being the generous, community-minded person he is, all future profits Chris makes from selling his Maurice design on a range of products (T-shirts, phone covers, coffee mugs, etc) will be donated to the Lowitja Institute's Career Development Fund, supporting Indigenous health research. If he sells another 50 items, he estimates he'll raise about $460 for the Institute.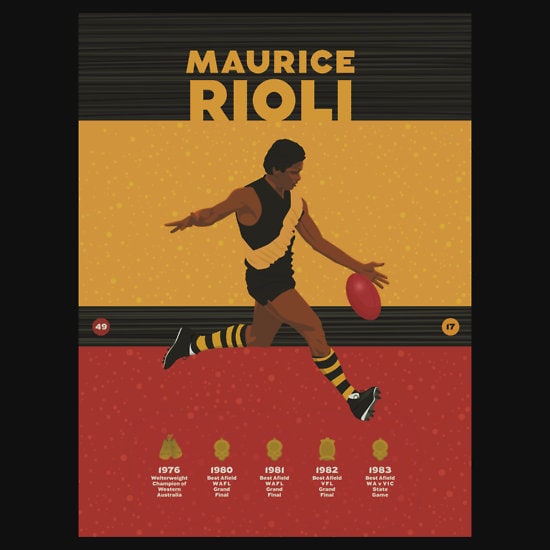 Maurice Rioli: a sporting champion who lives long in our memories, now immortal in art.
Chris is going to the game at Bellerive on Friday night, with his eldest son, Marcus. If Richmond wins and Daniel Rioli plays, he hopes to find his way to Richmond's change rooms to handover a Maurice image to his relative.
And for all Tigers visiting Hobart for the game, his tip: "Bring a lot of warm clothes. You'll end up putting them all on."
Then again, there's nothing like an away win to warm the cockles of all Tiger hearts.
Go Tigers!
If you would like to nominate a Richmond fan who has a story to tell about their barracking please email Dugald Jellie with details: dugaldjellie@gmail.com