Oh we're from Tigerland
Stories of being Richmond


JASON MARINIELLO, 38, RICHMOND



Favourite all-time player:
Dale Weightman – "The Flea! He was little, he was a courageous captain, he was a star when he played for Victoria."
Current favourite player:
Shaun Grigg – "This year I've liked Grigg a lot. He's been an important player. When we miss Deledio he's able to step up. He's quick, he's been scoring goals, he's good defensively, he's got a lovely left-foot kick."




"Since I've been alive, there hasn't been a lot of joy barracking for Richmond," says Jason Mariniello, a fan who lives in Tigertown and flaunts his colours more than most. "It's been ups and downs, but mostly downs. I think it's us supporters who are the lifeblood of the club."
A house painter by trade, two Septembers ago Jason daubed half the paling fence to his weatherboard cottage in south Richmond a perfect shade of yellow and black. The other half he painted black-and-white, in deference to another love of his life, his wife, Suzie, and her Magpies. On the Sunday morning after Collingwood lost their Elimination Final, he prised open his tin of yellow and finished off the job. Then Richmond lost to Carlton, hearts were broken, and out came the white.
Last season, Jason went early and painted his fence yellow-and-black before the final round, when Richmond took on the Swans up in Sydney. "Everyone loved it," he says. "People stopped and took photos. It got people talking."
A week later, and the Tigers lost again, knocked out by Port Adelaide. Again, more white paint.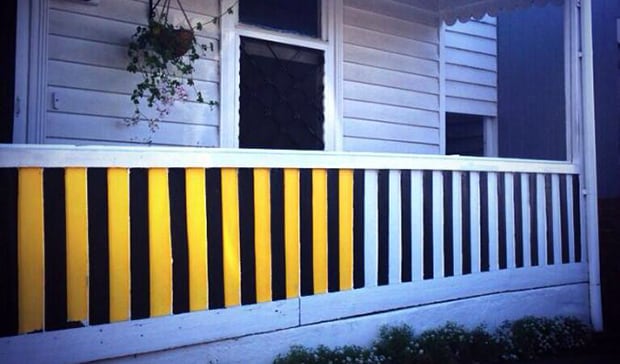 Shared love and football loyalties: Jason's handiwork in the first week of finals, September 2013


This week, before Richmond take on Collingwood, resuming a football feud that feels sometimes as old as the river that once tied the home grounds of these two inner-city clubs, other loyalties are at play. Namely, Jason and Suzie's two-year-old son, Lenny – a contested possession! – and who he might barrack for.
Jason invokes the father-son rule. "He was born and bred in Richmond," he says. "Suzie's family are big into Collingwood. When he was born they gave him a Collingwood T-shirt and jumper, and asked us to put him in it and send them a photo, but we never did. He's a Tiger until he chooses to be something else."
Suzie, for her part, is happy however the ball bounces.
"I think he'll want to be Richmond," she says. "He lives in Richmond, he's daddy's Richmond, he's learning to swim at the pool at Punt Road, and he likes saying 'Go Tigers'."
Her cause hasn't been helped by Collingwood these past two seasons, finding themselves on the ladder's lower half while the Tigers have clawed their way to the top eight.
Not that it's always been this way. The son if Italian migrants ("When they arrived from Naples his only choice was Carlton, Richmond or Collingwood"), Jason followed the allegiance of his father, and his uncles, growing up in Vermont and dreaming of the yellow and black. This wasn't necessarily always in his best self-interest.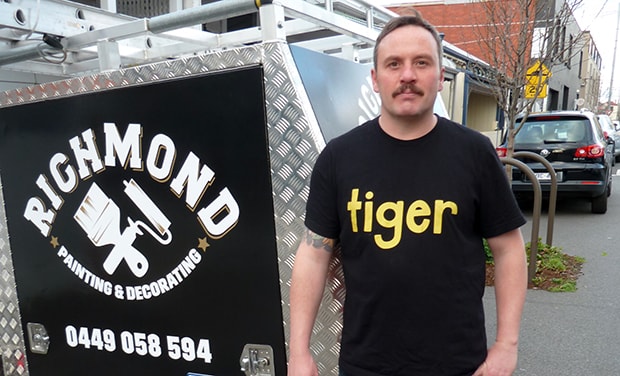 Master craftsman: this Tiger means business.


"I especially got caned through high school," he says. "I used to hate going to school on Monday because I'd cop it. My best mate's a Geelong supporter, and that was the time that Ablett used to destroy us single-handedly."
When the league was renamed the AFL in 1990, Richmond held the wooden spoon and was as good as insolvent, so it's of little wonder that Jason's younger brother turned his back on family tradition. He changed the yellow sash to red, becoming a Bomber.
"He got to primary school and all his mates were either Hawks or Bombers and at that time they pretty much had a monopoly on the finals," he says. "The Tigers were a team that never won. They were always stuck on the bottom two or three places on the ladder."
Now nearing the cusp of a new spring, Jason's years of Richmond longing are at last starting to bear fruit. Essendon have imploded. Collingwood dropped away. Carlton have fallen in a dark hole that looks to have a wooden spoon in it somewhere. Of Melbourne's traditional 'big four' clubs, it's only Richmond this year who can make a tilt for September glory.
The sun is warming up the soil, apricot trees are in blossom, the grass will soon start growing again and life for Jason in Richmond, for now, is perfect. On still Saturday afternoons, he can hear the MCG siren. His team won handsomely last week. His two-year-old boy, Lenny, looks every bit a Tiger.
Jason steps outside, below the broken Nylex clock on the malt silos that rise at his street's end, and contemplates a new paint job, a little lick of colour for September.
"I'll definitely paint the fence again if we make the finals," he says. "When I know we can't fall out of the top eight, it'll be painted."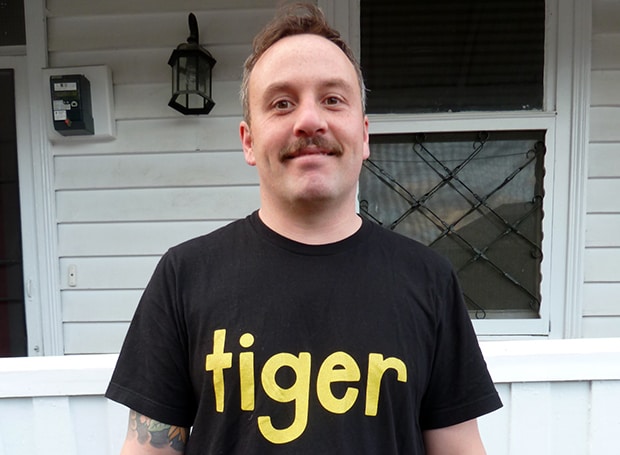 Showing his colours: a Tiger in Tigertown


For all who live around Cotter Street, Richmond, a recent local landmark hopefully returns. It's become a ritual of spring. He says Collingwood and Richmond fans across the road, and Swans and Hawks on either side, all enjoyed it when he shows off his footy colours with his handiwork.
"Most people in the area have started to look out for it," he says. "I like how neighbours put yellow and black ribbons in their windows. I like the excitement of it when Richmond are doing well. I like how people get into it."
Go Tiges! And go Jason, the Tiger behind the brushes at Richmond Painting & Decorating!
If you would like to nominate a Richmond fan who has a story to tell about their barracking please email Dugald Jellie with details: dugaldjellie@gmail.com