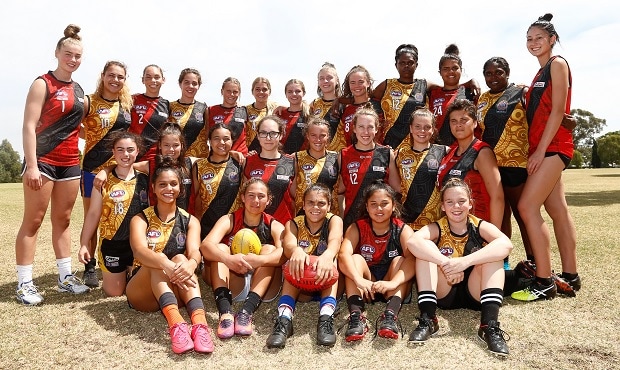 A program designed to identify and nurture talented Aboriginal and Torres Strait Islander female footballers into the elite AFLW pathway launched at Richmond last weekend.
Delivered in partnership with AFL Victoria and VicHealth, the Boorimul program identifies and develops talented, young Aboriginal and Torres Strait Islander (ATSI) women, to not only maximise their football potential, but develop them as culturally affirmed and resilient community members.
The program, which will be rolled out over three camps at the Swinburne Centre, is also supported by national tier-one construction company Probuild.
Probuild was last year announced as a presenting partner of both the Boorimul program and the highly-successful Laguntas program for males.
Probuild Managing Director Simon Gray said the organisation was proud to support both programs.
"It's fantastic to see another AFL Women's talent pathway developed for aspiring young Aboriginal and Torres Strait footballers," Gray said.
"We are proud that our support has helped enable the Boorimul program to be established.
"Whilst football is the focus of the program, importantly participants are also involved in leadership training, cultural affirmation and personal development."
The first phase of the inaugural Boorimul program launched last weekend, where 28 participants traveled from across Victoria for a two-day program that consisted of education and cultural awareness sessions, as well as a hitout.
A highlight of the program saw the aspiring female footballers also attend Saturday night's AFLW match between Carlton and Brisbane.
The participants, aged under-18, were selected from last November's Koorie Women's Football Carnival, open try outs and the AFL's Kickstart Programs.
The inaugural Boorimul group will return to Melbourne for the second phase in March, then the third and final phase in May when they will play a curtain-raiser to the VFLW Tigers.
Richmond's Korin Gamadji Institute (KGI) is working alongside AFL Victoria, VicHealth and Probuild to implement the program.
"One of the main objectives of this culturally supportive program is to see more Aboriginal and Torres Strait Islanders involved in all facets of football," said KGI Director Aaron Clark.
"Richmond will field a VFLW team this year and has been granted an AFLW licence in 2020. We hope the Boorimul program will ensure we have great Indigenous representation at both levels."
Richmond VFLW rookie Natarsha Bamblett, who has been involved with the KGI since 2012, was called upon as a mentor for the first phase and helped participants develop a War Cry.
A young community leader, Bamblett was named Ms NAIDOC in 2017 and is also an Ambassador for the David Wirrpanda Foundation.
Participants also heard from former world champion jiu-jitsu competitor turned wrestler Shantelle Thompson, who held a session on resilience and life as a professional sportsperson.
AFL Victoria Female Indigenous Programs Coordinator Lily Graham said it was great to be able to provide an opportunity for the next generation of Indigenous female participants to establish a pathway into Australian Football.
"The opportunity to provide a platform for 28 young Indigenous females to not only learn more about the game, but also understand more about their culture and themselves is something we are really proud of," Graham said.
"The participants enjoyed a host of activities across the two-day Boorimul program camp including nutritional and health sessions, football education sessions and also attended an AFL Women's game.
"A number of the participants had never been to an AFL Women's game before, so it was great for them experience the match and see the on-filed opportunities available for them within the female talent pathway."