The VFLW Tigers will look to get back on the winners' list this Sunday when they return home to the Swinburne Centre to face Melbourne Uni in Round 10.
Off the back of a narrow six-point loss against the Western Bulldogs last week in their first loss of the season, the Tigers will play their first game on home turf in five weeks.
MEMBERSHIP Become one of the Club's first inaugural Women's Football Foundation members
Richmond will be aiming to secure back to back wins over Melbourne Uni when the teams meet for the second time this year, after the Tigers registered a thrilling three-point win over the Mugars in Round 4.
Small forward Emma Gunn said the new-look Tigers are in good stead to continue their "absolutely amazing start to the season" over the remaining seven games.
"The vibe (this year) is great… it's been awesome," Gunn said.
"There's a lot of support and connection in our group, it's one of our core focuses here at Richmond."
View this post on Instagram
The livewire, who is currently in her second year as a VFLW Tiger, has been an integral part of the Richmond Women's program since its commencement.
Her spirited nature has had a profound impact on her teammates, and she has quickly established herself in an environment where all are encouraged to develop as leaders.
"I think it's not just up to the leaders to lead the group, especially here at Richmond, it's everyone's job and responsibility to get around each other and build each other up because we can't just be relying on a certain group of people to be doing that every week," Gunn said.
"It builds up my spirit getting around other people, it just gets the vibes up…we all perform better when we're feeling like that, so I enjoy doing that."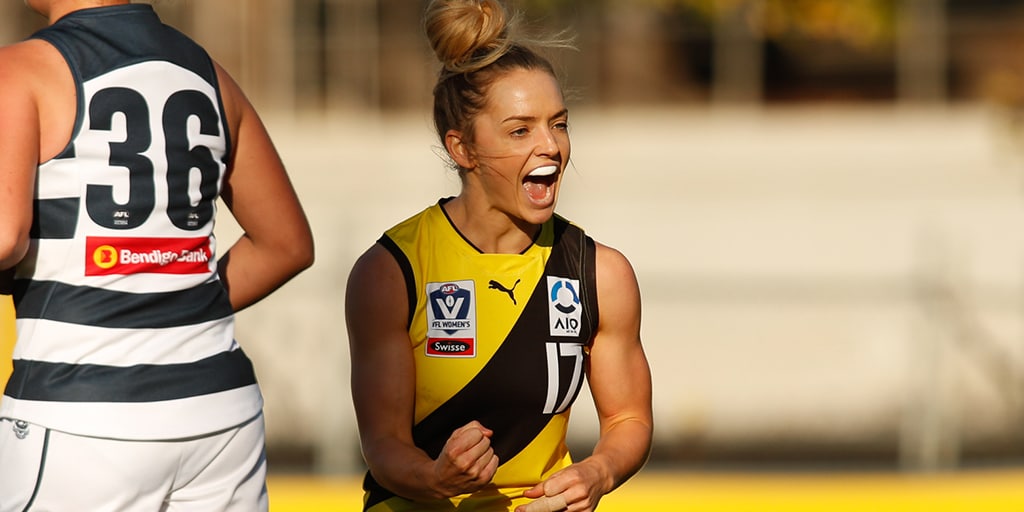 Gunn trumpeted the Tigers' ability to take their game to the next level this year after laying the foundations in 2018.
"I've never really had the opportunity to learn and grow in the way that Richmond supported us last year…I built a lot of skills, a lot of foundations," she said.
"It was back to basics last year and this year we built on top of that and it's just been an awesome opportunity for us… we've really stepped it up.
"It's amazing to be a part of. I'm super proud of the girls and the way Tommy (Richmond VFLW coach) has brought us through this year, and really excited for the rest of the season."
MANY CULTURES Celebrate the Many Cultures that make up our 'One Tiger Army' at the Round 17 match against GWS
The Tigers currently sit third on the ladder, while Melbourne Uni is placed seventh.
Midfielder Katie Brennan will miss the match against the Mugars this Sunday, while Millie Klingbeil, Hannah Ibrahim, Dahlia Edward and Shayla Marsh have been added to Richmond's line-up.
The first bounce at the Swinburne Centre is set for 3.00pm, with all Tiger fans encouraged to come along and celebrate Richmond's 'Many Cultures Festival'. The VFL Tigers will kick off proceedings at 10.10am against Werribee.
VFLW Round 10 Team
Richmond vs Melbourne Uni
Swinburne Centre
3.00pm
B: 20. H. McLaren, 18. L. Davie, 15. R. Miller
HB: 8. J. Graham, 19. K. Dempsey, 41. S. Last
C: 1. J. Kennedy, 29. K. Jacques, 34. A. Makur Chuot
HF: 14. S. Frederick-Traub, 12. L. Bailey, 24. T. Stahl
F: 46. H. Ibrahim, 17. E. Gunn, 32. I. Milford
R: 33. J. Colwell, 43. G. Campbell, 5. M. Brancatisano
Int: 25. G. Egan, 2. P. Monahan, 36. E. Paterno, 23. T. Smith
Emg: 30. D. Edward, 37. M. Klingbeil , 39. M. Lindsay , 22. S. Marsh
23P: 28. G. Seymour
In: M. Klingbeil, H. Ibrahim, D. Edward, S. Marsh
Out: K. Brennan