Absolutely stoked.
That's how Rebecca Miller describes her elevation after signing as a 2020 AFLW Tiger.
"It feels really surreal, when I was signing the contact it was a weird feeling," Miller said.
"I never thought it was possible as a little girl growing up, but it's now a reality."
MEMBERSHIP Become one of the Club's first inaugural Women's Football Foundation members
They key defender made an impact upon arrival at Tigerland this year, quickly asserting herself as a vital cog in the VFLW Tigers' backline.
At 184cm, her aerial ability coupled with her tough nature has garnered attention in her maiden season at state level.
She has featured three times in the VFLW's 'Team of the Week' and has been listed among Richmond's best players in six of the nine games she's played this season.
The 24-year-old crossed over to Richmond from Sydney based club Western Wolves this year.
When she landed at Tigerland, Miller was hopeful her aptitude mixed with her diligence could put her in the frame for AFLW selection, so she just "kept chipping away" at her goal.
"About halfway through last year (when I was) playing up in Sydney, I knew there was a little bit of talent (there) and I had to put the hard work behind it and see how far it would take me," she said.
"You see the likes of KB (Katie Brennan) and Sabs (Sabrina Frederick) and you go 'that's the sort of level I want to be playing at'…you want to play against the best of the best in Australia.
"I've been lucky enough in Richmond to work hard and have the support around me to achieve what I have, it wouldn't be possible without Richmond, so I'm stoked."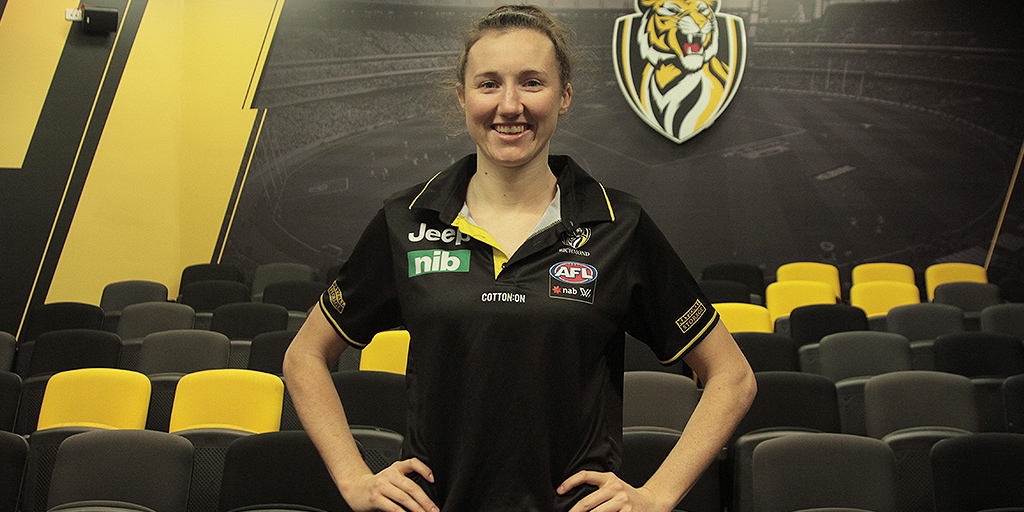 While Miller spent most of her time playing in the ruck up in Sydney, she transitioned into defence this year and has since become a highly-regarded member of the VFLW Tigers' "back pack".
"I've got a lot to learn, I do know that, so just want to put my head down and see where it goes," Miller said.
"Being a taller woman, I definitely want to be strong overhead and bring that two-way talk and just be a good team member people want to play with as well.
"Whether that be on the field or off the field, I want to be known as a good person who works hard and loves her footy."
As Miller prepares to take her game to the next level come 2020, she was quick to thank those in her corner who have helped her along the way.
"There are a lot of people behind the scenes who have helped me, family, friends, teammates, Sydney and Melbourne people," she said.
"Without those guys I wouldn't be here without them, so my success is as much their success."
 

 

 

View this post on Instagram
The third-placed VFLW Tigers will be challenged against top-of-the-table Collingwood at the Swinburne Centre on Sunday at 11.00am.
Richmond has brought back five players to face the Pies.
Forward star Tayla Stahl, who currently sits third on the leading goalkickers' list, will return after missing Round 11. Jenna Colwell, Emma Gunn, Melissa Lindsay and Hannah McLaren round out the inclusions. 
They replace Jacqui Graham and Sarah Last.
VFLW Round 12
Richmond v Collingwood
11.00am
Swinburne Centre
B: 20. H. McLaren, 30. D. Edward, 2. P. Monahan
HB: 18. L. Davie, 19. K. Dempsey, 15. R. Miller
C: 34. A. Makur Chuot, 1. J. Kennedy, 22. S. Marsh
HF: 46. H. Ibrahim, 5. M. Brancatisano, 24. T. Stahl
F: 14. S. Frederick, 16. C. Wakefield , 17. E. Gunn
R: 11. A. Edmonds, 13. A. Woodward, 43. G. Campbell
Int: 12. L. Bailey, 33. J. Colwell, 25. G. Egan, 28. G. Seymour
Emg: 29. K. Jacques, 37. M. Klingbeil , 39. M. Lindsay , 45. R. Poke
23P: 53. M. Edwards
In: T. Stahl, J. Colwell, E. Gunn, M. Lindsay , H. McLaren
Out: J. Graham, S. Last