Jack Baggott was born in South Africa and subsequently moved to Australia with his family when he was a young child.
He played senior VFA football with Northcote, and at Victorian country club Dimboola, before joining Richmond in 1927.
MEMBERSHIP The Hunt Continues in 2019; join as a member today
Initially, Baggott exerted a significant influence within the Tigers' senior side as a forward.
In his 1927 debut season of league football, he was Richmond's leading goalkicker with 37 goals.
The following year, he again topped the Tigers' goalkicking, finishing with 61 goals, including a sensational, Club record haul of 12 against South Melbourne in the Round 9 clash at Punt Road Oval.
That was the first time a Richmond player had kicked 10 goals or more in a league match, and it was a performance which captured the imagination of Tiger fans and football reporters of the day alike.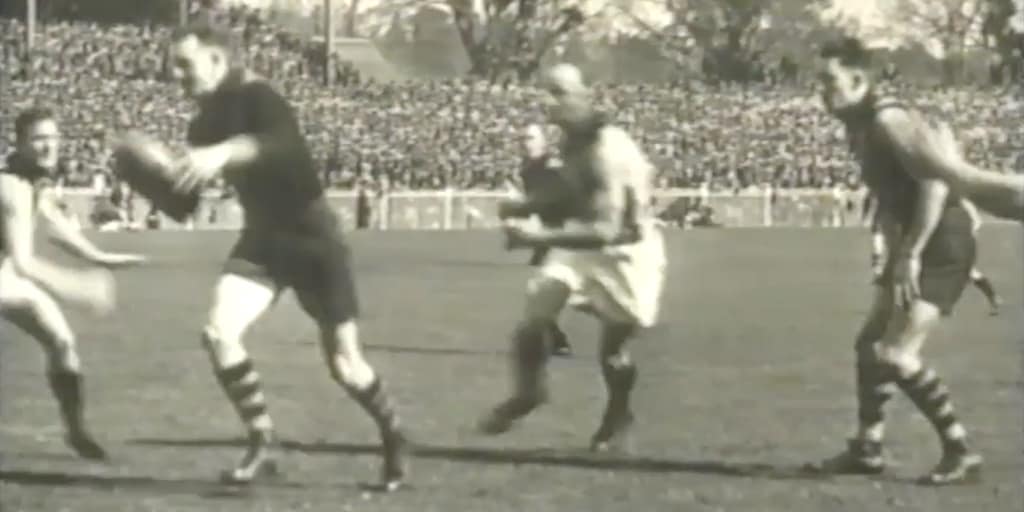 Here's how 'The Age' newspaper described Baggott's dazzling, dozen-goal display in Richmond's 76-point victory over South . . .
"The highlight of the match was the phenomenal forward play of Baggott, who kicked 12 goals, struck the post once and scored about half a dozen singles (behinds), some of his goals being cleverly scored when the forward was in seemingly impossible scoring positions. His early goals were mainly gained by position play, but later, when closely guarded, he extricated himself from crushes and scored several times from acute angles."
Baggott's exciting play up forward throughout that 1928 season also attracted the attention of the field umpires, and he finished equal third in the game's most prestigious individual award, the Brownlow Medal. He also represented Victoria in State football during 1928, and again the following year.
In each of Baggott's first three seasons of league football, Richmond, frustratingly, finished runner-up to Collingwood.
By the time the Tigers took the next step and again tasted premiership glory in 1932, Baggott had a new role within the line-up, as an attacking half-back flanker.
He utilised his marking ability, pace, toughness and clever football brain to full advantage for the team across the backline.
Baggott was one of Richmond's best in the thrilling 1932 Grand Final triumph over Carlton, picking up 23 disposals and constantly turning defence into attack for the Tigers with his clearing dashes.
Two years later, Richmond convincingly defeated South Melbourne in the Grand Final to claim its fourth VFL premiership, with Baggott producing another top-class exhibition at half-back.
The bigger the occasion, the better Baggott seemed to perform. He was voted in the Tigers' top three players in finals on five occasions.
BROWSE Find a 2019 membership package suited to you
Baggott departed Punt Road at the end of the 1935 season following a fine 128-game career to join rival league club Essendon as captain-coach. He also coached South Melbourne in the 1940 season.
His involvement with Richmond was later rekindled, when he played a key role in the formation of the Club's Former Players and Officials' Association.
In 1960, he was awarded life membership of the Club.