RICHMOND star recruit Tom Lynch says he has pulled up well from his first game since July last year.
The key forward had surgery on his PCL while playing for Gold Coast in 2018 and did not play any intra-club or JLT Community Series matches in the lead-up to round one.
ROUND 2 Upgrade to a reserved seat or buy your tickets at ticketek.com.au
"I was pretty happy. I was a bit sore after my first game, but pretty much everywhere else besides the knee. The knee feels really good," Lynch said.
"I probably wasn't expecting to mark everything, I would have liked to have taken a few more marks, particularly in the last quarter.
"'Dimma' (coach Damien Hardwick) was really good, he said, 'You're going to get better in a week's time, in a month's time again,' so [I need to build] a bit more match fitness and a bit more touch and I'm looking forward to clunking a few more marks."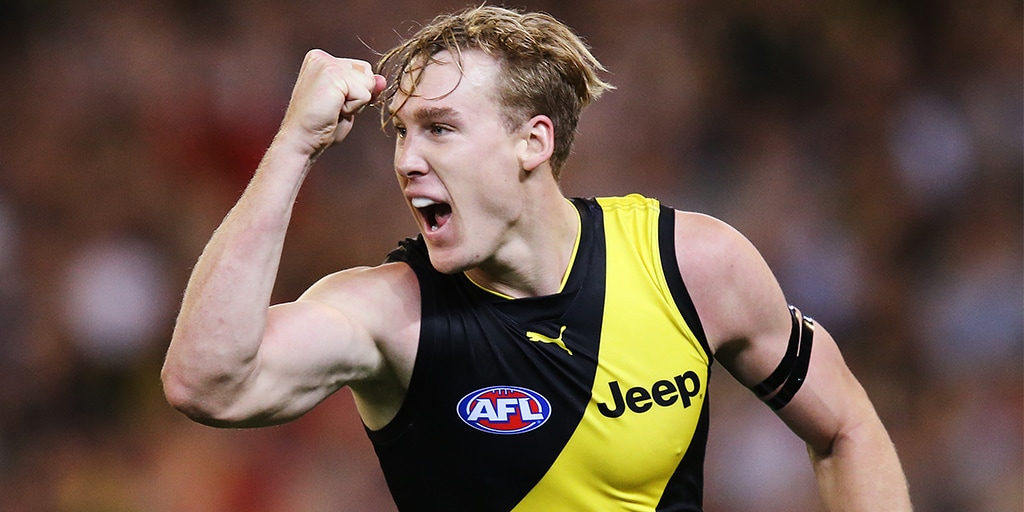 Lynch kicked three goals in the 33-point win over Carlton, including the first of the match from a mark and set shot.
"I obviously wanted to kick it. I was a little bit nervous, but it was good to be out there, it was exciting.
"It was good to get through and get a goal early," Lynch said, acknowledging the crowd was "quite easily" they biggest he had played before.
"It's obviously amazing to have 85,000 there and having the Tiger Army behind you. It was an amazing feeling and it'll be great again this weekend."
Richmond will be coming up against Collingwood on Thursday night at the MCG, the first time the sides have met since the Magpies comfortably triumphed in last year's preliminary final.
"From what I can gather, every time we play Collingwood it's a massive game … we got beaten in the prelim final so there is a fair bit of sting amongst the boys," Lynch said.
View this post on Instagram
One player who won't be there is star full-back Alex Rance, who on Tuesday underwent a right knee reconstruction.
Ryan Garthwaite is the nominal next key back into the side but is highly unlikely to play in the AFL, needing to build match fitness in the VFL after missing stretches of pre-season with an Achilles complaint.
"He (Rance) was in here Sunday, he's quite an amazing human to be honest. Ever since I got here, I've been quite impressed with him, more so since he's done the injury," Lynch said.
"He hasn't thought about himself at all, he's just been thinking about the boys and the club, it's quite incredible.
MEMBERSHIP The Hunt Continues in 2019; join as a member today
"It's quite amazing really. I came to the bench (during the match), he sat down and I asked him if he was all right and he said he was fine. I didn't actually know he did his ACL until after the game because of how upbeat he was. You couldn't tell and he just said he had a little knock.
"'Dimma' said we can't replace him like-for-like, but as a team we hope to cover him and it gives a great opportunity. Dimma yesterday spoke about the great opportunity it is for Ryan Garthwaite, potentially Noah Balta going back [and] Oleg Markov didn't play on the weekend.
"They're different players, we'll have to change our personnel a little bit to fit that system."