It will be a case of September in August when Richmond VFL welcomes arch rival Essendon to the Swinburne Centre for a qualifying final battle on Saturday afternoon.
The Tigers and Bombers have played out some classic encounters over the last two years and this promises to be no exception.
FINALS Visit the 2019 Finals Hub for all the details on Richmond's qualifying final against Brisbane
The pair's Round 8 Dreamtime classic finished in the shadows of darkness with Richmond hanging on by three points.
Round 20 had the ladder leading Tigers withstand a dogged Essendon by 12 points at Windy Hill.
In their semi-final meeting in 2018, the Bombers edged past the Tigers in the final moments.
However, Richmond enters its second successive qualifying final in vastly better form with a host of fresh faces.
Richmond VFL senior coach, Craig McRae, who is embarking on his third finals series in as many years, has noticed a stark difference in the group this time around.
"It felt like last year we were coming to a grinding halt at the end of the year and we weren't playing our best footy at that time of year," McRae said.
"Whereas this year—particularly from the start of the year—this group has got a real want to win and when the games get close, there's a real fighting spirit.
"That's been there all year, so we're confident that will stack-up when it counts most."
It will be 14 days between outings when Richmond and Essendon meet on Saturday,
According to McRae, Richmond will look to grow from that Round 20 performance and refine parts of its game.
"Our last game against the Bombers is a good little curtain-raiser because we probably knew we were going to play them only a couple of weeks later so…it's given us a chance to look at the things we can do better and look at the growth opportunities within that," McRae said.
"We've had a great history against the Bombers. We lost to them last year in a semi-final and (our) games this year have been pretty close, so we don't expect anything less and we're really looking forward to it."
There's simply no better time to play football than during finals.
There's one thing that excites McRae the most, "I just love when the weather gets better—I hate the cold!"
Given the forecast is 18 degrees and sunny, Melbourne's weather may just grant McRae his wish.
McRae is also excited to see a sea of Yellow and Black at Punt Road Oval.
"It seems like (when) there's more sunshine, the crowds are bigger. To all of those people that aren't doing anything over the bye, get down to Punt Road and support us loud and proud," McRae said.
"We've got a lot of AFL players playing, some familiar faces, and your support will be more than welcome."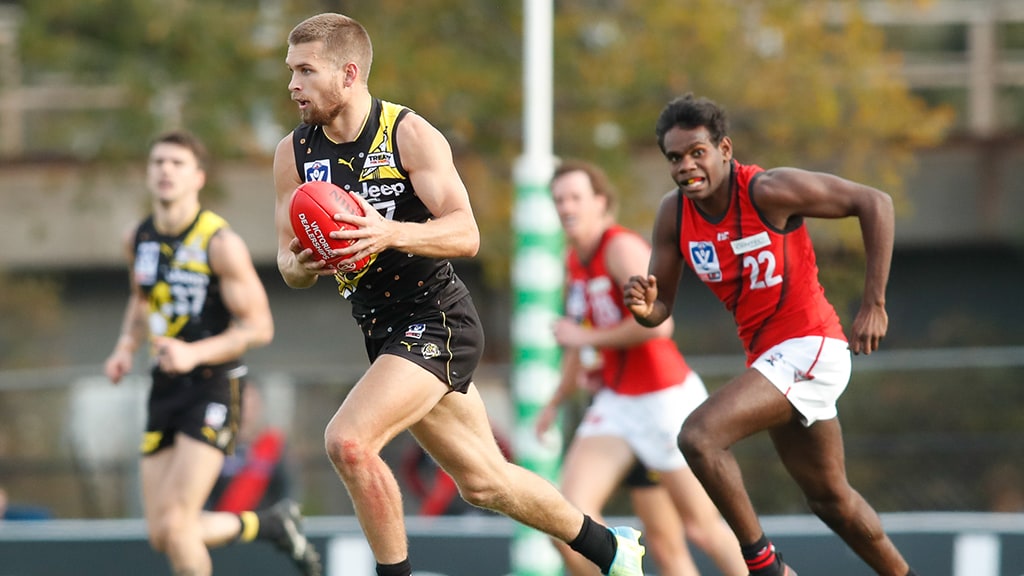 Punt Road Oval has been a happy hunting ground for the Tigers in 2019, holding a flawless record in the home and away season.
"It's a ground we're familiar with, we play well and train on every week, so it gives us a little leg up," McRae said.
"But you still have to get out there and execute what you've got to do...try and play the Richmond way for as long as we can."
Several Tiger cubs have shown their wares at both VFL and AFL level in 2019.
Jack Ross, along with the likes of Riley Collier-Dawkins, Luke English and Fraser Turner, could make their finals debut this weekend.
McRae, well versed in what it takes to be successful in finals, has a simple message for his young Tigers.
"Ultimately it's about just preparing as you normally would and try and execute the things to set yourself up to be successful," McRae said
"(We'll) play our style and we like to play to our strengths and fight and celebrate, and that's no different if it's a final or Round 1 or 2.
"We've been practicing finals footy for a long time, so we just want to play our system and play to our strengths and be authentic…that will be the message to those young players."
SUPERSTORE Gear up for Finals with the Tigerland Superstore and show your support this September
The clash, which kicks off at 2.10pm, will be broadcast live on Channel 7 from 2.00pm.
Tiger fans can also follow live updates from the Swinburne Centre via the Richmond VFL Instagram and Twitter accounts.
Pre-sale tickets are available here. Tickets are adults $15, concession/pensioners $10 and kids under 15 free.
Toby Nankervis is set to make his return following groin soreness, while utility Noah Balta has been also been named.
VFL Qualifying Final
Richmond v Essendon
Saturday, August 31, 2.10pm
Swinburne Centre
B: 43. D. Eggmolesse-Smith, 42. R. Garthwaite, 50. M. Pickett
HB: 33. K. Mcintosh, 38. N. Balta, 45. P. Naish
C: 37. C. Menadue, 26. R. Collier-Dawkins, 28. F. Turner
HF: 39. J. Aarts, 40. C. Coleman-Jones, 21. J. Townsend
F: 31. O. Markov, 25. T. Nankervis, 36. C. Moore
R: 41. M. Chol, 27. J. Ross, 7. D. Butler
Int: 54. J. Ballard, 53. H. Beasley, 78. D. Coffield, 32. L. English,
46. B. Miller, 51. S. Morris, 64. T. Silvestro, 16. M. Weller
23P: 55. L. Street