VFL and development coach Craig McRae provides Richmond Media with an insight into the exciting progress of tall forward Callum Moore.
His growth and his impressive return from injury
"His growth has been outstanding. In the early days we were trying to develop him as a back and he's always had that athletic capability. He hadn't played for 13 weeks (with an ankle injury) but he came back on the weekend (VFL Round 19) and his speed really stands out, particularly on the MCG."
His focus while in rehab this year
"He's probably a matured player in terms of the game plan, so he knows what's going on there. But you always can work on your game and try to find an improvement. It's difficult when you've got a leg injury and can't do much running, and one of his greatest strengths is his running, so it was pleasing to see that part of his game was still there (on the weekend)."
His best strengths
"He can leap at the ball. His marking capability is outstanding at VFL level. He can run and jump, he's got good skills and finishes his work."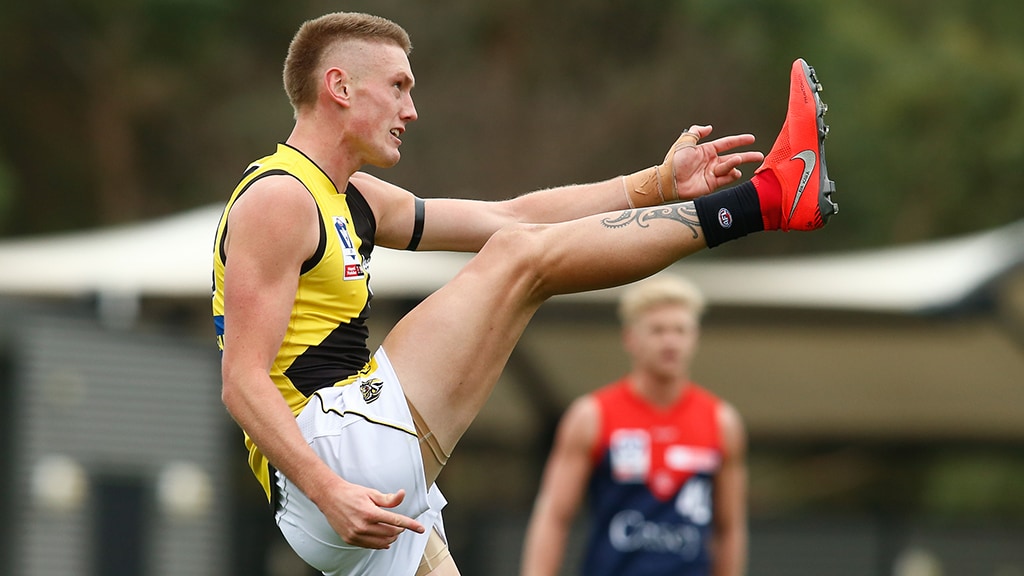 A powerful athlete
"His GPS results are, for his size, are a real standout…He can get the ball at ground level and his finishing can be a real feature for him."
His improvement in one-on-one contests
"I say his marking capabilities are one of his highlights but he's been working really hard on his one-on-one contests, that's been his growth throughout the last couple of years. He can get out the back because he's so quick, it's hard to stop him."
Areas for improvement
"Before (Tom) Lynch got here, (Moore) was trying to be earmarked as that second tall, that long down the line target you need to really wrestle and get the ball to ground. Now with Jack and (Lynch) in the team, we can probably give a different mix to that. With his running capabilities, he offers something different from those two guys. Maybe it's just playing to his strengths a bit more."
His versatility
"He's a bit of a (Lachie) Henderson from Geelong type, who can play forward and back. He can do that. I think for the rest of the year he might be forward and even a bit of experimenting in the ruck, like 'Marbs' (Chol) and Noah (Balta) have been doing."
View this post on Instagram