VFLW defender Evie Burry had plenty of sporting role models growing up, but one in particular that came from a different code.
Her grandfather, Hugh Burry, played for the All Blacks as a number 8 in the 1960s.
MEMBERSHIP Become one of the Club's first inaugural Women's Football Foundation members
"He was a big runner…really athletic and very tactical," she said.
"Instinctively, I'm probably better at the tactics of a sport before I take on the skills, I think I got that from him.
"He was always the first person to talk to about my sporting aspirations and where I wanted to take it… He always encouraged me to embrace my competitiveness which was often discouraged."
The second-year Tiger has expansive cross-code experience herself, dabbling in cricket, soccer and most notably, pole vault, in her formative years.
She said the niche event, which required her to launch into the air, has translated well to her role in defence as a footballer.
"Driving the knee…I try to channel that when I'm out on the field going up for a specky," she said.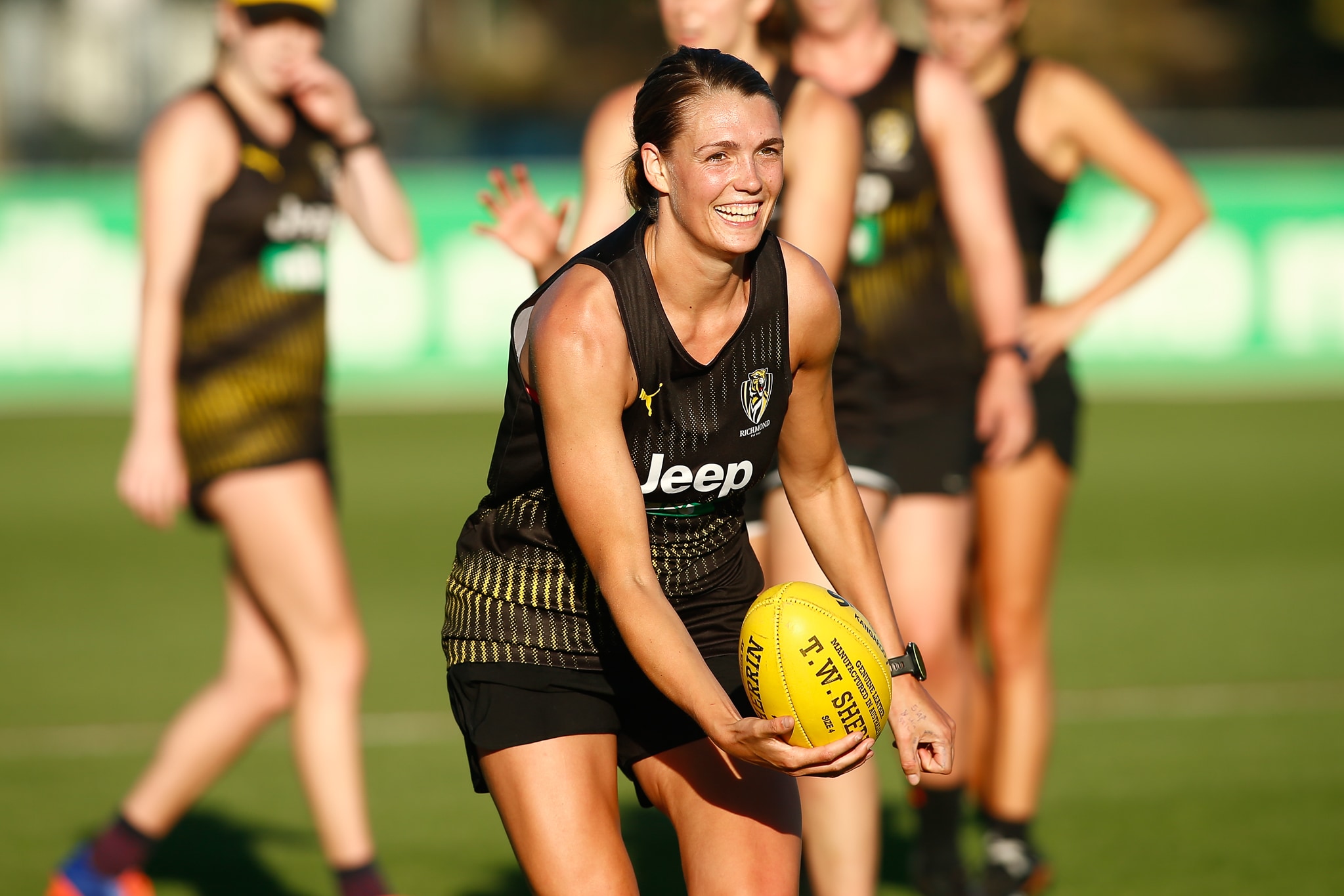 Along with her impressive aerial ability, hard-running Burry reads the play well and brings a team-first attitude.
Burry was a relentless pillar in Richmond's defence last year and also played a key role in driving the team's culture.
Her consistency did not go unnoticed, and she was rewarded for her efforts at Richmond's 2018 VFLW Best and Fairest, where she collected equal-third place.
"To have the reward of my name being read out at the end of the season, it was a huge wave of joy and relief knowing I could come back here again this year," she said.
View this post on Instagram
Burry hopes to build on her 2018 performance this year, and take on a leadership mentality towards the up-and-comers within the program.
"I think (experiencing last year) puts me in a position where I can be a lot more confident and help other girls, and push them through some of the anxieties of getting picked and where they sit, because I feel a lot more settled and like I understand the Club," she said.
"It's a great group of girls this year. Next level up, I think we're really going to fly high."
BROWSE Find a 2019 membership package suited to you
Ecstatic to be a part of Richmond's VFLW program for another year, Burry dubbed Tigerland as "the best Club in the world" for her.
"It was a no brainer, if I had the opportunity to come back that I'd play again this year…it's just the warmest environment," she said.
"I've played a lot of competitive sport and I've never played a sport to this level where I've felt so embraced.
"Everything's about the team, pushing forward as one unit but your personal development is so heavily encouraged along the process.
"I feel like it's a really safe place to be open about yourself, and I've made some really great friends."
The VFL Tigers are less than six weeks out from their round one match against Darebin, which will be held at Preston City Oval on Saturday, May 11.