Richmond's greatest Indigenous player, Maurice Rioli, is one of four new Tiger life members.
Rioli, who passed away on Christmas Day in 2010, aged 53, was honoured tonight with Tigerland life membership at the Club's 2018 Annual General Meeting.
The Tigers' longest-serving president, George Bennett, along with two star players from the Club's formative years, Jimmy Parker and Bill Mahoney, were the other life-member recipients.
Maurice Rioli had a mighty impact in just six seasons of VFL football with Richmond.
The Tigers won a hotly-contested race to snare the prized signature of Rioli, who had been a star with West Australian club South Fremantle after making the trek to Perth from his Melville Island home.
Rioli would go on to play 118 games for Richmond from 1982-87 and kick 80 goals. He won the Jack Dyer Medal in his first two years at Punt Road (1982-83), was awarded the Norm Smith Medal for being best afield in the Tigers' 1982 Grand Final loss to Carlton (the first player in a losing side to do so), and finished runner-up in the 1983 Brownlow Medal.
MEMBERSHIP Join as a 2019 Richmond member today
Throughout his time at Tigerland, Rioli dazzled teammates, fans and opponents alike with sublime skills that gained him a towering reputation as a football genius.
Former Richmond champion rover and current Club Relationship Manager, Dale Weightman, a teammate of Rioli's throughout the 1980s, was constantly in awe of the brilliant, left-foot midfielder's on-field deeds . . .
"Maurice just did things that you marvelled at, and no-one could lay a hand on him . . . He was so good in heavy traffic out on the field. It was just boom, boom, boom and next second he'd be gone, and opponents would be left floundering," Weightman said.
"So many times I saw blokes who thought they had him covered, and he'd just slide around them sideways and then slot the ball down the throat of one of our forwards. It was just brilliant to watch. He was a magic player . . .
"You knew when Maurice was around the ball that you had a chance, whether it was a one-on-one situation, one-on-two, one-on-three, even one-on-four . . . As long as Maurice was the one, you always had a chance because he just had that ability to be able to beat opponents."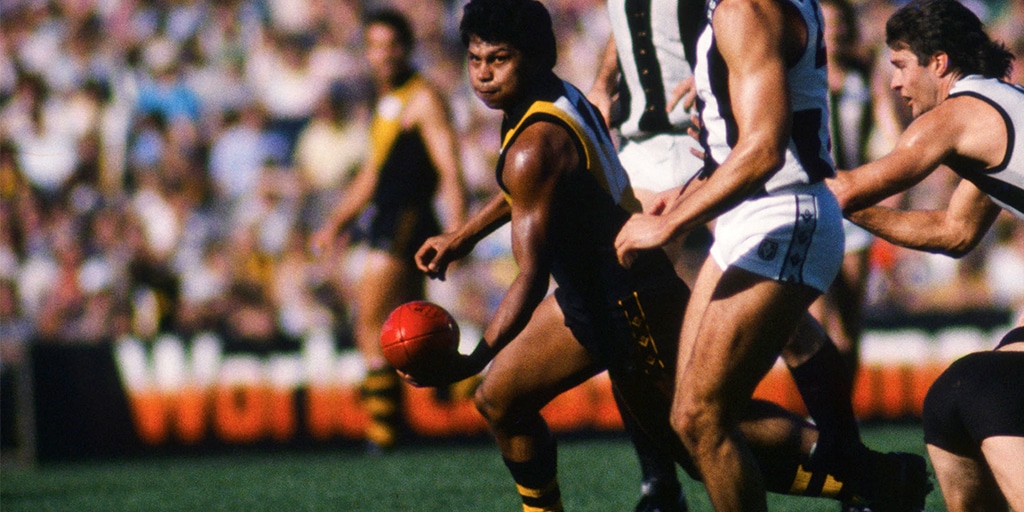 Jimmy Parker played more than 170 VFA games for Richmond in a distinguished career from 1891-1900.
Sadly, Parker died in a workplace accident at just 38 years of age.
The following obituary highlighted his excellent on-field value to the Tigers . . .
"He was a prominent member of the Richmond Football Club and was a remarkably fine follower. In fact, for a long time, he was regarded as practically the backbone of the team."
Bill Mahoney, a classy rover, played 139 games for Richmond at both VFA and VFL level, from 1906–1911, 1913-1915, and then in 1920.
Tigers Hall of Fame member, Hughie James, provided a glowing assessment of Mahoney's playing ability in 'The Herald' newspaper in 1920.
James, a champion ruckman, declared unhesitatingly that the best rover he had ever hit the ball to was Mahoney, who he said "had developed to an exceptional degree the sense of anticipating the passing of the ball from the ruck, and was always ready to take it, whether it was hit out by his own or the opposing ruck".
George Bennett's record term as Richmond's president term spanned 21 years, from 1887 until his death in office on September 8, 1908.
During his tenure, the Club won the 1902 and 1905 VFA premierships and was admitted into the VFL competition in 1908.
The Club's obituary for Bennett sums up how highly regarded he was . . .
"By the sad death of our kind-hearted president, the club has lost one of the best friends it has ever possessed. Mr Bennett at all times took a very great interest in the welfare of the club. He was a staunch and sincere friend, ready and willing at all times to lend a helping hand to the needy, as well as to sport. Your executive and players will never forget the many pleasant evenings spent at 'Stonehenge'. Not our club alone, but all Richmond have lost a noble-hearted, generous citizen."
Bennett also served a term as the Mayor of Richmond and a bust of him stands outside the Richmond Police Station in Bridge Road.