Roger Dean was born and bred in Richmond, and as a youngster he idolised the Tigers' dual Brownlow Medallist Roy Wright.
Dean's time at Tigerland started when he tried out with the Club's fourths, as a 15-year-old, in 1956.
MEMBERSHIP The Hunt Continues in 2019; join as a member today
He played in the fourths premiership side that season and the following year completed an amazing, meteoric rise through Richmond's ranks.
During the 1957 season, Dean graduated from the fourths, to the under-19s, and then the reserves, before making his senior league debut with the Tigers in the final home-and-away round against that year's eventual premier team Melbourne.
It wasn't until 1961, however, that Dean firmly established himself as a regular member of Richmond's senior side.
Initially, he made his mark as a half-forward, winning the Club's leading goalkicker award in 1964.
He then had a successful stint in the back pocket, minding the opposition's resting rovers – and making life hell for them, through his tough, uncompromising style of play – before returning to the forward line for the final phase of his league career.
Although only 175cm and 73kg, Dean was a 'pocket rocket' – a strong, bold, fiercely determined player. Those qualities combined to eventually make him such an inspirational leader for Richmond.
Throughout most of Dean's first decade at Tigerland, a finals appearance was something he could only dream of, as he sat up in the stands watching players from the league's then power clubs Melbourne, Collingwood, Essendon and Geelong strut their stuff in September.
Dean played in just 30 wins in his first 103 games of league football, at a strike rate of 29%.
That all changed in a huge way, however, when Tommy Hafey took over as Richmond's coach at the end of the 1965 season.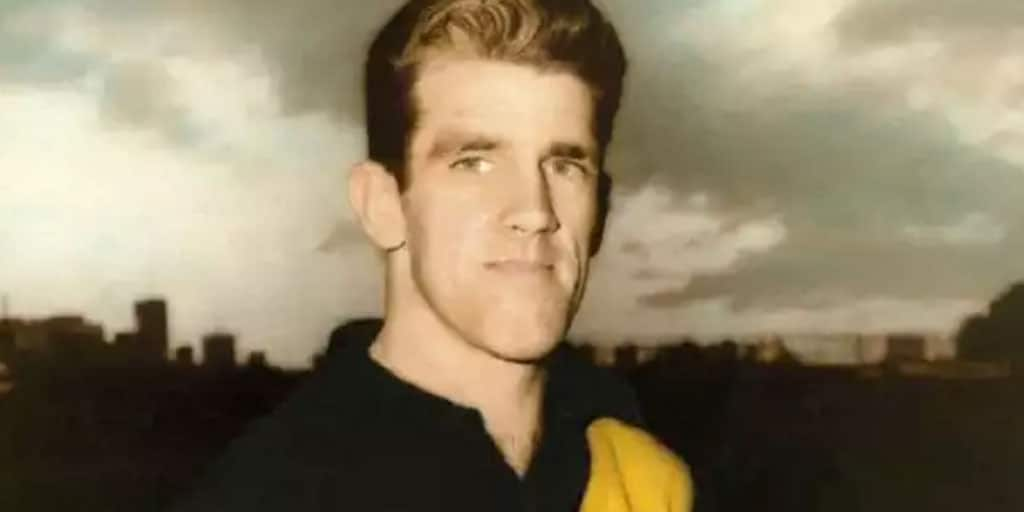 After finishing an unlucky fifth, with 13 wins and a draw from 18 games in Hafey's debut season as coach in 1966, the Tigers broke a 24-year premiership drought in 1967, defeating Geelong by nine points in a classic Grand Final.
At 27, Dean was one of the veterans, and vice-captain of that '67 premiership side, yet, like first-year players such as Royce Hart and Francis Bourke, he had no finals experience going into that September campaign. But he rose to the occasion in typically tenacious, spirited style, producing top-class performances as a back pocket in the Tigers' second semi-final victory win against Carlton and then the Grand Final triumph over Geelong.
When Fred Swift retired after captaining Richmond's 1967 premiership side, Dean, not surprisingly, was appointed the Tigers' skipper.
He subsequently captained Richmond in 75 matches from 1968-1971, including the 1969 Grand Final success against arch-rival Carlton, where he again was one of the team's best performers on the big stage in his back pocket role.
It was during the '69 season that Dean picked up the most disposals of his career at Tigerland – 33 in the Round 9 clash with Footscray at the Western Oval.
Dean handed the captaincy baton to Royce Hart in 1972, but he continued to be a valuable contributor for the Tigers until his retirement at the end of the 1973 season.
He'd played 245 senior games all-up, kicked 204 goals, and been a key member of two premiership sides throughout 17 seasons with the Tigers.
In the last eight years of his playing career, Dean played 142 games, for 103 wins, one draw and 38 losses. Dean's winning strike-rate during that period was 72.5% – a massive improvement on the 29% in his first nine years at the Club.
Dean was selected on a half-forward flank in Richmond's Team of the Century and he was one of the original inductees in the Tigers' Hall of Fame.
Legendary Richmond administrator Graeme Richmond loved the way Dean went about his football, describing him as "pound for pound" the best player he'd seen in his time at Tigerland.
BROWSE Find a 2019 membership package suited to you