Dependable Richmond defender Dylan Grimes will reach the AFL 100-game milestone in Sunday's Round 22 clash with Fremantle at Domain Stadium.
It is a particularly significant achievement for Grimes, given the horror injury run he had during the early phase of his league football career at Tigerland.
Grimes, who was Richmond's first pick (No. 2 overall) in the AFL pre-season draft at the end of 2009, made his senior debut with the Tigers in the final home-and-away round of the 2010 season, against Port Adelaide at Etihad Stadium.
For the next three years, however, he was plagued with injuries – predominantly hamstring trouble.
Such was the chronic nature of Grimes' hamstring complaint he even made a trip to Germany at one stage to see a doctor renowned for his expert, albeit unorthodox, treatment in this field.
That treatment involved a series of injections, comprising an extract of calf's blood and an anti-inflammatory, into his lower back over a five-day period.
Unfortunately, several months later, Grimes re-injured his hamstring so severely that he had to undergo surgery.
He admitted in an interview with the 'Herald Sun' earlier this year that he had hit rock bottom at the time and doubted he'd be able to play again at the game's highest level.
In the three seasons from 2011-13, Grimes had managed to play just 25 out of a possible 67 senior games for Richmond.
Thankfully, Grimes eventually was able to overcome his hamstring issues and he's gone on to become a key contributor in the Tigers' senior side.
Since the start of the 2014 season, he has played 73 of a possible 88 games, which is a major upturn in his fortune on the injury front (touch wood).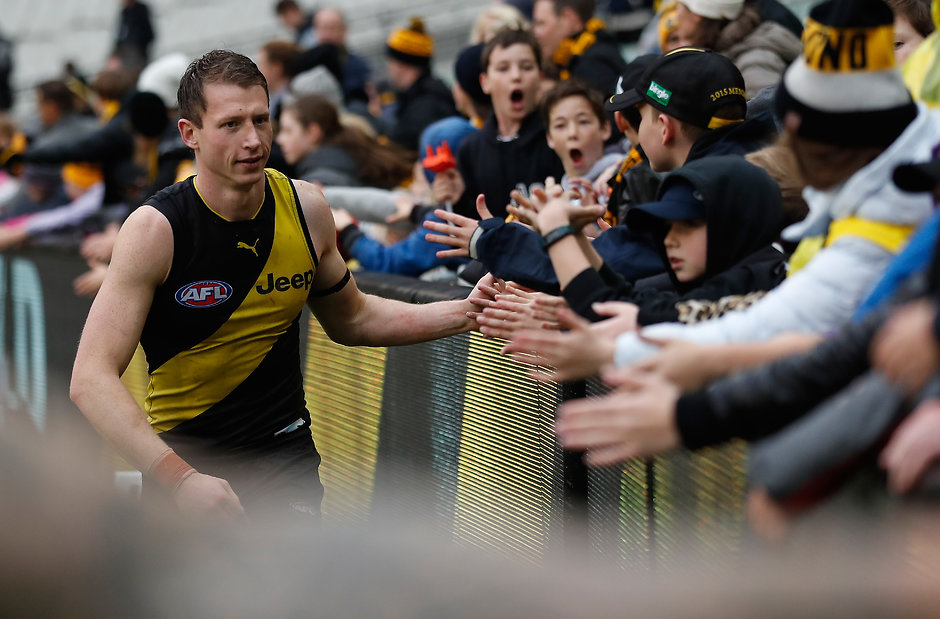 Grimes is one of the first picked in the Richmond line-up each week due to his fine consistency of performance on the field of battle.
He reads the play well, has excellent closing speed, plenty of poise, is solid overhead, uses the ball efficiently, has the right balance between defence and attack, and he's as brave as they come.
During the early part of his time at Tigerland, Grimes was more focused on defensive spoiling and keeping opponents in tight check – something he did most admirably.
These days, however, he consistently displays a capacity to win the ball back from the opposition and initiate attacking moves for the Tigers out of defence.
Richmond great Matthew Richardson is a big fan of the way Grimes goes about his football.
"Every player needs continuity and 'Grimesy', for a couple of years there, just didn't get any with those hamstring issues that he had, in particular," Richardson said on this week's episode of the Club's official podcast 'Talking Tigers'.
"Once he got that continuity, he's gone ahead in leaps and bounds.
"Gee, he's a good player.
"He's versatile . . . he can play on an Eddie Betts, but then he can play on a Lance Franklin.
"He's part of a pretty good back six at the moment."