In the lead-up to the 2019 AFL national draft, Tony Greenberg reflects on this time 10 years ago, when Richmond struck gold big time with the recruitment of Dustin Martin, and how that talented teenager from Castlemaine has become a superstar at the game's highest level.
Richmond recruiting manager Francis Jackson had some sleepless nights approaching the 2009 AFL national draft.
The Tigers had pick three in the draft and Jackson was extremely keen on powerfully-built, highly-skilled, young gun Castlemaine midfielder Dustin Martin.
But Melbourne had the first two draft selections after finishing with the wooden spoon in the '09 season and qualifying for a priority pick, so Jackson was forced to sweat it out until draft night.
When the Demons called out Tom Scully's name at pick one, followed by Jack Trengove with their second selection, Jackson couldn't call Dustin Martin's name out quickly enough at pick three overall in that '09 national draft.
"Dustin has been on our radar since last year. He is a special talent and we have tracked him closely," Jackson said post-draft.
"We knew last year that he would go top five in the draft. He has improved even further over the past year and had a stellar performance at the under-18s national carnival, which culminated in him being named in the All-Australian side (in the centre) . . .
"He is unbelievably football focused," Jackson said.
"Despite leaving school early, he has had terrific life experiences and is a very hard worker.
"He is a nice country kid, very humble, but has a fanatical desire to be the best he can."
View this post on Instagram
Former league player (at Fitzroy, Richmond and St Kilda) Jamie Elliott was Castlemaine's coach in 2008 when Martin, then 16 years of age, came under his guidance, and he soon realised the teenager possessed exceptional playing ability.
"As a club, we felt we needed to be pushing the kid to be where he should be because you knew at that early stage he was pretty special, but he was too young to be drafted in 2008," Elliott said in the aftermath of Martin's drafting by Richmond.
"He's just a powerful, powerful kid; I used to do one-on-ones with him as a 16-year-old and he would just push me off the ball.
"I've never seen a kid run into a pack of six or seven men and come out backwards with the ball . . . it's not as though he was running through the pack, he would run in like a bull, grab the footy and run out backwards.
"There's no doubt he's the best kid I've seen play at that age; he's just a phenomenal talent."
A decade on, Martin is regarded by many people in the football world as the AFL competition's best player and acknowledged as one of Richmond's all-time greats.
Martin's list of key achievements in 10 seasons with the Tigers is outstanding – dual premiership player and two-time Norm Smith Medallist (2017, 2019), Brownlow Medallist (2017), dual Jack Dyer Medallist (2016, 2017) and three-time All-Australian representative 2016, 2017, 2018).
He's also finished runner-up in Richmond's Best and Fairest award twice (2013, 2015) and third on three occasions (2011, 2014, 2018). That's a total of seven top-three finishes in the B & F during his decade-long AFL career at Tigerland to date, underlining his exceptionally high level of performance.
Brownlow Medal-wise, Martin has polled the most votes by any player in Richmond's history.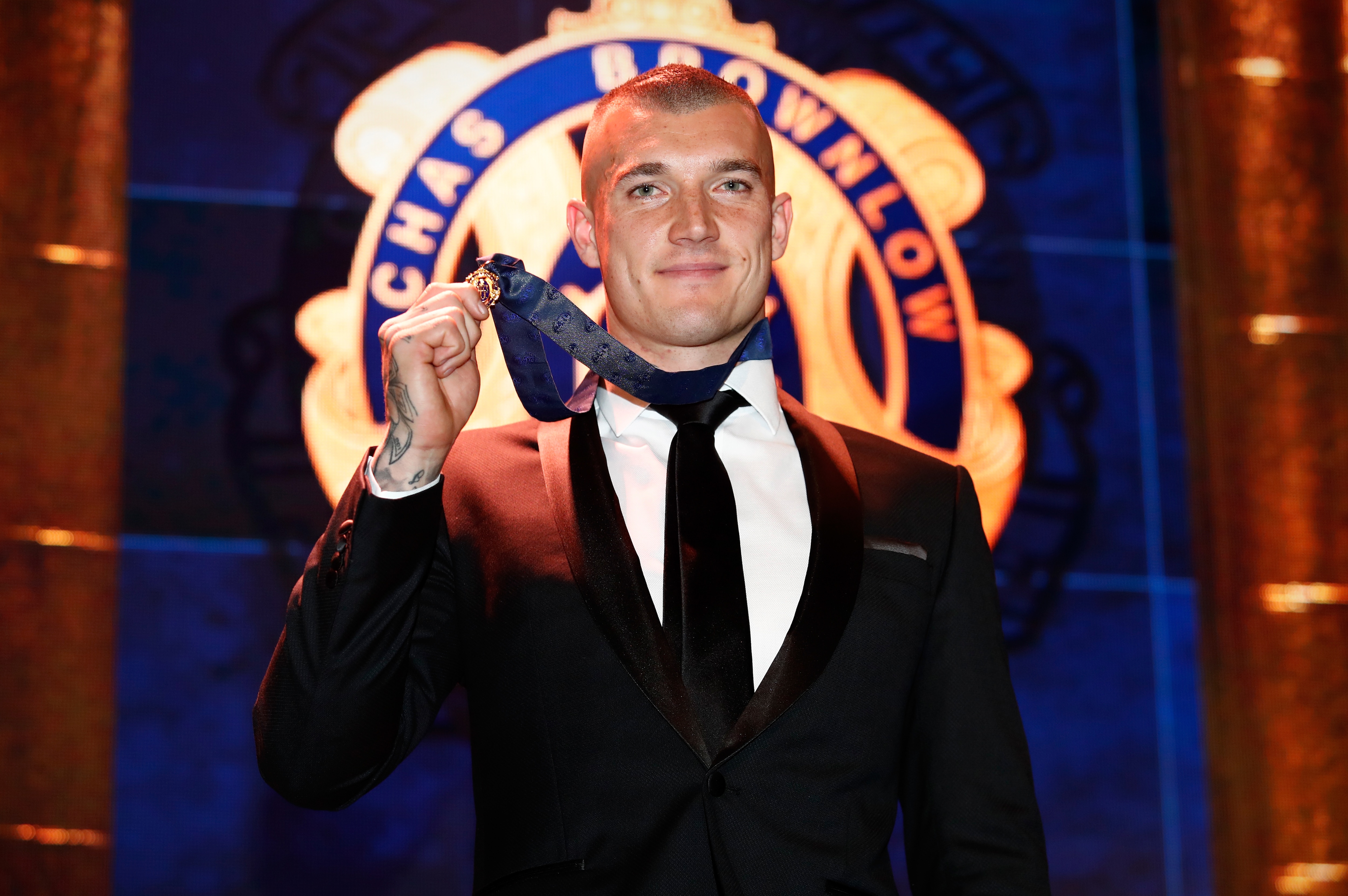 And, what about this for another statistic that highlights Martin's supremacy . . . since 1965 (the year individual statistics were introduced for the competition), Martin is the only Tiger to have averaged more than 25 disposals and a goal per match across 100-plus games!
In fact, there are just two other Richmond players who have averaged more than 20 disposals and a goal a game throughout that time – Kevin Bartlett, 22.7 disposals, 1.9 goals and Dale Weightman, 20.7 disposals, 1.2 goals.
Martin, in 224 games for the Tigers, averages 25.3 disposals and 1.1 goals per match.
Sheer stats and that long list of achievements, however, don't do justice to the profound impact Dustin Martin has had over the course of the past 10 seasons.
He is the consummate match-winner, a player who strikes fear into the minds of opponents, particularly when he's stationed deep forward.
Martin has been the best offensive one-on-one player in the competition for several years now. One-out inside 50, he is a weapon of mass destruction for the Tigers.
As a midfielder, Martin is a raging bull, utilising his trademark 'Don't argue' to fend off opponents and then distribute the ball to teammates with pinpoint precision. Martin's ability to make teammates better is a major feature of his game. As brilliant a player as he is, it's team success that drives him.
Off-field, the fact Martin is media shy and prefers avoiding the limelight, adds to the aura that surrounds him and his cult status.
He is adored by the Tiger Army, who he has enthralled these past 10 years with his dazzling, on-field deeds.
When Dusty's AFL career is over (and he's contracted to the Tigers for another five years), he should be a walk-up start for induction into both the Richmond and Australian Football Hall of Fame. And, one day, we could well be acclaiming him as a Tigerland 'Immortal'.