Oh we're from Tigerland
Stories of being Richmond
Kate Birrell, 49, Caulfield
Favourite all-time player:
N/A (see below)
Favourite current player:
Jack Riewoldt – "It'd have to be Jack, because he's just got charisma. He's got character in the way he plays, which appeals to me. It's that young spirit so many of us like in footballers."
Kate Birrell is behind an easel when we meet, in her shopfront studio, two doors from a railway level crossing in Glen Huntly – only one train stop away from Richmond's old metropolitan recruiting zone. Not that Kate would necessarily know this. She grew up in Sunbury, then Essendon, the eldest of six, and on a whim barracked for Carlton.
She's a relative newcomer to the lore of Richmond, but knows well enough about our passion and our longing. She knows also about the loss.
She's sketched it. Put it in watercolours; given it shape and form, and a texture.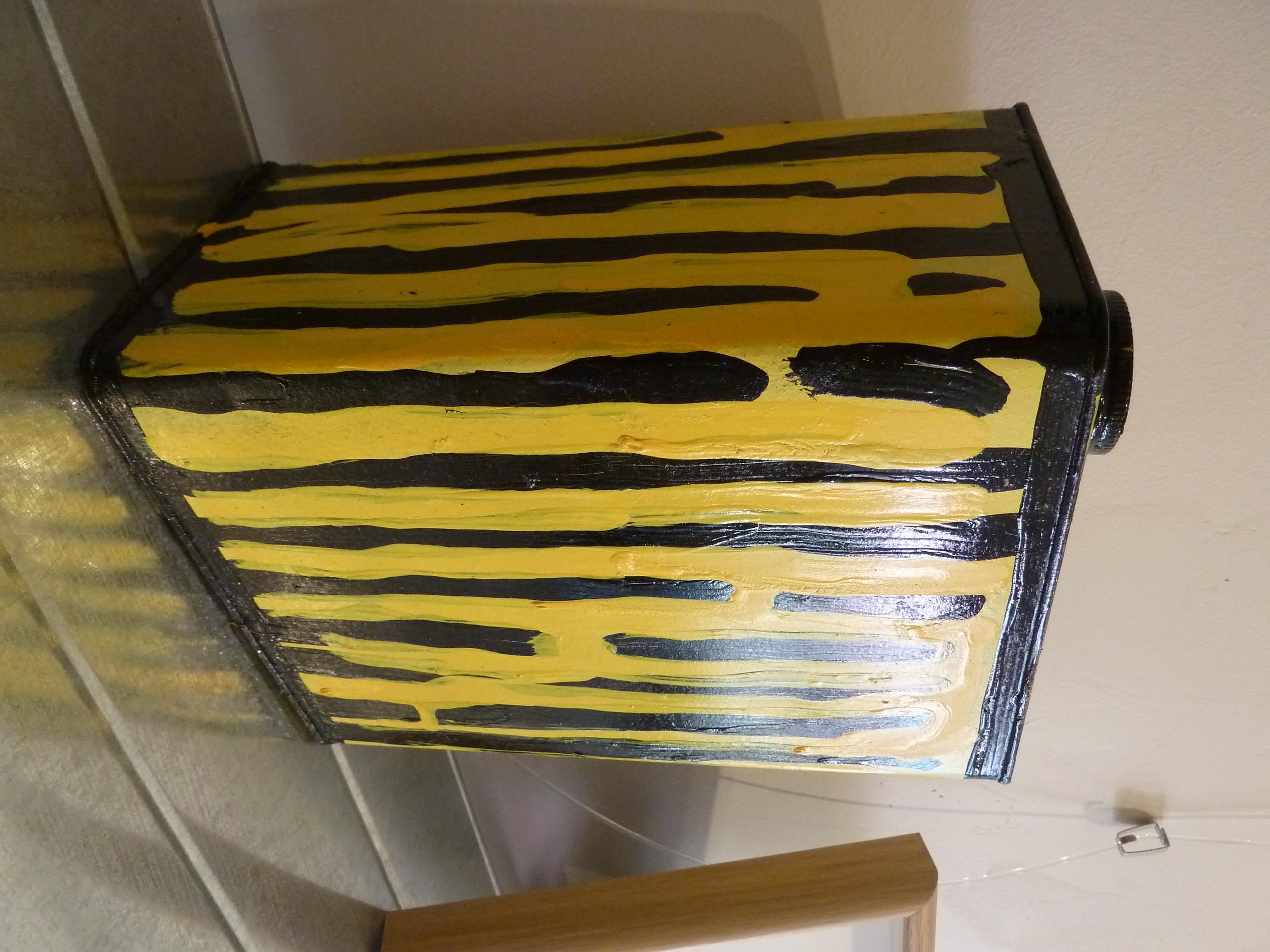 Yellow and black: the good oil
But she knows also about the unbridled joy, the visceral relief, Richmond fans have with the winning.
Remember Round 23 of the 2014 season? Who couldn't? Late in the last quarter when our Dusty lost Ted Richards on the turn, on Sydney's shifting ground, the last two men in the world and our whole season on the line, and Dusty jigged those hips, and stayed on his feet, and collected the ball, an empty paddock before him – all that space and all our hopes – and he ran, and bounced, and ran, and goaled. Is there any Richmond supporter whose feet stayed on the ground?
The football, our shared pleasure – for that glorious moment we were all as one.
Kate painted the scene. Not the game – we all saw that – but a vision splendid of Richmond barrackers. She watched the game with others in the Grosvenor Hotel in St Kilda East – when the whole city willed us to win – and she took sketches, recording the euphoria of a goal many will never forget.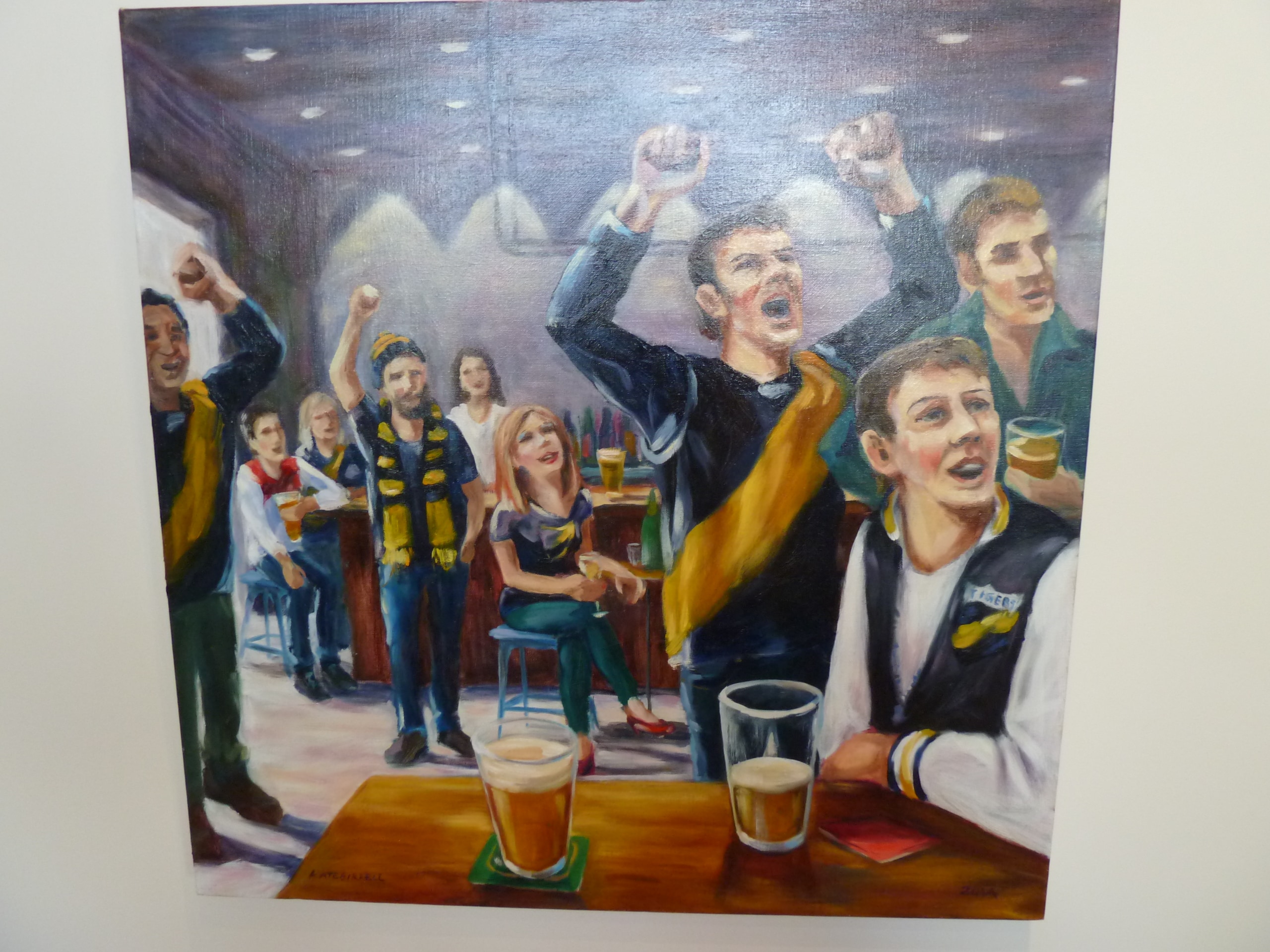 Dusty goals, the crowd erupts: with Mick Molloy at the pub, on the left.
"I think I may have Googled Mick Molloy and put his face on the figure on the far left," she says. "Otherwise, it's the spirit and atmosphere of that moment."
"We're often so focused on what happens on the field, but I think a big part of the game is the crowd," she explains. "The colour of the crowd, the movement, the banners and the cheer squad. For a lot of people, including me, going to the footy is a space that takes you out of the everyday humdrum of life."
I had known of Kate before I met her. A friend, a writer, Andy Fuller, a Richmond fan, told her story on his readingsideways blog. He found her in the crowd, interviewing her from afar (via email, from the Netherlands, where he lives), and wrote about someone I became curious about. Partly, because she interprets football as art, but also because she's a recent Richmond convert.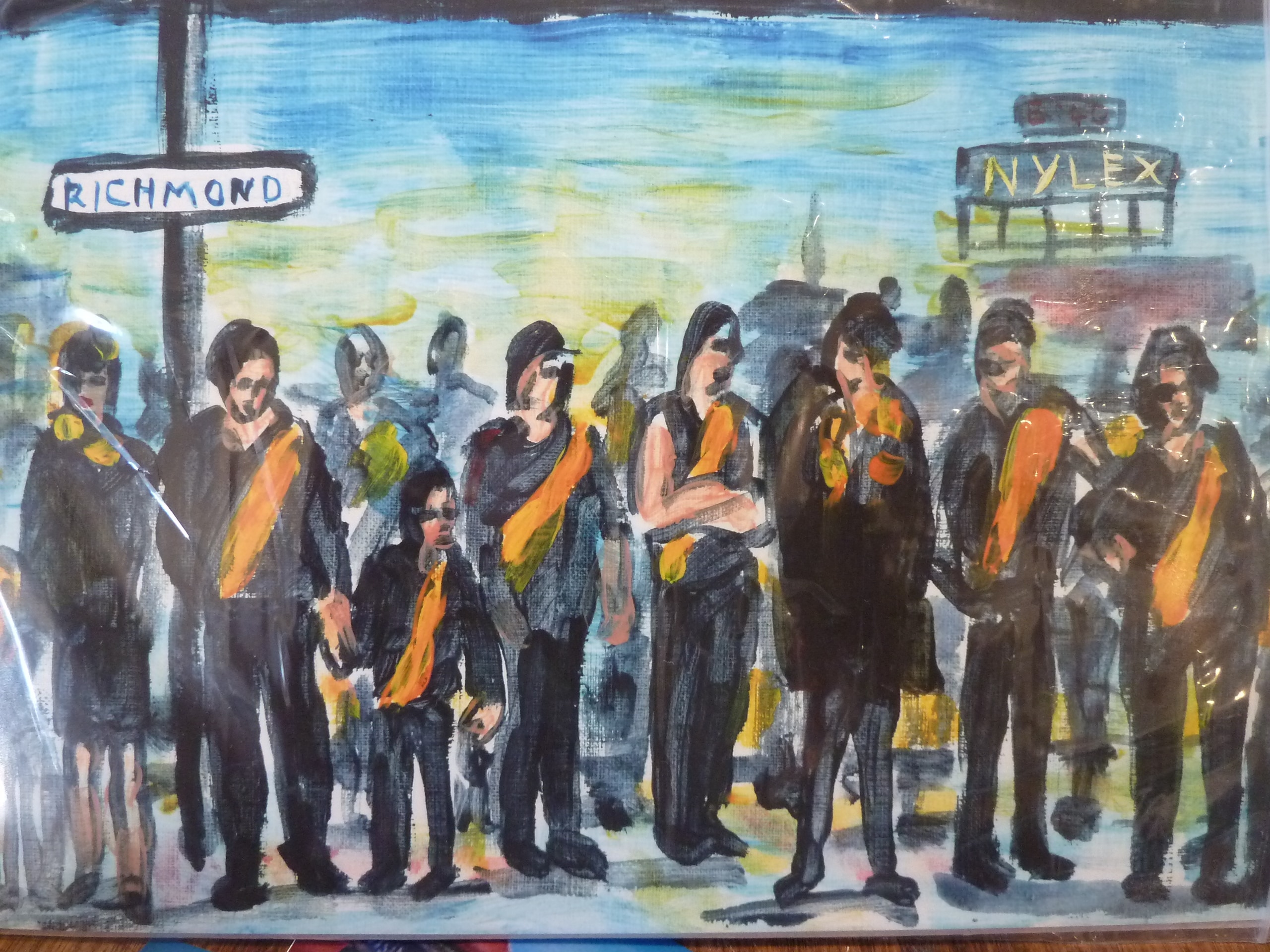 After loss: waiting for the long train home
For most, football allegiance is immutable. Once a Tiger, always a Tiger, and that is the way it shall be. In the past, I've looked suspiciously on football turncoats, as if they cannot be trusted. But with age comes understanding of how circumstances change, how loyalties can be shared; how not all about football is black and white (or black and yellow, as we all think it should be). Players swap freely between clubs, so why shouldn't fans?
Kate tells her story.
"My dad is a keen North Melbourne supporter. Mum is half-hearted Hawthorn. I was never indoctrinated into North Melbourne, but I was always interested in football. When I was eight I entered and won a newspaper competition where you had to mark an X where you thought the ball was."
"I won some money for the local sports store, and had to choose a jumper and chose a Carlton one because I liked its design."
And so began her football journey. Her family moved to Essendon when she was 12, a torpedo punt from Windy Hill, and childhood memories are of cars parked on Fletcher Street on Saturday afternoons, and fans in their colours streaming from the railways station, and the sound of the siren, and the crowd's roar.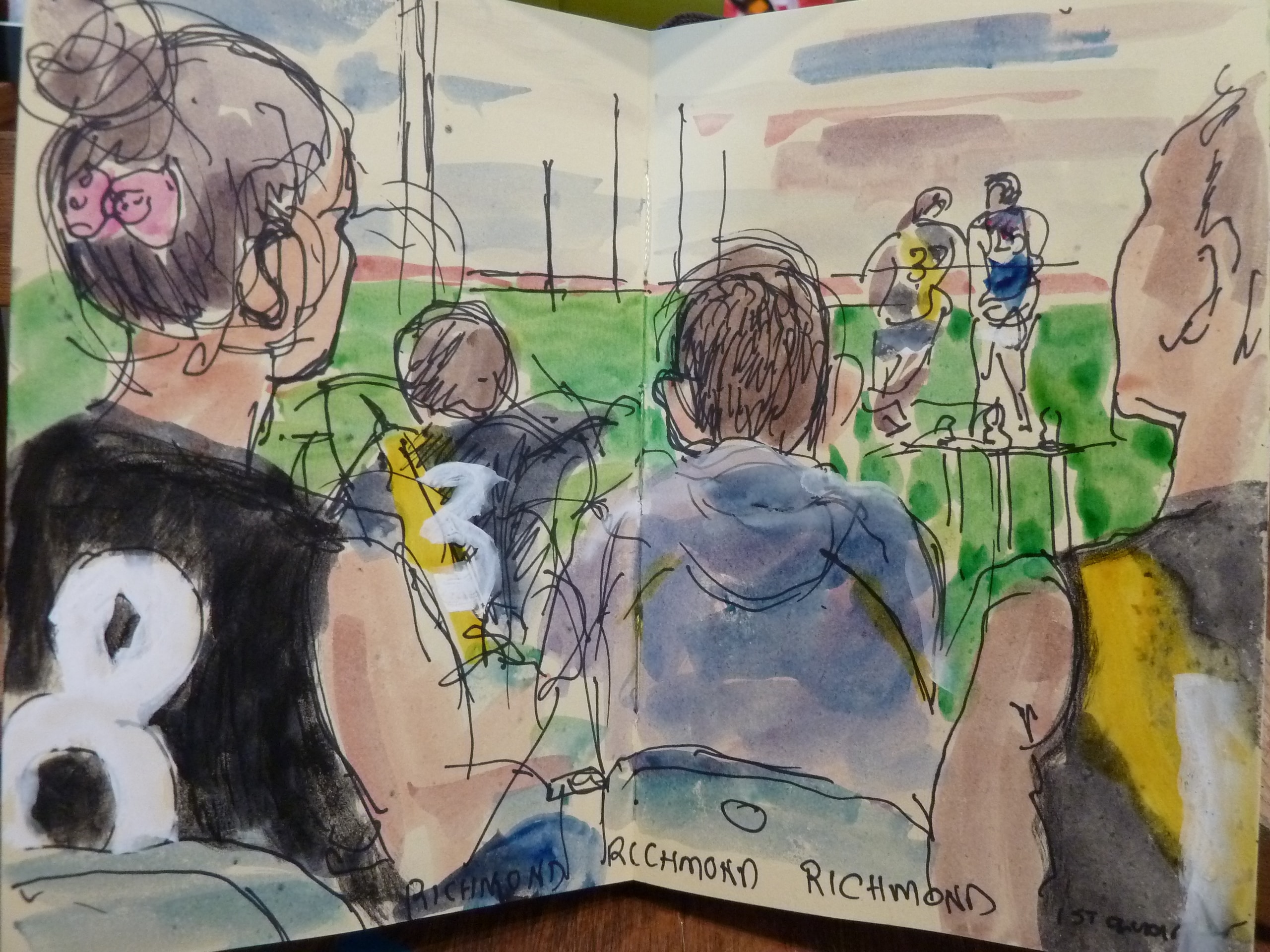 Cheersquad sketchbook: all in it together
"In those years, Carlton and Essendon were who people barracked for on the north side of the river, and that's where my life was."
All changed when she finished her schooling south of the Yarra, and studied nursing, and married a Tiger (he was also originally a Bluebagger, but that's another story!) and a family grew: three boys (now aged 22, 21 and 18), and a 16-year-old daughter, and then Hugo, their mascot, now ten.
"We started the oldest two off on Richmond but they changed to Essendon," says Kate. "That was in the 90s when Essendon was on fire and James Hird was a hero. The two middle ones were North Melbourne from the time they were born, their grandfather, John, bought them memberships."
"But the youngest is Richmond, and I think he always will be."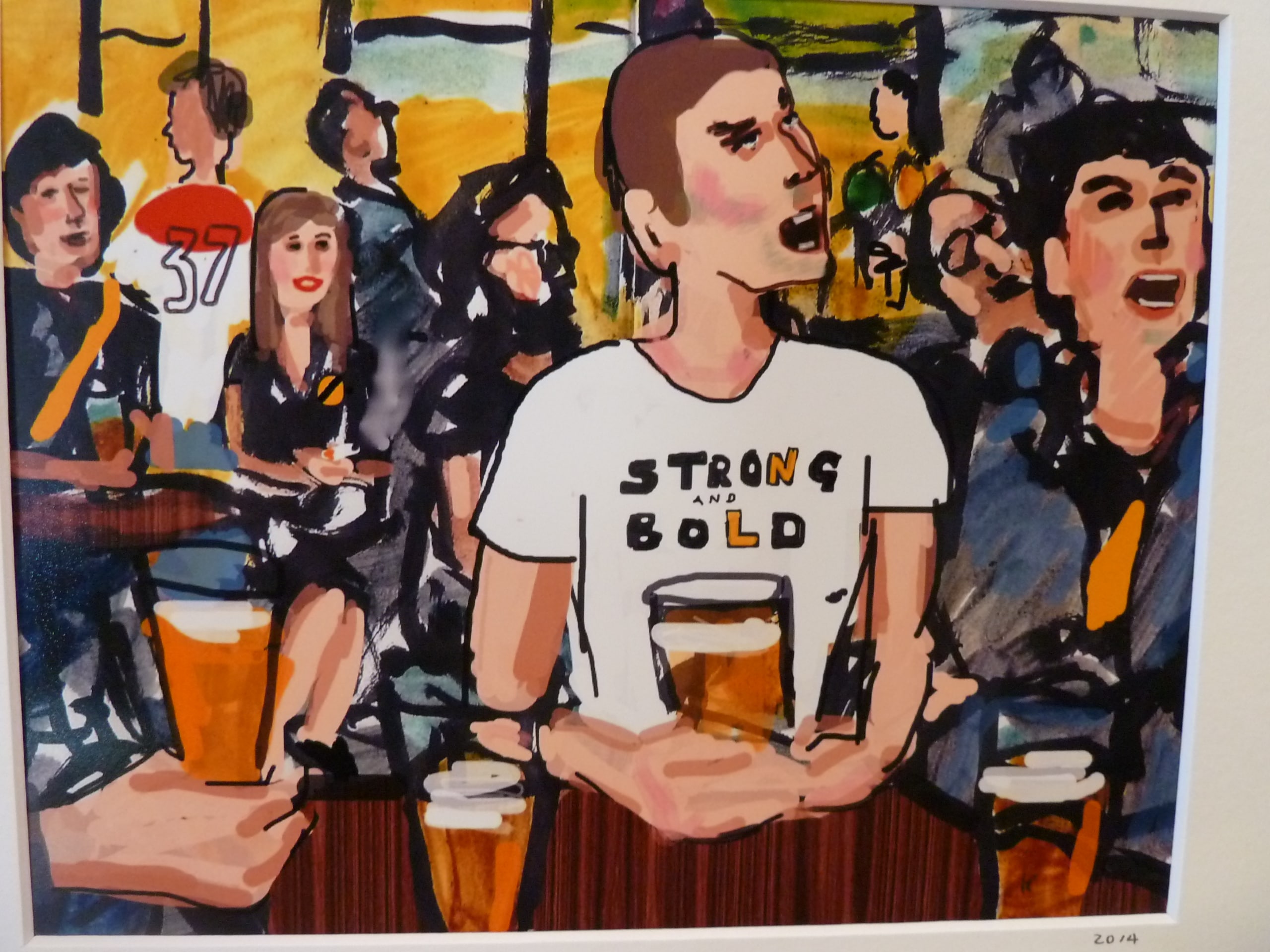 Strong and bold: a shared belief
Kate's three eldest have all left school, notching up a combined tally of about 350 games, played for the Caulfield Bears Junior FC and at school for St Kevin's College (whose 1st XVIII finished second on the APS ladder last year, to Brighton Grammar, whose alma mater includes Jack Watts, Will Thursfield and Warwick Capper). And their daughter, Nicola, has signed-up this winter to play Australian Rules at school.
"Football has a massive role in family lives," she says. "For a year or two we had five games of footy to go to every weekend across school and the local club. We were lucky to get to one or two Richmond games a season."
This autumn, she's already been to the season-opening home game against Carlton with her husband, and their Hugo, dressed in his colours. "About five years ago my interest in Carlton waned to zero and I had to make a decision about who I'm going to barrack for," she says. "With four boys and, a daughter who's a keen North fan, football is always something that's spoken about in the family. I couldn't live the rest of my years without a team."

Dressed for the game: Kate and her youngest son, Hugo, 10, before the Carlton win.
So Kate dipped her toe back into the AFL; then plunged-in head first.
She's a regular contributor to The Footy Almanac, a community noticeboard for all to share stories about sport and culture, where she publishes her artworks and musings on the football, and about being Richmond. Two seasons ago, she sat with the Richmond cheer squad, behind the fence at the Punt Road end of the MCG, and filled her sketch book with lyrical drawings.
Flicking through the pages – sketches of people in rows in front, the boundary fence, the goalposts and players – the scenes are readily recognisable for football fans. Unlike with a photograph, her pen strokes capture the game's fluidity, its shape-shifting nature, how the ball can be at one end of the ground and then suddenly, and seemingly effortlessly, be whisked away to the other end of such a vast arena.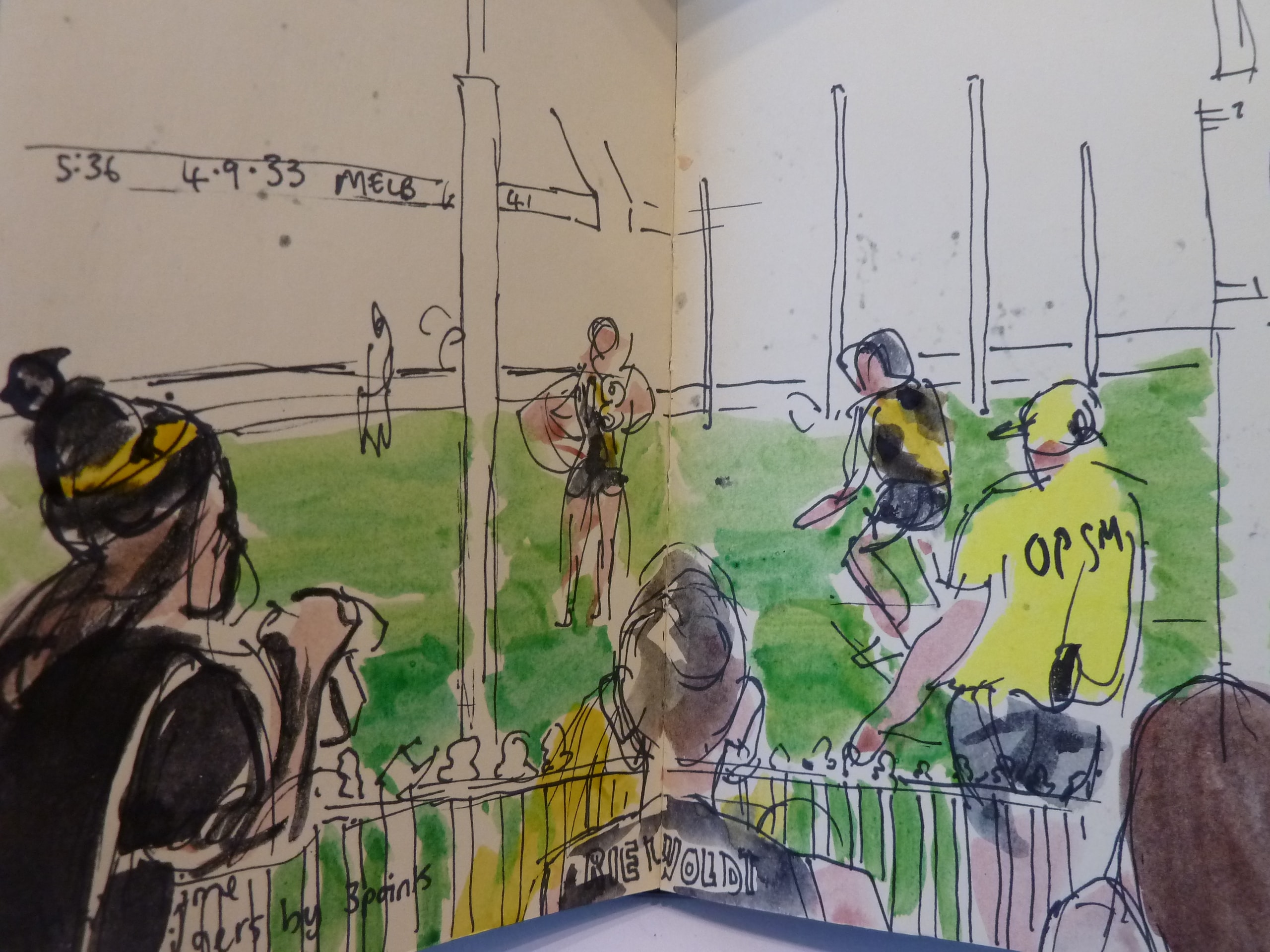 Cheersquad sketchbook: behind the goals.
In art, she finds an essence of a culture, told through the drama of football.
"I love the Richmond story," says Kate, in her studio with its walls lined with oil paintings and watercolours (and an old oil can) in yellow and black. "Its history, its roots, its tribal traditions, the emotional energy of a Richmond crowd."
"There's a feel-good story to be told about Richmond, especially when that day does finally come," she says, wistfully. "Should that day ever happen."
It is true; she knows all the hope and melancholy of us Tiger fans.
Go Tigers, find some redemption this Saturday afternoon!
Go Tiges!
To view more of Kate's football artworks see katebirrell.com
If you would like to nominate a Richmond fan who has a story to tell about their barracking please email Dugald Jellie with details: dugaldjellie@gmail.com