In the second of a special richmondfc.com.au nostalgic series celebrating Richmond's 50 years at home at the MCG, Tony Greenberg examines Dick Clay's controversial league debut for the Tigers in Round 2 of the 1966 season.
Richmond will celebrate its rich, proud history with a weekend of celebrations in July. 'Homecoming' will be a must-see event
It's doubtful if any Richmond recruit has made the step into league football amid more fanfare, publicity and controversy, than Dick Clay did back in 1966.
Clay, a gun key forward with Victorian country club Kyabram, had originally signed to play for North Melbourne.
He'd become the first player in the Goulburn Valley League to kick 100 goals in a season, finishing with 116 in 1964 and winning the competition's Morrison Medal the same year.
The Kangaroos were convinced Clay was a future VFL star and were delighted to have secured his signature on a Form Four agreement, which was valid for two years.
Richmond, however, along with several other league clubs, also was extremely keen on the super-talented Clay.
With ruthless football secretary Graeme Richmond at the helm, the Tigers hatched a bold plan to remove Clay from North Melbourne's clutches and steer him to Punt Road.
Clay played one practice match for North, but subsequently went cold on the idea of a league career with the Roos.
All the while, in the background, GR was doing his best work to convince Clay that Tigerland was where his football future lay.
Elliot Cartledge, in his excellent book, 'The Hafey Years', wrote: 'Courtesy of (Richmond) committeeman Ron Carson, GR (Graeme Richmond) had a new Holden delivered to the Clay household in the dead of night, while Dick was still tied to North Melbourne. Once the shock had worn off, both father and son realised it was a signing-on gift courtesy of the Tigers, for in the meantime GR had wheeled out the great Jack Dyer to pay a visit to tell and sell the great Richmond story.'
Clay recounted how Richmond eventually won the race to secure his services . . .
"Jack and Graeme came up to see me and Tommy (Hafey) came over as well when he was coaching Shepparton. I didn't know if I was ever going to be big enough or good enough to play League football, so when the clubs started chasing me it was exciting because it made me think that maybe there is a chance.
"But Tommy going to Richmond was the clincher, because at Kyabram we could see what he was doing at Shepparton. They were looking for tall, running players who could mark and kick. When Jack Dyer walks into the kitchen at home to meet mum and dad, dad said, "He's not a bad bloke that Jack, so you better go to Richmond!" I never rued that decision, that's for sure."
But Clay's decision to join Richmond wasn't the end of the saga.
Elliot Cartledge reported that: "North Melbourne's hold over Clay expired at midnight on Friday, April 22. Hours later, on the Saturday morning, he signed with the Tigers . . .
"North's disappointment turned to outrage. Early the following week, the club's president Tony Trainor called for a "full League investigation" of Richmond's tactics. He told the press: "Richmond's approach and signing of Clay is a direct contravention of League rules". Under the rules of the day, the VFL could not act in any way until the player in question presented a clearance or match permits from his home club – in this case Kyabram.
"For its part, Kyabram promised there would be no hold up in granting Clay his desired match permits. Sure enough, the permits were granted the very next day and GR made a flying visit to Kyabram to collect them. North accused Richmond of pirating Clay and the Tigers responded – in a style which would become trademark in the years to come – by immediately naming Clay in the side to play on Saturday. The VFL called him late in the week to appear before its permit committee.
"North, via its president Trainor protested vigorously and left the VFL body with two choices: grant Clay a permit to play or find that he and the Tigers have a case to answer. In a decision that had far-reaching consequences for both clubs over the years to come the VFL found in Richmond's favor.
"Dick Clay made his VFL debut in Round 2 against Footscray at the MCG. The roller-coaster would not get any easier for the star recruit; he was picked to line up at centre half-forward against the formidable talent of Ted Whitten."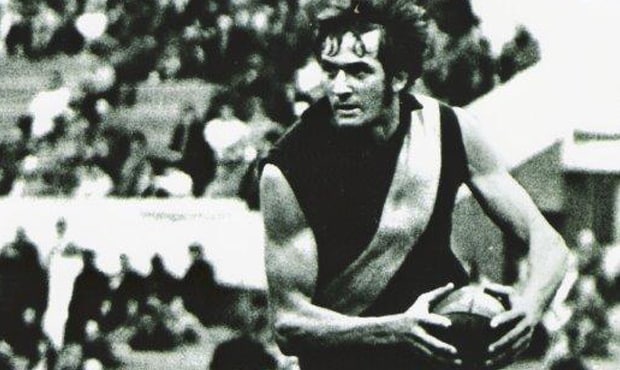 In the days leading up to the clash, Clay was front-page and back-page news. He was a household name before he'd even run out on to the field with the Richmond team.
Although Clay understandably was nervous, given the circumstances surrounding his league debut for the Tigers, he certainly didn't let the huge build-up, and the occasion, get the better of him.
The 21-year-old, although a little astray with his kicking for goal (he finished with 0.4), had 22 disposals (19 kicks, three handballs) and took four marks in a fine, first-up display, as Richmond recorded a crushing 70-point win.
'The Sun' newspaper, in its review of the match, was full of praise for the way Clay handled the pressure of his debut performance . . .
"The much-publicised, controversial Dick Clay from Kyabram did much better than most Richmond officials and supporters dared hope.
Anyone who can win 19 kicks in his League debut against Ted Whitten has a bright and prosperous future ahead.
Clay put the mark of class on his work by making use of every kick.
He is certain to become the focal point of Richmond's attack in the games to follow.
Dick Clay looked more like a player with 100 League games behind him than a first-game recruit in his debut with Richmond against Footscray at the MCG on Saturday.
Clay, 21, played a fine game, particularly in the first half, against Footscray captain and coach Ted Whitten.
He showed he had all the attributes of a top-class centre half-forward and is certain to be the focal player in Richmond's attack this season.
He is a strong mark, a long kick and he has very quick recovery for a big man.
In the first half he outplayed Whitten to get 13 kicks and five marks.
After the half-time interval Whitten gained the upper hand, but Clay still picked up a further six kicks and also used handball to advantage.
In all, it was a fine debut for Clay, who has had the strain of permit worries hanging over his head for several weeks."
Clay was typically modest in his assessment of his first-up effort, opposed to one of the game's all-time greats . . .
"I knew Ted Whitten because he'd also been up to Kyabram to try to get me to play for Footscray," Clay said. "I got a few kicks early, but after half-time he gave me a couple of back-handers – that was Teddy. He probably knew it would slow me down a bit, so he gave me a couple to go on with.
"But I reckon I learnt more in that first game than I did for the next six months. Just the fact that whenever he got the ball he did something with it and he was in the packs pushing and shoving and leading his charges on. He was just a classic player. Not that you'd stand back and watch him, but you'd think, "Shit, that was good." The club persisted with me even though I was pretty slight, keeping me at centre half-forward and full-forward for the rest of the season."
Dubbed the 'Kyabram Kid', Clay captured the imagination of the Tiger faithful with his explosive pace, poise and long kicking.
50 years of MCG memories #1: First home game
Clay went on to play 213 games and kick 79 goals for the Tigers in a wonderful league career from 1966-76. He was a member of the Club's premiership sides in 1967, 1969, 1973 and 1974, playing a key role in all four triumphs.
To highlight his amazing versatility, he was on a wing for the first two premiership wins, and then full-back for the next two. That, of course, was after making his debut with Richmond at centre half-forward, where he had been a sensation in country football.
A handy player by the name of Royce Hart pushed Clay out of the centre half-forward role in his debut season the following year (1967), but the original Kyabram Kid soon found his niche on a wing, before eventually becoming one of the competition's best full-backs.