VFLW Tigers Evie Burry and Lauren Tesoriero will miss the remainder of the 2019 season, after both suffering a ruptured ACL in last Saturday's Round 6 match against NT Thunder in Darwin.
Both injuries will require surgery, with the duo likely to be sidelined for 12 months.
MEMBERSHIP Become one of the Club's first inaugural Women's Football Foundation members
Key defender Burry sustained her injury when changing direction in the third quarter. Tough midfielder Tesoriero, who is also a Richmond Women's coach and recruiter, suffered hers when she landed awkwardly in the first quarter.
Richmond Women's Physical Performance Manager Matt Parker said it was extremely disappointing news for both players.
"(Evie) was one of our key defenders for the first part of the year and, this puts her back another 12 months in the development of her football," he said.
"Her preparation has always been exceptional and it's disappointing that this has happened.
"It's disappointing for Lauren to have sustained her second ACL injury, after previously injuring the same knee.
"We're fortunate to have her as part of our program as recruitment and coaching, and our program will continue to benefit from her, albeit not on the field."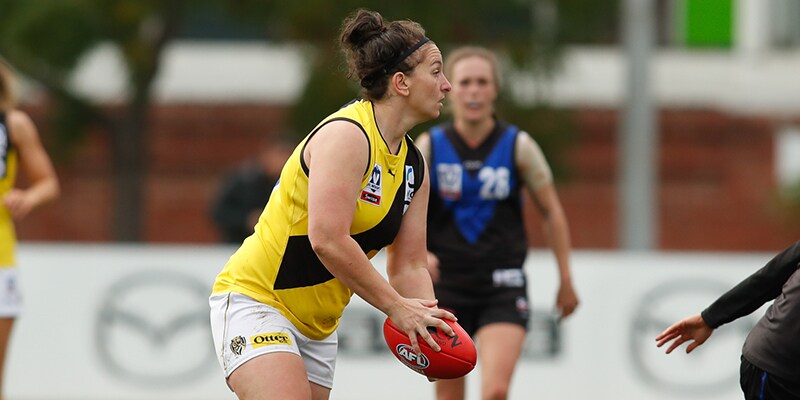 Parker said both players had shown admirable positivity since receiving the news.
"The overwhelming support from the playing group for these two girls demonstrates the level of respect for them within our program," he said.
"I have no doubt that they will continue to make a positive impact within the group through this challenging time."
WHAT'S YOUR FINAL 5? Attend any five of our last seven games at the 'G
In other injury news, Parker said VFLW and AFLW Tiger Christina Bernardi is making solid progress in her foot rehabilitation, hoping to return to consistent football in the backend of the year.
Following this weekend's bye, the VFLW Tigers will be back in action against the Casey Demons at Queen Elizabeth Oval, Bendigo next Sunday, June 30 at 1.00pm.
There'll be AFL injury update on richmondfc.com.au on Tuesday, leading into next Sunday afternoon's Round 15 clash against St Kilda.