As Richmond embarks on its inaugural AFLW season, the players will be taking Tiger fans on the journey with them as they share their experiences. First up is utility Laura Bailey, to detail the opening week of pre-season...
What a week! Our first week of pre-season as AFLW Tigers certainly didn't disappoint.
It all kicked off at our inaugural training session last Monday night. It was an incredible opportunity to have all our family and friends there and one of the highlights of my football career so far.
MEMBERSHIP Become one of the Club's first inaugural Women's Football Foundation members
As Richmond's inaugural AFLW team, we didn't know what to expect when we ran out onto Punt Road Oval for the first time as a group.
But to have the wider Richmond community there cheering us on, including the members, cheer squad, club staff and young, aspiring AFLW players was amazing. Having them all there to be a part of our journey made it so special.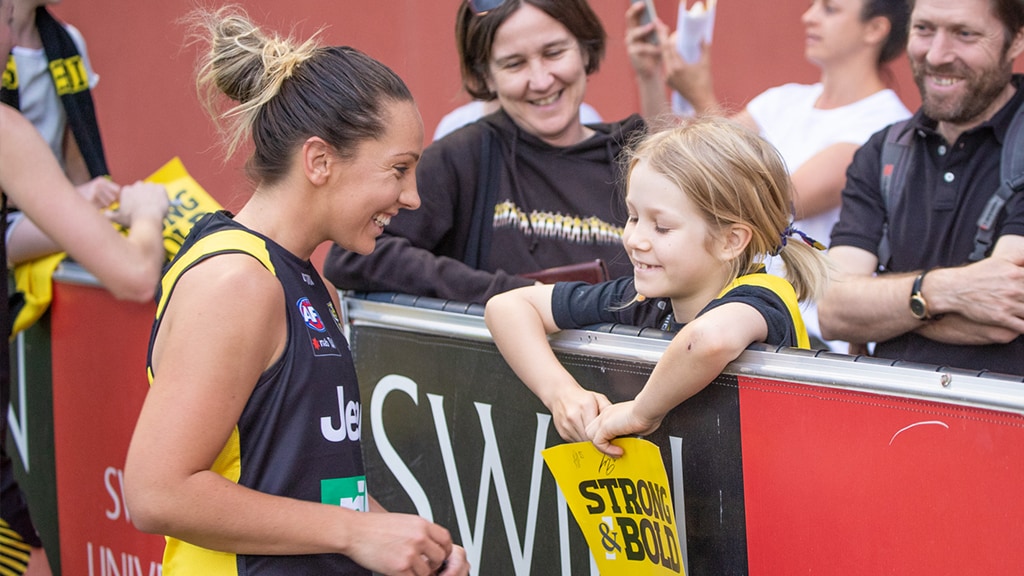 There was such a loud cheer as we took to the track and it was great to see the smiles on everyone's faces, particularly the younger players who are new to the program and have never experienced that type of support before. 
Our first session focused mainly on fundamentals and our structures. We worked on our skills, showcasing the brand of football we want to be playing to our family and friends.
It was awesome to see the group gelling so well from the get-go. The connection we have within in our group is going from strength to strength. We have a lot of great leaders within our squad and all the girls really do make you feel like a family. 
We have a really diverse group of girls and we all bring different qualities that we've learnt from being in different environments. Personally, I bring my experiences from being a police officer.
In our short amount of time together, we have focused a lot on the strong culture within our team, and I know that we will proudly represent the Richmond Football Club. 
As an older player and one who has played AFLW before, my main focus during the week was to make sure the younger girls felt comfortable in their new environment, especially the ones who have moved down to Melbourne from the country. They've all settled in really well and I'm excited to see the impact they have on the league. 
Over the next couple of weeks pre-Christmas, we'll be focusing on our skills and conditioning, to make sure that coming into games we are fit and showcase a great brand of footy.
On Friday night, we excitedly boarded the bus for our inaugural AFLW camp with absolutely no idea what was in store. 
Over an hour later we arrived at our surprise destination, HMAS Cerberus, a Navy training base. 
Once we arrived at the Navy base, we started to get a bit nervous about what we were going to be put through.
We know that service men and women are resilient and have such a strong work ethic, so we knew we'd be put through our paces physically and mentally.
Discipline. Respect. Teamwork. Many of the qualities that exist in our team also mirror what is valued in the Army and Defence Force. 
Throughout the weekend, we took part in many team building and obstacle exercises. The main focus for us was working as a team throughout the shared challenges we faced.
My favourite activity was called the 'Mud Run', requiring us to carry each other through the mud. 
It was a really special moment to see the girls get through it all together, just like how we want 2020 to look like from a team perspective. 
On camp, we got to know everyone on a more personal level and we built on those relationships when we were tested. After getting through the weekend together, we feel so ready to tackle the rest of the pre-season. I know we'll bring the discipline we learnt on camp to each and every session. 
It's incredible to see how much we've grown just in the first week. I'm so happy with where the team is at the moment and the direction we're heading in.