Tiger tiger burning bright: Round 12 report (all roads lead to the G)
In inky dawn light on Saturday, in the stilled city, I catch a train to the east. Dormant MCG light towers are visible from the railway concourse – sentinels standing over a hallowed meeting place – but my back, for now, is turned on them. Mine is a roundabout way to get to the game. It's counter-intuitive. I'm leaving Melbourne to find a way to return; to share the journey with others whose love of Richmond I think can be measured in the distance they travel to see them play.
At 7.20am on Saturday, I catch a train to Traralgon, passing through Nar Nar Goon, Drouin and Trafalgar, where dew glistens on the grass of the football oval and a scrim of cloud shrouds the flanks of Baw Baw. It feels good, passing through a landscape of dairy sheds, pasturelands, pooled water, heavy ground, on a morning like this, contemplating football and a game awaiting this afternoon.
My football journey is to meet with the Gippsland Richmond Supporter Group, joining its bus trip to Melbourne – and hardly could you imagine a more convivial road trip to the 'G.
"I feel more a part of Richmond by having these people around me," says Malcolm Irvine, 64, born in Morwell, who works at Hazelwood Power Station and, as the group's president, has organised today's Coal Valley Coaches bus. "I've been a supporter all my life. This is my way of barracking."
Reformed this season, the Gippsland supporter group has 126 members – most from Traralgon, Morwell, Warragul and Sale, but from as far afield as Paynesville and Omeo – and is one of several such Richmond groups that run buses from country Victoria to games in Melbourne. I'm joining the second of its three scheduled trips this season; to the Collingwood game ("It was very quiet going home," says the group's secretary, Sharlene Sexton, "everyone went to sleep"); to today's Adelaide match; and to see the home game against Carlton in August. Collingwood and St Kilda supporters are the only others in Gippsland to run buses, indicating the relative strength and camaraderie of AFL club support in this part of Victoria.
Mick, the bus driver, he's a Hawks man.
**
It feels a peculiarly Melbourne winter afternoon, with leaden skies, the air cool and damp, the roads slicked with rain. I walk across railway tracks on a footbridge to the MCG and am lost in nostalgia. It is good to be back in this city, orientated by the yellow Dimmey's clock tower with its green copper globe, by the idle Nylex sign, by the silhouette of the CBD skyscrapers, by the avenues of elms radiating from the MCG, and now with the last of their winter leaves shimmering like golden tokens.
Across the bridge, outside the ground, a father kicks a ball to his son on a carpet of leaves that rustle with each footfall. I remember days like these. It's a Melbourne winter's day, a Melbourne football day. The car park is empty; all walk to the ground, finding pathways to a place of footballing communion.
I introduce myself to the first Adelaide supporter I see, wanting to know of their journey. Her name is Kristie O'Callaghan, she's 39, from Ballarat, and says she started supporting the Crows because she had a crush on Tony Modra. Good news is she married well. Her husband, beside her now, wears a Richmond scarf. "I reckon Richmond will win," she says.
I tell her I do, too. I think this day will be ours. Never mind the Gothic crepe-paper mesh that is the rain-shredded Richmond run-through, nor haunting memories of a loss to Fremantle in misty rain on a day like this last year at the MCG, nor seasons past of heartbreak and despair. This day feels a throwback to another time – of pinched faces in the outer, standing in cold winter's rain – it feels like an afternoon for true believers, and it looks to have Richmond written all over it.
**
Late last week, I sent out a tweet: I'm joining the Gippsland Tigers supporter bus on Sat morning, off to the game. Any other @Richmond_FC supporter buses going? Where from? I wanted to map the geographical pull of a Richmond game, to find out its greatest reach. I wanted to find the Richmond supporter who regularly travels the furthest to see our team play. I want to meet that person. I want to tell their story.
The response was revelatory. "I'm on the AirNZ bus from Auckland," tweeted Andrew Sloman, an expatriate accountant who, for the past four years, has arrived at games with his passport. He had been to seven this year, including the wins in Adelaide and Perth. For games in Melbourne, his flight time is three hours, 46 minutes, travelling 2,627 kilometres, plus the commute at either end. "But I'm nothing special," he added.
I replied: "That sounds very special. I think I need to know about this."
He replied: "Brian Donaldson goes every week from Perth! We call ourselves the flying tigers. He's been doing it for 20 years! A freak."
How am I in a position to disagree? Depending on the winds, his flight takes three hours and 54 minutes each way, covering 2,730 kilometres, meaning this season alone, for Richmond's 16 games in Melbourne, two in Sydney and one in Adelaide and Cairns, Brian will travel almost two and a half times around the world, at its widest circumference.
Never again will I complain about the train wait at Richmond Station after a game.
Other replies were no less inspiring for the lengths Tiger fans go, to be where they want to be. Sally Grace (@sallygrace) replied: "Roxby Downs, only manage to get to about six games per year, though." Emma Parker (@eparker019) replied: "I travelled to games frequently last year from Swan Hill :-) in Mildura now, and harder with a one-year old :(" Nick Bourke (@bourkey03) drives his tractor to the farm gate at Noorat (of Alan Marshall and I can jump puddles fame, with one of the most picturesque football ovals in country Victoria), wherefrom he journeys to Melbourne. And Allan Hoskins (@allanhoskins44) replied: "Portland, Victoria, also home of the mighty Portland Tigers…. go tiges"
Jordyn Mills, 17, from Warrnambool and on Twitter, is another from south-west Victoria, who travels regularly to see the Tigers play. She comes with her father, Graeme, leaving at 10am on this Saturday and getting home at 8.30pm, on a 528- kilometre round trip. They plan to see 13 games together this year, including the home game against Gold Coast in Cairns.
"Dad is the reason I go for the Tigers, I've followed in his steps," she writes. "We travel up by car, which takes about three and a half hours, and always go to the function in the Maurice Rioli Room at Punt Road afterwards. Then, it's the three-hour drive home. Just me and my father make the trip."
**
It was worth coming a fair way to see the game on Saturday. Not because it was an enthralling contest, nor for moments of individual brilliance (provided mostly by Adelaide Crows player Patrick Dangerfield), nor because there was high drama in the result. In chiaroscuro light and cold air, beneath dark clouds and bursts of stark sunshine, here was a game for the Richmond faithful that was a complete team effort.
We expunged memories of last year, of Matthew Pavlich in the drizzle kicking six goals against us at the MCG; and of surrendering a 33-point quarter-time lead in Adelaide two weeks later, losing to the Crows by 19 points in a game marred by Taylor Walker's spear tackle on Steve Morris – for which the Adelaide player was awarded a free kick, but later penalised with a three-match suspension.
Footballers have long memories and Stevie Morris, a man who plied his trade at West Adelaide before being drafted by the Tigers, looked not to have forgotten that day. He was ferocious on Saturday. He played like a man possessed. He played like somebody not to be cowed nor bullied. He stood up to the challenge, he left nothing in the tank.
It's hard to believe Morris had only six possessions on Saturday when, in the mind's eye, he seemed to be in everything. Then again, no possession is credited for clearing a path. His sprint to make space for Brett Deledio, halfway through the first quarter, leading to a Jack Riewoldt goal, wasn't unnoticed by the crowd. Nor was his full-stretch smother of a Dangerfield shot on goal in the second quarter. Nor his tete-a-tete on the grass with Richard Douglas, on the wrong side of the boundary, late in the third quarter.
Stevie Morris plays a hard-nosed game, but under these heavy skies, in this homecoming confirmation of the long ago Monday night win away in Perth, I have never seen him play as hard as this. He played for keeps. He played to kill off Adelaide's season. He played to ensure that for us Richmond supporters, here continues the beginning of what promises to be a long winter of deliverance.
**
On the bus to Melbourne I hear wonderful Richmond stories. Graeme Upton, 73, from Sale and a Richmond FC member for 53 consecutive years, tells of his Richmond support starting when his father was a publican in Foster. "Jack Dyer used to come up duck shooting and my father tangled up with him," he says. "He was an ex-copper, and a fabulous guy, and a fabulous footballer."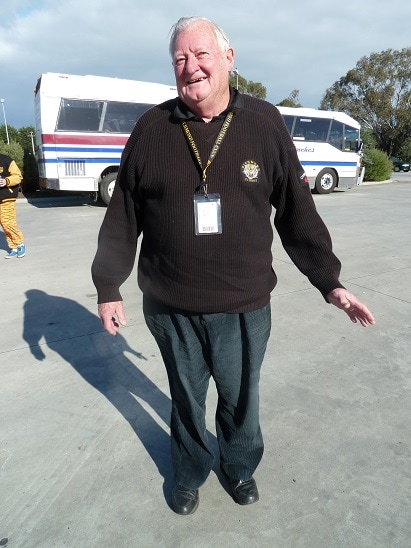 Upton tells tales of his days living in Melbourne as a young man, playing football for Caulfield, and his family's old home in Hawthorn, where in the 1960s Richmond players Graham Burgin and Geoff Strang ("his father was a real old Tiger") would board, and of his family's pull to nearby Glenferrie Oval. "I didn't succumb," he says. "I've always been a Tiger."
Further up the bus, there's Gwen Harris, 75 this week (happy birthday!), from Morwell, but born in the spud and asparagus country of Koo Wee Rup ("it's all black and white there, my dad used to play for them"), who, in 1955, married a man from Burnley Street in Burnley. "Royce Hart used to board at his brother's mother-in-law's house," she says. "We met a lot of players through him."
A Richmond member for 34 years, this is the first game she's attended this season. "When I see the black and gold come out onto the ground, my heart does a flip," she says. We talk about her hand-knitted black and yellow woollen jumper ("it's the best jumper I've ever had, it's only been washed once"), and she confides that several years ago she had a tiger tattooed on her bottom. "It cost me $80, but it's the best $80 I've ever spent."
All on the bus know Gwen; they call her "her Royal Highness", and when I come to take a photograph of her, a scallywag up the back shouts out: "Show him your tatt!"
I also meet George Bovell, 47, from Yarram, whose five sisters and two brothers are all North Melbourne fans ("I started following Richmond because of Royce Hart"); Rhonda Wyntges, 51, from Willow Grove, and a big Jim Jess fan ("he was hard at the ball, he gave it and he took it"); and Dave Wade, 38, from Morwell, who's "partnered up with the enemy" (she barracks for Carlton), and who, with his brother, has started a recent fitness push at the football. "Whenever Jake King kicks a goal, we go to the aisles and do 10 push-ups".
Selling raffle tickets on the bus is Russell Deppeler ("born in the 1973 premiership year"), from Morwell, found at most games brandishing a flogger in the Richmond Cheer Squad. "I love sitting on the fence, being close to the action, and getting vocal at the football." Russell rarely misses a game, and tells a story of reciprocated generosity that I cannot forget. On his recent trip to Perth, to see the West Coast game, Reece Conca's father approached cheer squad members and invited about 20 of them for dinner at his parents' pizzeria. Like father, like son. Those Conca boys, they know how to share the love.
**
Football writer Greg Baum last week constructed telling words about Carlton player Chris Yarran and on-ground demeanour. "Sport is nothing if not body language," he wrote. "We go to games to watch what sportspeople do and say with their bodies, not what comes out of their mouths, which is mostly banal anyway, if not muffled by mouthguards."
These words lingered under dark skies last Saturday at the MCG. The Tigers, they came to play. It could be seen in how they held themselves, in their posture of authority, in gestures of confidence. There it was, six minutes into the first quarter, when Bachar Houli picked Ian Callinan's pocket with a defensive punch; then in the same quarter's last minute, when Chris Newman launched himself in front of Scott Thompson on the wing to spoil again; then in the dying seconds when Jack Riewoldt, in fluorescent peachy-coloured boots, paddled the ball along the boundary – keeping alive possibilities – to create Dustin Martin's second goal.
I could see it in the welcome return of Reece Conca's post-goal celebrations (the "Conca cuddle"); in the rising confidence of David Astbury with each intercept mark; in the growing vibrancy Shane Edwards and Nathan Foley add to the team; in the returned poise and assuredness of Alex Rance, exemplified by his majestical thumping of the ball across the backline in the last quarter; in the continued cameo dashes of Matt White; and certainly in the joyful raising of the twin guns when Brandon Ellis kicked his two goals.
The body language was buoyant in Brett Deledio, sporting a snappy haircut, looking a picture of composure in space all afternoon. A game of football, it may well combine many branches of the performing arts – melodrama, Greek tragedy, opera, ballet, pantomime, farce, slapstick – but perhaps, mostly, it is a modern dance in its movement and choreography. On Saturday's sticky ground, two blokes out there led a merry dance better than all others: Patrick Dangerfield, and our man Deledio.
But walking from the ground under bare elm branches, two moments from the game remained long after it ended. Both came in the last quarter. The first was at the fifth-minute mark, when Ivan Maric, in a stellar performance against his old club, plucked the ball from the throw-up, pirouetted, and kicked a steadying goal. It wasn't the goal, but the vision of him returning to the centre, his fist raised in affirmation, heavy rain tumbling, his long locks flowing, trailed by appreciative teammates. He was the leader of the pack. He looked a warrior. He had inspired by his deeds.
The second came when Dustin Martin, from a set shot, kicked the team's last goal – his fourth for the day, the result long since decided – and he turned for the centre, screamed in delight, and grabbed his jumper. He grabbed his jumper! Supporters like us love body language like this. Our loyalty to the Club is blind, it is enduring, it is unquestionable, it is represented in the color of the jumper, in all the shared memories and experiences it holds, in an emblem and a song and beliefs that hold true long after the game is played, and long after today's players have come and gone.
In the jumper, there is the history of an untold number of men and women. We love the jumper. Many of us travel vast distances each weekend to see that jumper run onto the ground, to see what it can do on the field. It has become part of us. It must have given great pride to all Richmond fans to see this fleeting gesture. Dustin Martin grabbed the jumper. He took hold of our hearts. Long may it continue.
Tiger tiger, burning bright
or Twitter: @dugaldjellie