The Richmond Football Club remains the only sporting Club in Australia, and one of only 23 Australian businesses, with a Reconciliation Action Plan (RAP) in Elevate status in recognition of its demonstrated leadership.
The Club today formally launched the next iteration of its RAP for 2018-20 in front of more than 200 people in the Maurice Rioli Room at the Korin Gamadji Institute.
Richmond has committed to achieving 100 targets in its new RAP, which is underpinned by three key themes that contribute to the Club's vision of reconciliation – Tracking and Understanding our Footprints, Sphere of Influence, and Equity and Equality.
Click here to view the Richmond Football Club's Maurice Rioli Reconciliation Action Plan 2018–2020 (4.7MB)
A number of these targets are also aligned to the Five Dimensions of Reconciliation identified by Reconciliation Australia and include, Race Relations, Historical Acceptance, Institutional Integrity, Equality and Equity, and Unity.
Richmond President, Peggy O'Neal said collaboration and partnership has enabled the Club to make its commitment to reconciliation deeper and stronger.
"Our football club, from the Board right through to our management, staff, players, partners and supporters have a shared goal of cultural unity," O'Neal said.
"Our vision for reconciliation is to connect our nation, uniting first and new peoples so that we all thrive together."
"Football is a powerful platform that brings together Aboriginal and Torres Strait Islanders and non-Indigenous Australians. We embrace our responsibility to unite people through shared experiences and stories, and through celebrating the achievements of our first people, both on and off the football field.
"We thank both our Indigenous and non-Indigenous communities as well as our commercial partners who have supported our efforts, and who share our passion and vision for reconciliation, because we know that it's only achievable if we pursue this goal together."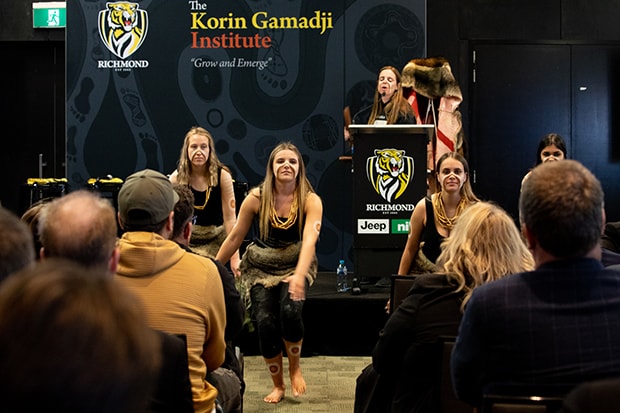 Karen Mundine, CEO Reconciliation Australia acknowledged the Club's commitment to reconciliation.
"The RAP commitments of a professional sporting organisation as influential as Richmond, do much to advance Australia's progress towards reconciliation," Mundine said.
Key outcomes of the RAP will include the Club undertaking a review of its reconciliation journey, developing a blueprint that may guide other organisations, identifying key partnerships that have been established, and supporting other organisations to enhance their promotion of reconciliation.
Also, with a membership base of 97,000 and over 500,000 supporters nationally, Richmond will embrace its position as an Elevate organisation, and continue to educate and lead so that everyone becomes more connected with and has greater understanding of Indigenous Australia.
The development of Indigenous-led programming that actively engages and supports Indigenous women is also a priority.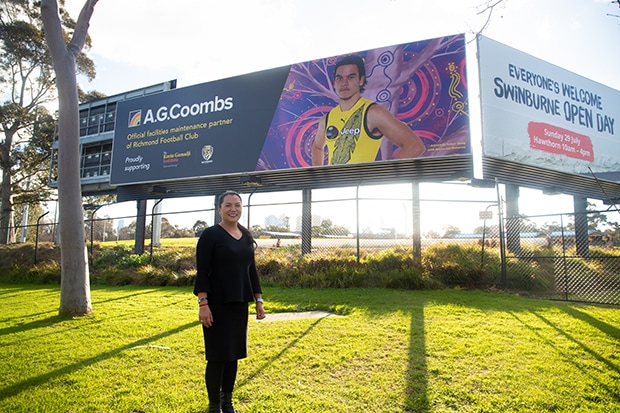 Pictured: Deivina Peethamparam, A.G.Coombs Management Support Services General Counsel in front of their billboard at the Swinburne Centre, Punt Road Oval. Richmond has supported its partner organisations including A.G.Coombs to create their own Reconciliation Action Plans.