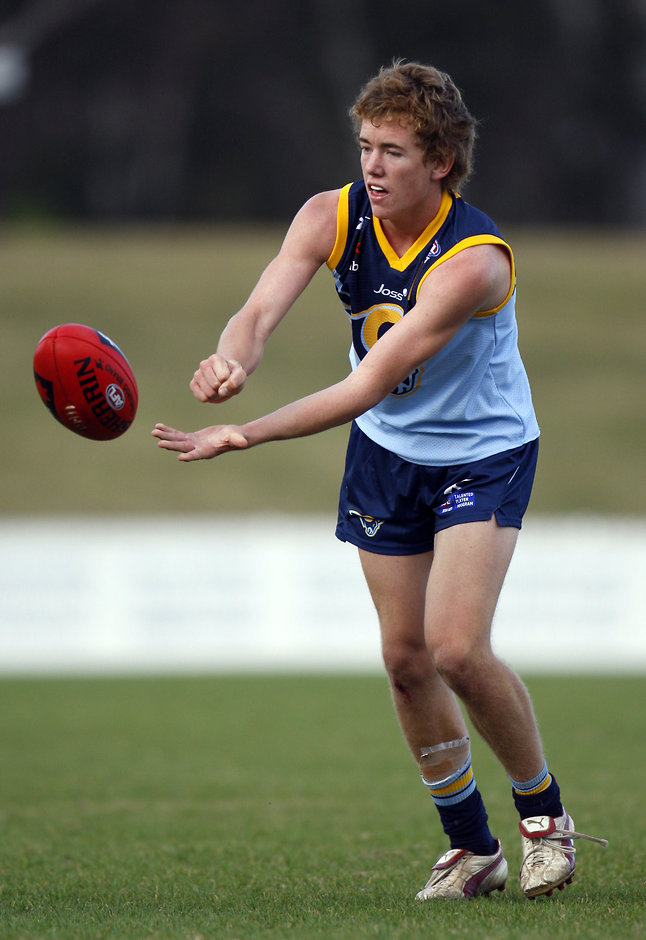 In the lead-up to the 2015 National Draft on November 24, richmondfc.com.au is looking back at some of the players who have entered the AFL system over the past decade and will line up for the Tigers in season 2016. Today, we focus on Tiger newcomer Jacob Townsend, who initially joined Greater Western Sydney as a zone selection player.
Jacob Townsend was picked up by the then fledgling GWS Giants in 2011 under the club's NSW zoning concessions.
Townsend, 17 at the time, had made impressive football progress, from the junior ranks in his southern NSW country town Leeton, through to TAC Cup level with the NSW/ACT Rams, playing a pivotal role for the Rams in the under-18 championships, finishing runner-up in the Giants' first-ever best and fairest award (at TAC Cup level), and gaining selection in the AIS AFL Academy Program, which placed him among the best 30 young footballers from around the country. He was the only player selected from NSW in that elite program.
The tough, determined, inside midfielder, became just the second player to graduate from the GWS TAC Cup team to the club's AFL list.
He made his senior debut with the Giants in their inaugural AFL match – the opening round of 2012 against Sydney at ANZ Stadium, and managed 11 games all-up for the season.
Townsend played eight games in 2013, a further eight in 2014, but only one this year, before being delisted by GWS and subsequently snapped up by Richmond during the recent trade period.
Although Townsend was deprived of opportunities throughout his time at GWS, he earned an impressive reputation, when he did represent the Giants at AFL level, due his ferocious tackling and fearless approach.
What they said after he was drafted
"Townsend is a latecomer to Australian Football and has a background in rugby league. Starting at 13 years of age at Leeton, Townsend has had an exceptional rise to an AFL list. His clean skills and "eyes only for the ball" approach were noticed with the Under-16 and Under-18 NSW/ACT RAMS."
What he said after being drafted
"It really is very exciting news and a pretty special time for me. It's been a hectic few weeks but now I just can't wait until it all starts.
"Coming from a small town like Leeton you just don't get chances like this everyday. You have to make the most of the opportunities that you get, so I'm really proud that I can do this. With GWS now working in the area there are going to be just so many more opportunities for young players. I'm excited I get to be a part of that.
"I only started playing football when I was 13, so I didn't really think I was ever going to be capable of playing at the elite level, but now it's well and truly a dream come true."
Richmond's National Draft selections in 2011
No. 15 – Brandon Ellis
No. 26 – Todd Elton
No. 55 – Matt Arnot
Other notable AFL National Draft selections in 2011
Jonathon Patton (No. 1, GWS)
Dom Tyson (No. 3, GWS)
Chad Wingard (No. 6, Port Adelaide)
Hayden Crozier (No. 20, Fremantle)
Bradley Hill (No. 33, Hawthorn)
Lachie Neale (No. 58, Fremantle)
Career to date
Games – 28
Goals – 4
Average disposals – 10.2
Honors – Recipient of the Coaches Award at the 2012 Kevin Sheedy Medal for his fearless attack on the football