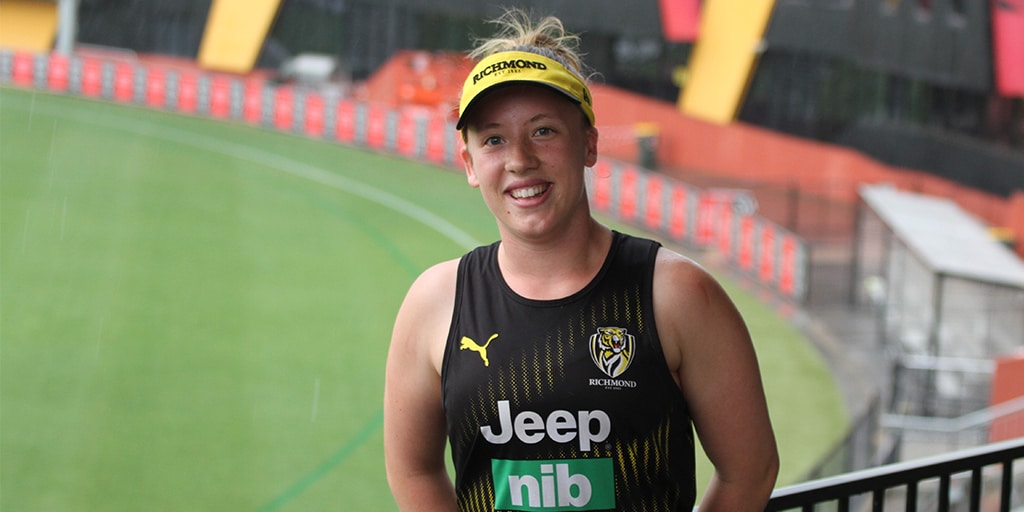 New VFLW Tiger Hannah McLaren says she grew up watching football games "from a different point of view".
Her dad participated in 328 AFL matches, but not in the way you'd expect.
McLaren is the daughter of Scott McLaren, an All-Australian Umpire whose career spanned over 24 years.
"I had a different kind of childhood with football, we'd always go to watch dad umpire and we'd view the games from a different point of view," McLaren said.
"Watching him, you see that he's at an elite level as well."
While McLaren, inspired by her dad, dabbled in umpiring throughout high school, she ultimately felt most herself with ball in hand.
"Playing was the way to go," she said.
"With the AFLW coming in, it gives so many girls the opportunity to strive for that."
View this post on Instagram
After experiencing junior success with Surrey Park Football Club, the energetic defender advanced to the inaugural TAC Cup Girls competition in 2018, where she led the Oakleigh Chargers as captain.
The 18-year-old also impressed at a senior level in Collingwood's VFLW side in 2018, where she was identified as a top prospect for the 2018 AFLW Draft.
Alas, it wasn't to be. While it was devastating at the time to not be selected, McLaren has already moved her attention to the year ahead.
"To be drafted for the AFLW in 2020, that's the biggest goal of mine," she said.
"I've got a deep desire and drive to go out and work as hard as I can, because I know there will be other opportunities."
And for McLaren, as she looks towards Richmond's introduction into the AFLW in 2020, the perfect place for her to refine her game is Tigerland.
She joined the girls on the training track in November and hasn't looked back.
"The girls have been great and the coaching staff have been awesome," McLaren said.
"I love the training intensity, all the girls are constantly pushing themselves and each other, and as a group they're always united and always accountable for one another."
MEMBERSHIP Join as a 2019 Richmond member today
McLaren is confident her time in the VFL last year, which included playing finals, has allowed her to develop the intensity and the professionalism required to play at the top level.
"Playing in the finals series with Collingwood gave me an insight into how everything steps up a level, the bar is raised and the pressure's on," she said.
"Having that experience really helped improve my game and my skills."
The VFLW Tigers head to Anglesea this weekend for a pre-season camp.
On Saturday night, the group will spectate the AFLW season opener between Geelong and Collingwood at GMHBA Stadium, with their own AFLW 2020 visions firmly in their sights.