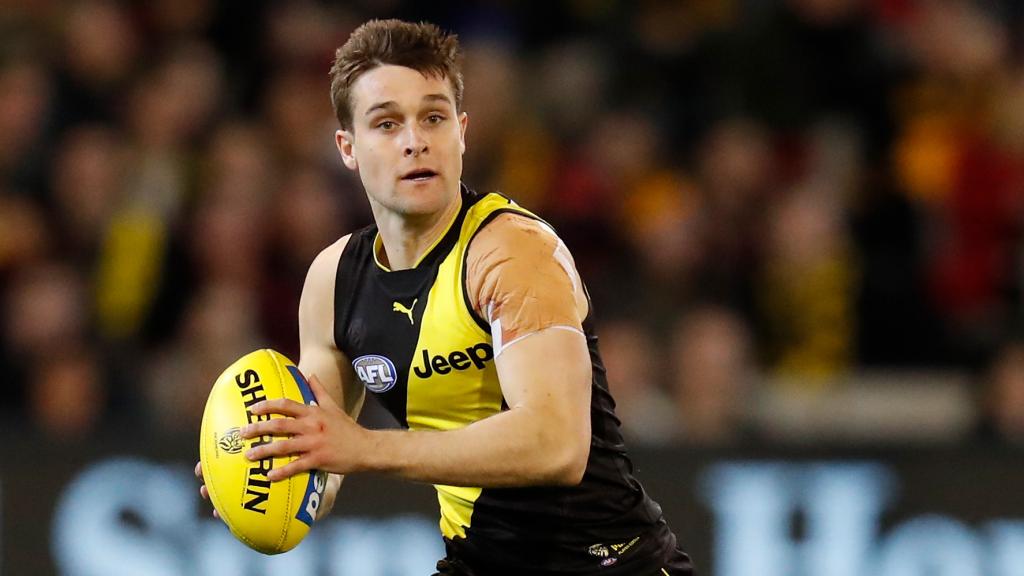 Konrad Marshall sat down with talented small defender Jayden Short earlier this month to kick-off a new series of long-form features on current Tigers by the author of Yellow & Black - A Season with Richmond.
It's Saturday morning, barely 10am, and the atmosphere at Tigerland is carnivalesque. There's a Richmond bouncing castle, sausages in bread for sale, and a few thousand people filling the grandstand and lining the grassy hill along the Punt Road side of Punt Road Oval.
This isn't a hotly anticipated spring training session before the finals, or a Family Fun Day, but rather a bog standard, late summer, late February, pre-season training session and intraclub practice match. This is Tiger versus Tiger, yellow against black.
Want to read the full feature before Part 2 is published on Saturday? Members can sign in to the Richmond App with your 'My Richmond Account', then click on the 'Roar features: Jayden Short' button to access the full piece
And there, striding out from full-back, watching the ground open up before him, bouncing once then twice, giving a handball, receiving it back, and scanning the field for a target, is number 15, Jayden Short.
The 23-year-old stands a diminutive 178 centimetres, and at 75 kilograms is hardly imposing, yet you can't miss him. It's the running style, which is perfectly balanced. That tends to happen in people with ambidextrous traits. The rest of us slope a little, bending our bodies one way or another as we turn at speed, making an allowance for our natural arc, the left footers leaning a little to the right, to lay back on the kick as it's pulled across the body - the righties doing the same in reverse. We're all drawn low by that physical crutch.
But not Short. Short stands tall, and straight. Because he can go either way, kick either side of the body, as he does now with his left, his non-preferred foot surging straight through the ball like a bolt action rifle, leg clicking forward with clean fury, driven by the hips and torso, releasing a bullet down the ground.
MEMBERSHIP The Hunt Continues in 2019; join as a member today
That was one of the first things that drew Richmond to him as a player, back in 2014, and specifically to Tigers recruiter Richard Taylor, who spotted early what many others had missed. Taylor saw him in a sunny hot practice match just like this, except at TAC Cup level, at Victoria Park. Short was running around for the Northern Knights. "Jayden just really jumped out at me. He was quick, and a beautiful kick on either side. I wasn't overly familiar with him before that, but he had these traits that stood out," Taylor says. "He certainly went into our database from that day forward."
The season began soon after, however, and Short was nowhere to be seen. He was on the injury list. And not with a slight hammy, or quad, or calf. He was out long term. In a meeting room deep inside the club, Short explains what happened.
He had finished year 12 at St Monica's College in Epping, when he was 17. "At the time I didn't like studying much, never took much care, but I think about it now and I wish I could have school back". Then he went to work as a laborer for a carpenter. He turned 18, and a good mate did too, and so they went out to a night spot in Bourke Street called Anyway.
A scuffle broke out on the other side of the club. It escalated and moved toward him. He got hit in the back of the head, and then the front, and found himself bleeding and groggy in a first aid room. "I ran my tongue across my bottom row of teeth, and the right side of my jaw had dropped - the jaw had been cracked, split down the middle and moved off to one side. I had a wire in my teeth from old braces, and they had to rip that out because it was stabbing me in the top of the mouth."
He went to hospital. He was interviewed by police. He had no case to answer, but in the football world he had a clear sense of the optics. "I'm trying to get drafted, my top age year. You're telling a club you want to work for them, but your jaw gets broken in a nightclub. It doesn't sound great. That sat in my head, that it might stop me. I knew I didn't do anything wrong, but I was scared. What if it comes down to me and one other guy at my playing level who didn't get his jaw broken? They're gonna pick him, right?"
BROWSE Find a 2019 membership package suited to you
Taylor remembers heading to the family home in Mill Park to interview Short and his family. (Collingwood and Hawthorn did, too.) Short's fear wasn't unfounded either. "There's no doubt that crossed our mind. You hear the stories, and wonder how it happens, and 9 times out of 10 the people who find trouble in nightclubs are the ones who'll find it again," says Taylor. "But listening to Jayden, he was so genuine. It was difficult to see him being an aggressor who would get himself mixed up in the wrong thing. I walked away thinking, some kids you wouldn't believe, but I believe him,"
He performed well in the interview generally, too. Often teenagers hoping to be drafted have been coached by their manager, and their affect is consequently rehearsed and prepared. Or perhaps nervous. "You don't see their true personality," says Taylor. Walking into the Short family home through the garage, he spotted a huge fridge with glass doors, loaded with beer and soft drink, and got the immediate impression that the Short household was a social one, a hub in the best possible way, with a diligent dad (plumber), a classic caring mum (secretary), and a gregarious sprout named Jayden. "We all walked away with a big smile on our face. He was just such a natural bubbly kid, grateful to anyone who'd done anything for him in life. I remember as we left saying 'The boys would love him as a teammate'. He lights up a room."
Short missed almost two months at the start of the season as a plate in his jaw helped mend the break. It was perhaps the worst time to be absent from the playing field. "That's when you want to be pushing to play for Vic Metro, and then the National Championships," Taylor says. "Those first two months are when you want to get your name up in lights." Missing them contributed to Short flying under the radar in the industry in general, but he wasn't unnoticed - coming back around the middle of the year and performing exceptionally. "Every time one of us watched him it was a positive, glowing report. You worried about his size, sure, but he's a beautifully balanced player, who impacted no matter where they played him."
It will surprise no Tiger supporter to learn that Short became the most efficient kick in the TAC Cup competition that year. But Richmond don't pay a lot of attention to that stat, given that a player who bites off only short lateral kicks can produce outrageously efficient numbers. "It doesn't count for anything if you're only hitting simple targets," says Taylor. "But Jayden was one who could pull the trigger and hit a target over distance."
His dad, Greg, taught him how, in the front yard every night. One left foot, one right foot, back and forth, always. He warms up at training still in that way, always left then right, left then right. He was never inside as a child ether, never really into books or video games or even television. He has very little interest even in other sports. He doesn't obsess over NFL games the way some teammates do, or find himself drawn into NBA finals, and he hasn't joined any of their fantasy soccer leagues. He likes to play. Behind the seat in his ute, at all times, you'll find a footy, a cricket bat and ball, tennis racket and ball, gridiron, soccer ball, baseball and frisbee, in case he can persuade anyone to head to the park to muck around. He's a terrible golfer but relishes the game all the more for that inability - the chance to cop and throw good natured abuse with friends on the tee box or green.
Jack Riewoldt says Short is a culture driver. "He's always laughing and smiling. He's friends with everyone," he says, before paying perhaps the ultimate 'Richmond Man' compliment: "He's a connector."
Re-visit richmondfc.com.au on Saturday, March 16 to read Part 2 of Konrad Marshall's feature on Jayden Short, or log into the Official Richmond App if you're a member with your My Richmond Account details to read the full piece now.
Konrad Marshall is the author of Yellow & Black - A Season with Richmond, and a writer for Good Weekend Magazine.