With today's launch of 2019 Robert Rose Foundation Victorian Wheelchair Football League by AFL Victoria, Richmond player Yasmina McGlone documents her first year involved in the program.
Last year I went along to the VWFL draft, got in to a sports chair, pulled the straps over my waist and nervously rolled myself on to the court.
At the time, my reason for getting involved was to challenge myself and to leave my comfort zone.
ANZAC EVE Click here to purchase an Anzac Eve membership with proceeds donated to the RSL's ANZAC Appeal
I was determined to not let living with myoclonus dystonia hold me back anymore. I had no idea then, but that day was about to open me up to a whole new world.
When I got the call from my captain, Matt, to say I had been selected for the Richmond Football Club wheelchair team I was extremely surprised.
I was new to the sport and had a lot (everything!) to learn, but I was excited to be a part of something amazing.
It was surreal to think I had the opportunity to represent an AFL Club.
I had only had my first experience with AFL a few years earlier when I watched games while I cleaned the MCG.
I wasted no time and straight away invested in a ball, gloves and a rented sports chair. Luckily for me, I was also part of a team that was willing to invest its time and energy in me to help me progress in the sport.
The more I got involved with the sport, community and Club, the more I developed a real passion for Wheelchair Football.
Playing the sport became much more than just bettering myself on court – it was also about looking at the bigger picture and how it could change people's lives.
AFL is a much-loved sport throughout Australia, and with every game we played we were showing people that there were adapted versions in which they too could participate.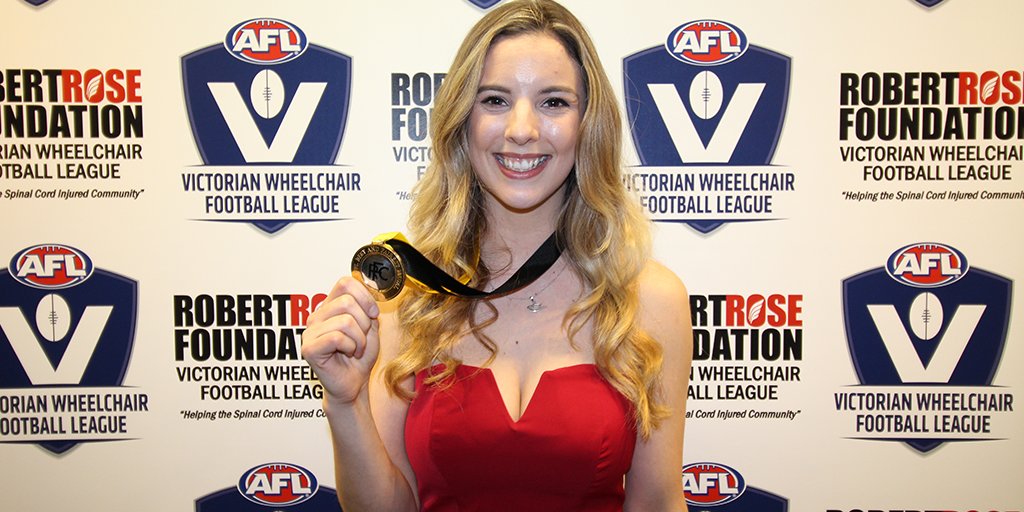 Wheelchair Football is not just people giving it a go – it's filled with athletes who have incredible talent.
As the weeks went on, my dedication to training started to pay off and my confidence grew. Game day filled me with waves of nerves and excitement, and I loved every moment.
We played well together as a team and it was amazing to sing the Richmond theme song after every win. I had never felt a high quite like it.
Playing Wheelchair Football became my happy place, I proved to myself that hard work and a good attitude could create major changes.
As I progressed through the sport, it also gave me the opportunity to share more about my story and change the perception of disability.
Footy started to become a big part of my life, I trained throughout the week, watched Richmond at their home games and competed on Sundays.
After just a month, it was already hard to imagine my life before footy and without everyone I had met through it.
As the season went on, the sport started to gain more exposure and the gameday crowds got bigger and bigger.
Spectators loved the intensity and excitement of the games. Everyone who came to watch us play and supported the teams played a major role in growing the sport.
After months of every team fighting it out on the court, it came down to a Richmond and Collingwood Grand Final.
That day was like no other, the stadium was full, and Richmond FC had gone all out to make sure it was a day to remember. We had the Club banner to roll through together as a team, and the mascots and the staff came to support us as well.
The icing on the cake would have been bringing home the cup - but on the day Collingwood played a better game and took home the premiership. The loss didn't take away how amazing the experience was for the whole team.
On the awards night, it was crazy to sit back and look at everything that had been achieved by everyone involved. The biggest surprise for me was when I was named the best and fairest for Richmond's Wheelchair Team.
I was so overwhelmed with happiness, it was a real struggle not to burst into tears. When I was younger, I used to believe that it would be near impossible for me to find happiness. It was amazing to prove myself wrong. Being part of a team has changed my life for the better.
Now, it's time to do it all over again, and I am more determined than ever to work hard and win.
VWFL defender @yasmina_mcglone will represent Victoria at the Invacare Wheelchair Australian Rules National Championships in Adelaide next month.https://t.co/b8f0oaTLNb

— Richmond FC (@Richmond_FC) March 30, 2019
It's been a whole new experience coming back into the league, not as a rookie, but as a valued player. I was able to sit in on the draft with my Captain, Matt, and help select the Richmond Wheelchair Team for 2019.
I loved the intensity of the draft pick and discussing strategies - it felt like a game of chess (not that I have ever played).
Now that we have our team selected, I can't wait to start bonding and playing together. This year I am also aiming to work on developing my leadership skills, both on and off the court, to support new people coming in to the league.
I am pleased to be continuing in the league as a Tiger and am also delighted to have been given the opportunity to do work placement at Richmond FC.
I will now be able to support the league from behind the scenes as well as playing.
I am already enjoying being more involved with the sport and Club, and I know that 2019 is going to be even bigger and better.
The sport has created a family for me, and everyone involved in our team has their own unique story. I have learned valuable football and life skills from each of my teammates.
I hope to see more people involved this year so we can see wheelchair footy grow and thrive.