Richmond VFL and development coach Craig McRae provides 'Roar Vision' with an insight into the impressive development of second-year utility Noah Balta.
Initial thoughts on him
"19 years of age and 100kg, and you think he's going to get even bigger, he's only done one pre-season really. He's an exciting player for us."
His role last year in the VFL
"He played forward and back, so he's got that ability to play dual roles. We played him a little bit in the ruck but we've got four or five talls trying to play through those positions. He's got the capability and he's got an opportunity now early in the season."
ROUND 2 Upgrade to a reserved seat or buy your tickets at ticketek.com.au
Pre-season persistance
"He didn't miss a beat. He's done pretty much every session on the track and he's starting to learn our game plan, that's his biggest growth I reckon, getting in tune with our game plan and playing those roles. Playing forward is quite a difficult thing to do, but he's a big and strong guy that can compete really well for us."
Standout JLT performance
"It was his first opportunity at this level and he showed he can play at the level, he's a real competitor. He played mainly forward and a bit in the ruck and that's where his opportunity presented for round one."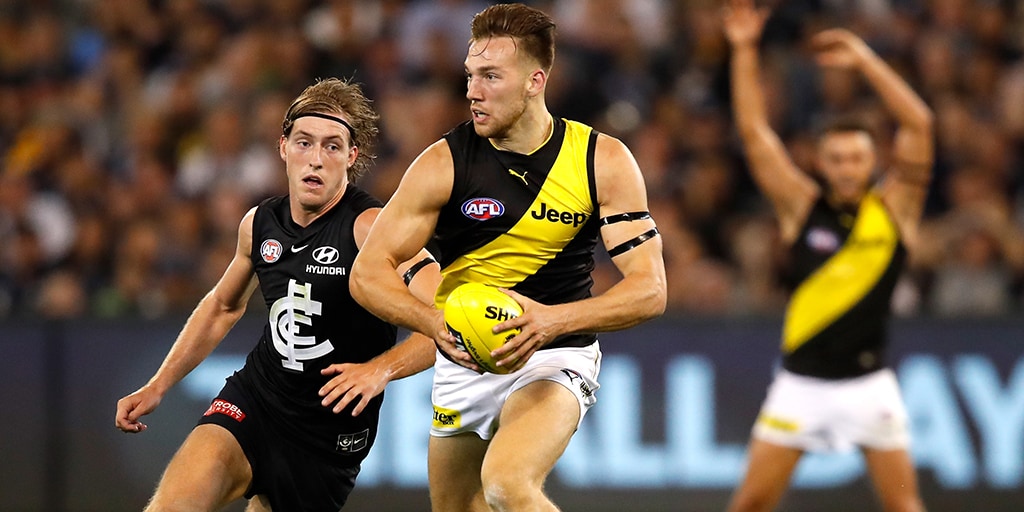 Versatility
"I think his best footy could be down back. He played that at VFL level and his intercept marking is a real feature of his. I think this day he had about three or four in a row. His aerial stuff is a standout. He's a beautiful kick for his size too…he's got great skills for his size."
Entering the 'first kick, first goal' club
"One of Noah's great strengths is his skills. He doesn't miss too many when he's in front of goal for set shots. He's got this ability to kick the ball over a long journey too, he's got so much power in what he does."
View this post on Instagram
MEMBERSHIP The Hunt Continues in 2019; join as a member today