The VFLW Tigers have recorded a convincing 22-point win over Geelong at the Swinburne Centre on Saturday afternoon.
Prevailing 8.7 (55) to 5.3 (33), the undefeated Tigers added to their winning streak by earning a fourth consecutive win of the season.
Richmond got off to a solid start, as Tiger forward Jenna Colwell scored her first of two goals one minute after the first bounce, followed shortly by a goal from skipper Jess Kennedy.
It was a high-scoring first quarter, with five goals scored between the two sides, as the Tigers trailing by seven points at quarter time.
But the Tigers responded in the second term, dialling up their intensity to pile on five goals for the quarter and hold the Cats goalless.
MEMBERSHIP Become one of the Club's first inaugural Women's Football Foundation members
VFLW Coach Tom Hunter said he encouraged the team to keep up the pressure on their opposition and make use of the space on the field.
"We just wanted to make sure our pressure around the ball was really good," Hunter said.
"We put Geelong under the pump... used our numbers really well, and we were able to finish off on the scoreboard."
Monique Conti took Hunter's directions to heart, and her ferocity earned her a team-high 29 disposals, eight tackles and seven clearances.
Conti made herself available when needed and was vital in connecting Richmond's midfield with their forward line throughout the game.
Hunter said he was pleased with the young midfielder's efforts.
"She's so young and she's getting lots of the ball, but she's putting pressure on as well," he said.
"We're very pleased with how she's tracking along."
Hunter also spoke highly of utility Jenna Colwell's performance, commending her versatility.
"We love Jenna because she competes wherever she is. We throw her into the ruck, she competes there. We throw her forward, we know we're going to get a contest from her," Hunter said.
"She had a great pre-season and really stood out with her leadership, and she's helping others get better around her."
Star forward Katie Brennan once again impressed in the Yellow and Black, amassing 22 disposals and eight tackles.
As the sun disappeared and a cool change came along after half-time, the game slowed down.
Just one goal was scored in the third term, going Geelong's way. The fourth quarter was similarly quiet, with both teams scoring one goal apiece.
But Richmond's second-quarter scoreboard damage was done, and the Tigers proved too strong for the visiting side.
View this post on Instagram
The Tigers made great efforts to lock the ball into their forward line, more than doubling the Cats' inside-50s (31 to 13).
Hunter said he was impressed with his side's ability to stick to their structures and play the Richmond brand of football.
"The pleasing thing for me is the way we're playing," Hunter said.
"We're taking the game on. We're moving the ball quickly. We're defending really well."
"It's really pleasing as a coach that you can bring young players into the side and they fit right in," he said.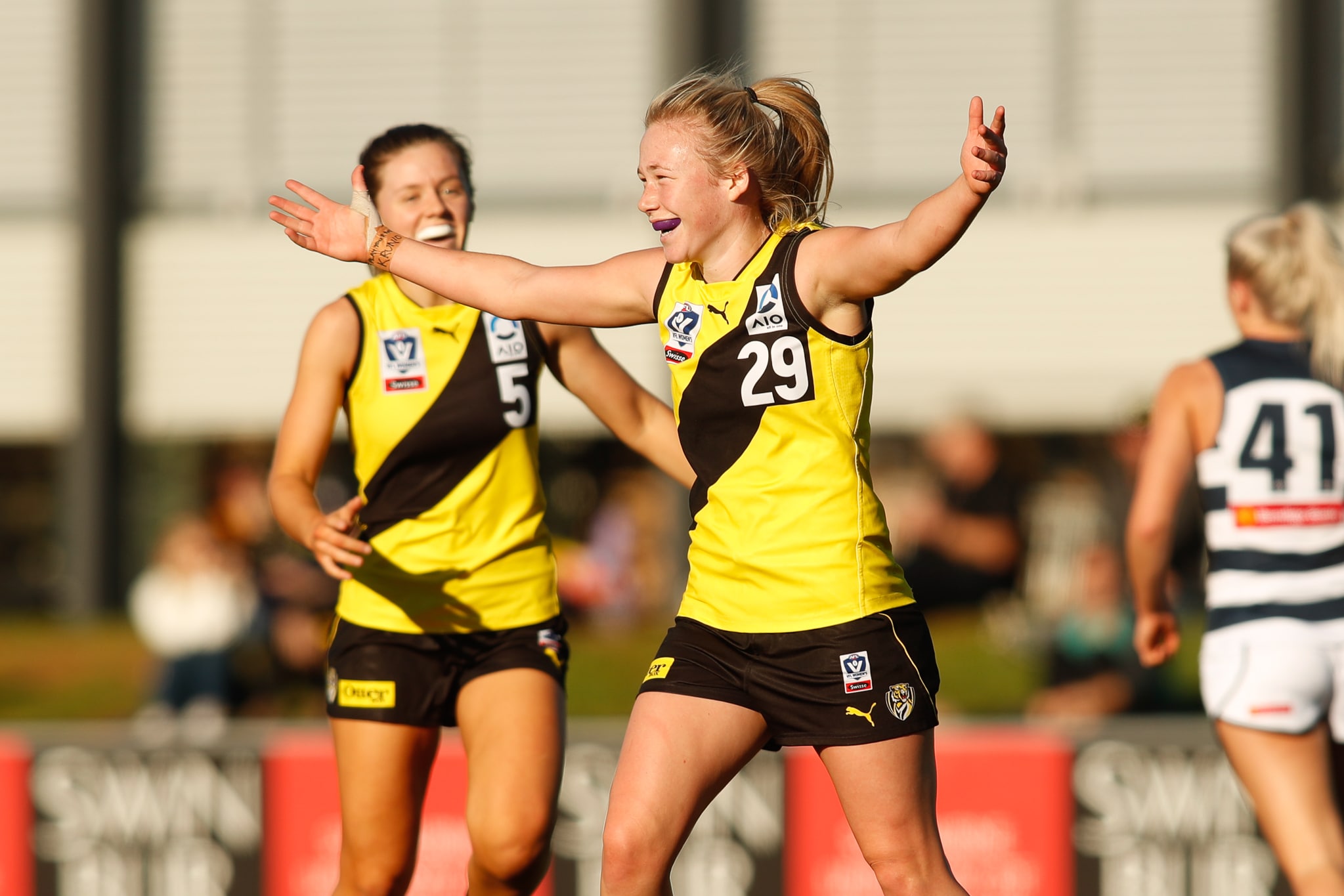 The VFLW Tigers' next challenge will be next Saturday, June 15, when they face the NT Thunder in Darwin for their first-ever interstate trip.
Hunter said the trip will provide an invaluable opportunity for the team to bond.
"We're looking forward to the experience of getting on a plane together, spending a couple days together, and really building our connections," Hunter said.
"It's a great challenge to be able to go play the Northern Territory, and we're looking forward to the opportunity to play against a quality side."