It was the year man landed on the moon.
It was the year The Beatles gave their last public performance, on the roof of Apple Records.
It was the year of the Woodstock Festival.
It was the year Richard Nixon became President of the USA.
It was the year of the infamous Manson Family murders.
It was the year the Boeing 747 made its maiden flight.
It was the year Monty Python and Sesame Street premiered on TV.
But, most importantly, in Victoria, Australia, it was the Year of the Tiger.
The 1969 season was one of the most memorable in Richmond's rich football history.
MEMBERSHIP The Hunt Continues in 2019; join as a member today
Following the drought-breaking premiership of 1967, the Tigers failed to make the finals in 1968 – and that was a huge motivational spur for them to make amends the following year.
It's glorious history now, of course, that Richmond, after a slow start to the '69 season, produced a barnstorming finish to capture the premiership in sensational style.
To celebrate the 50th anniversary of the Tigers' 1969 premiership, richmondfc.com.au will regularly transport you back in time throughout this year to follow the Punt Road path to that fabulous flag triumph.
We launch this special nostalgia series today with a look at 'The Tigers Year Book 1969', which was a special publication produced by the Club that previewed the prospects of the Tommy Hafey-coached team leading into the '69 season.
Kicking off what makes for such interesting reading 50 years on, is a message from Richmond president at the time, Ray Dunn, under the heading: "GO TO IT TIGERS – EAT 'EM ALIVE!"
"Richmond have only one mission in 1969, to get into the VFL top four, and stay there until the finals.
Only another premiership will compensate for our loss of face in 1968, when we finished fifth after squandering our ability.
This year there will be no excuses. Everyone connected with the club must produce a full-scale, sustained effort.
In this way we can prove to the football world that we can come back, and come back hard. It will be tough, but we can do it.
The players have had long and rigorous training, and will be as fit as possible.
They won't be allowed to relax – coach Tom Hafey will see to that. We must produce a consistent effort, no matter what the cost.
If we run into setbacks, then we must grit our teeth, and try even harder. Nothing is impossible if everyone works together for a common goal.
There is only one top team in the VFL each year, and that is the team which wins the flag. I want this year to be the year of The Triumphant Tigers.
I appeal for a return of the famous Eat 'Em Alive spirit, which spurred on so many great Richmond sides of the past.
It was this same spirit which brought us our last premiership in 1967, and could bring us another premiership this year.
We have the players, dedicated officials and staff, enthusiastic and loyal supporters – so let's get cracking!"
The rest of the publication consisted of season preview profiles on some key members of the Tigers' playing group.
Here are those profiles . . .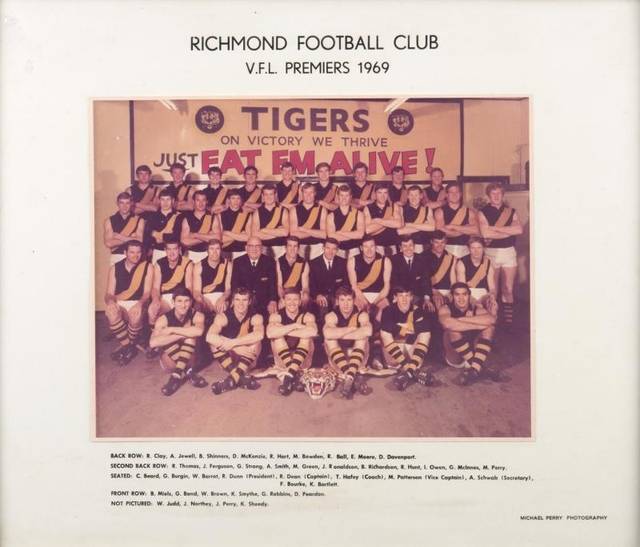 REX HUNT
"If the ability to recognise your football faults and work to rectify them means anything, young Rex Hunt should be an improved player this year.
Hunt has delighted Tiger officials with his willingness to listen to advice, and to try his hardest to benefit from it.
Like Royce Hart before him, Hunt made a great debut last year until he lost confidence in his goalkicking accuracy.
A crack shot with the Under 19s and Reserves, he found it hard to cope with the increased hustle and bustle in senior football.
This was his only flaw, however, because his general play was good.
After 13 games in his first senior season, he won the club's most promising player award.
Hunt is the type of mobile big man who can be equally effective as a full-time forward, or in the ruck.
Commemorate the 50-year anniversary of the 1969 premiership at March's Season Launch, Hall of Fame and 1969 Reunion
But it is obvious that wherever he is placed, he has a great future in League football. He is an outstanding prospect for his age.
One of Hunt's great strengths is his marking ability – he can hold his own with anyone in this department.
With further grooming – and Richmond have experts in every football skill – Hunt seems set for a long stay in football ranks."
GRAEME BOND
"Little-known, but very promising, Graeme Bond is a player who could go places with the senior side this season.
He is a very fast young player who has impressed whenever he has been given a chance to show his worth.
Bond could be a rover or a wingman and Richmond officials, who have noted his progress, are sure that eventually he will make the grade.
Like a lot of younger players, Bond will have to be patient."
MIKE BOWDEN
"Mike Bowden has made great strides as a ruck-rover in the past two years, and there's no reason why he can't go further this year.
It's up to him. He has the ability, and has only to overcome some minor faults to be a topliner.
Bowden is a great kickgetter, but sometimes he doesn't place to ball to proper advantage. It's a fault which can be overcome with more senior games.
He's a strong, tireless player who doesn't mind the heavy crushes and can lift the side."
View this post on Instagram
ROYCE HART
"Season 1969 could be the most testing year in Royce Hart's short but sensational VFL career with Richmond.
Not because of any lack of ability, but because National Service training could upset his normal training schedule.
Like other NS trainees who are League footballers, Hart will be playing under difficulties – but he's good enough to overcome them.
Hart had played only 34 games before the start of this season, and yet he is acknowledged already as a Richmond champion.
He carried all before him in his first season in 1967, when he became recruit of the year.
And although injury curtailed his appearance last year, he more than lived up to his high reputation.
He represented Victoria for the second successive year, and then toured overseas with the Galahs Australian Rules team.
Hart is a freakish forward who is a magnificent mark and a superb ground player. Possibly his best asset, however, is his intense concentration.
He will scramble after the ball on hands and knees if necessary, into the middle of a struggling pack, and ignore the dangers.
Hart, a former Tasmanian, is a product of a scheme introduced several years ago by Richmond, where promising youngsters are gradually brought to senior standard.
None of them is rushed along, and the form of Hart, and several other potential stars, is a clear indication of the value of the training scheme.
Despite his tremendous football ability, Hart is learning all the time.
In his first year he kicked 55 goals, the highest tally by a Richmond forward for 16 years."
BILL BARROT
"Few League centreman can match dynamic Bill Barrot at his top, and it's great news for Richmond that he will be back in 1969.
The Tigers sadly missed his drive last year when he had a bad run of injuries, and played only 10 games.
Now Barrot has thrown off his injuries, and is set to return to his best – and all Tiger supporters know just how good that can be.
Who will ever forget Barrot's tremendous performance in the 1967 grand final when Richmond clinched the premiership?
Barrot is a key man for Richmond, with his dashing and daring breaks from the centre.
He is an excellent long kick on the run, and can drive an opposition defence to distraction.
When Barrot is in full cry, Richmond excel at pounding the ball down towards the goals and scoring with quick-fire exchanges.
Although he is in his ninth season, and a club life member, Barrot still is only rising 25.
Unless he is again upset by injuries, he will play a major part in Richmond's form for the next few seasons.
All going well, Barrot should play his 100th day game with Richmond this year, and no player deserves this honor more.
Barrot started playing for Richmond when he was only 16, and would have reached the century before but for his bad luck with injuries.
A Victorian player, and a club best and fairest winner, Barrot's return will act as an added spur to the rest of the Tiger line-up."
KEVIN SHEEDY
Richmond have produced a string of top back pocket players in recent years and Kevin Sheedy, the present occupant of the position, is no exception.
Sheedy climaxed a great fight-back to senior football last year when he won the most improved player award.
He was originally recruited from Prahran as a centreman in 1967 after a VFL-VFA wrangle about the switch.
When he transferred to the Tigers, Sheedy knew that he was gambling on his football future. He had to make the grade, or else!
He was automatically disqualified by the VFA. If he failed at Richmond, he would be out on a limb.
Sheedy survived the first hurdle – whether he was up to League standard – by showing out well when played in the centre.
But, after a few games, he was sent to the Reserves for further experience.
Then he injured his knee, and eventually had a cartilage operation. Once again, his football future was in the balance.
Last year, Sheedy had to prove that he had recovered from the operation, and that he was good enough to clinch a regular place in the senior side.
He succeeded on both counts. He fitted in well when given his chance in the back pocket, and was never in danger of being dropped.
With those worries behind him, Sheedy's football future seems assured."
BROWSE Find a 2019 membership package suited to you
JOHN NORTHEY
Elusive John Norhtey has kicked more goals than any other present Richmond player, a remarkable effort for a half-forward flanker.
Northey had 202 goals up in 89 games before this season started, an average of just over two goals a game.
There's no risk that Northey will add to his tally of goals this year, because the MCG is his happy hunting ground.
Last year he scored 28 goals in 19 games (1 ½ goals a game average). This year he could score more.
Northey is a good example of the saying that good footballers come in all shapes and sizes.
His wiry build disguises a hair trigger football brain, and he is never more dangerous than when he appears to be out of the play.
A handpass from a teammate, a fumble by an opposing defender, and Northey is away in a flash. He takes advantage of the slightest opportunity.
Northey is a great goalsneak, and snaps most of his goals on the run. The spacious MCG is ideal for his style of play.
At the end of last season, it was rumored that Northey could be moving interstate, or returning to country football (he was recruited from Mortlake).
But he will be playing his seventh senior season with Richmond and is due to bring up his 100 games with the club."
ERIC MOORE
"No player tries harder for Richmond than skilful half-forward flanker Eric Moore, a matchwinner at his best.
Moore was a star with Coleraine when he was only a schoolboy, and he has more than lived up to that promise with Richmond.
In any other League side, he would have been a permanent player from the time he came to Melbourne for VFL football.
But, in a top Richmond set-up, he had to grab his chances when they came. He has been used in a variety of positions.
There's little doubt, however, that he is at his best on the forward line where his strength and skill lift him above the ordinary player.
The boy wonder is a much more mature player now, as he showed in this year's practice matches."
BARRY RICHARDSON
"Richmond selectors pulled off a brilliant switch last year when they turned Barry Richardson into a full-back. He hasn't looked back since.
Richardson always looked a class footballer, from the time he was recruited from famous St Patrick's College, Ballarat, and showed out for the Tigers in a night game.
He was a schoolboy forward, and it looked as though he would make his name with Richmond in attack also.
Richardson played his share of good games at centre half-forward and full-forward, and later became a better than average ruck-rover when needed.
He is a brilliant mark, and a great long kick, but is obviously better suited on the back line where he can use his pace for straight ahead play.
Richardson has a similar style to St Kilda full-back Bob Murray, and like Murray, he will become a top VFL, possibly Victorian, defender."
MIKE GREEN
"This year will be "the year" for ruckman Mike Green, to see whether he can consolidate his place in the side.
Last year he had to make the change from being purely a defensive ruckman, to doing more work around the ground.
In his 14 games, he made a reasonable fist of it, and finished with six goals.
In 1967, Green almost was a permanent back pocket ruckman, to fit in with team policy.
Although his form fluctuated, he was still good enough to be named in the premiership 20 – so there's no doubting his ability.
Green is out to press his claim hard this year."
KEVIN BARTLETT
"Two club best and fairest awards in only four senior seasons is the proud record of rover Kevin Bartlett.
He is one of the busiest rovers ever to play for Richmond, and one of the best.
At 22, he has years of top football ahead of him, and could become one of the club's all-time greats.
Bartlett was a key player in the 1967 premiership, and when the Tigers were battling last year, he was often a matchwinner.
His courage, and consistency, made him one of the favorites for the Brownlow Medal, but he missed this honor.
However, he had the consolation of winning other top awards.
Bartlett is an eager player, always in the thick of the action. If the ball doesn't come to him, he goes in and gets it.
The Victorian selectors share Richmond's high opinion of Bartlett, and he made the State team last year. He should be a regular Victorian representative in the future.
For his size, Bartlett is a hardy player. He takes some heavy knocks, but always plays on strongly.
He has great co-operation with the forwards, and is always dangerous when he has a chance to score himself.
Last year he kicked 38 goals in 20 games, and was second in the goalkicking to Pat Guinane (41 goals).
Bartlett is quietly-spoken and extremely modest about his own great ability. Even now, when he is a top player, he trains hard to improve his football efficiency.
It is this no-nonsense approach which has made him such a valuable Richmond player."