The passing of AFL great Danny Frawley last Monday has rocked the entire football world. 'Spud', as he was so affectionately known, had a profound impact at Richmond during a five-year coaching stint from 2000-2004. Four key Tigers who played under Spud – Brendon Gale, Matthew Richardson, Wayne Campbell and Joel Bowden – have paid special tribute to the coach and the man. Here's what each of them had to say (Gale and Richardson on 'Talking Tigers', Campbell and Bowden on SEN).

Brendon Gale
"He was known and loved by so many people. I've got a 12-year-old son who just worships 'Bounce' (Fox Footy program) . . . loves it. So even young kids who don't really know Danny, feel as though they do.
"When he arrived here (as coach), he almost felt like a big brother to all of us. It was more than just the coach-player relationship because he was relatable. He was up for a laugh. He took his job very seriously, but he didn't take himself too seriously. He was just all in . . . very wholehearted.
"As a coach, you want the players to play for you . . . You can have the best plans and best tactics, but it's about the players carrying it out. And we wanted to do it for Danny.
"Every day, he would reveal the full range of his emotions, and that would draw you to him. He was a guy, definitely, you wanted to play for.
"But he was more than just passionate. He had a very clear, coherent game plan, which he wanted us to execute. And we did it pretty well.
"In 2000, we built, and we were probably a bit stiff. Then 2001 was a strong, sustained year . . . I remember going into the semi-final (v Carlton) in 2001. We'd lost the week before in a very poor manner to Essendon . . . We were wound up like tops. We'd beaten Carlton earlier that year and there was probably a degree of confidence. But, gee, that was never in doubt because he just had us whipped into a frenzy.
"I was thinking about Danny on the weekend . . . It was my last game at the Gabba (2001 preliminary final). It was 'Brodders' (Paul Broderick) last game. It wasn't a great memory that night, but getting to a preliminary final was an achievement. And Danny was very, very proud of that.
"It's a privilege to play (AFL football), but it can be a tough business. It's perpetual judgment . . . But Danny made it a place where you wanted to come because you wanted to be around each other and you wanted to be around him. He radiated fun. And he worked hard. He'd get out and run . . . 800 metres, 400s, and he'd beat some of the players. He wouldn't ask you to do anything he hadn't done himself.
"Clearly, he's a legend of St Kilda. He's just beloved by that club, and we know what he means to them. But when he was here, he was all in. He fully embraced the Club, the people behind the Club, its history and tradition, and he served the Club incredibly well. He should have been very proud of what he achieved at the Club. And he was. I know that.
"He's going to loom large in people's minds for a long time."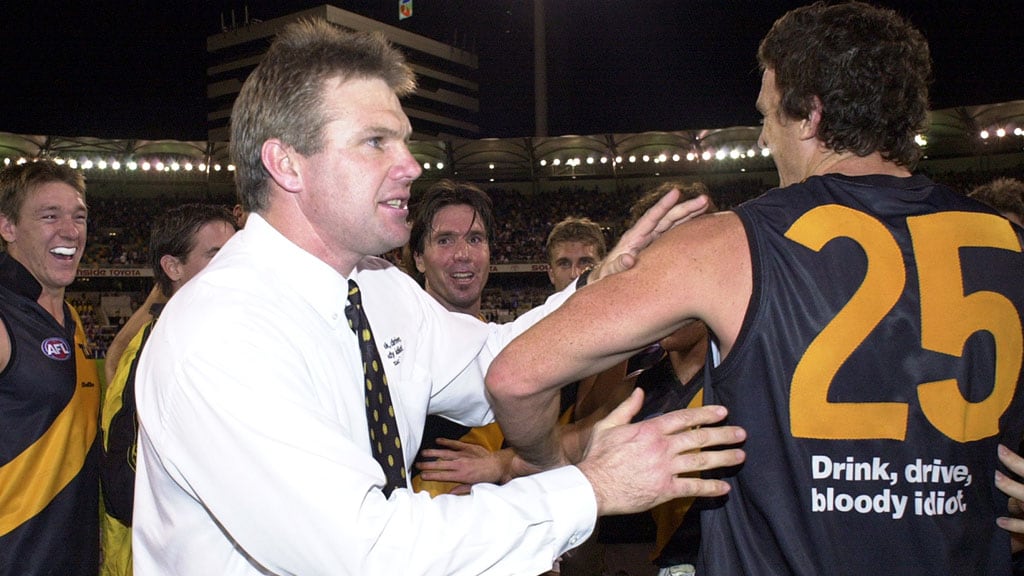 Matthew Richardson
"To me, as a coach, he was just someone you wanted to play for. And it was because of his personality. From the moment he rocked up here at the Club, he was your mate, but he was your coach and you respected him. And he got out on the track and trained with us, which everyone loved. Here was Danny running with us, doing all the hard work with us.
"Danny was just a charismatic figure. He was self-deprecating, but you also took him very seriously. He made you smile, he made you laugh, but when it was time for business, at training and on game day, we hung off every word he said.
"He built, pretty quickly, a team that really wanted to play for him . . . and it was because of the charisma that he had. You wanted to be around Danny. You'd be going to his house in Brighton for barbecues and he was just good fun. But come game day, you wanted to put it on the line for Spud. You wanted to win for him. And we had success pretty quickly.
"He was a fierce competitor and he had a strong game plan. It wasn't complicated . . . every player knew what it was and we were on the same page. Danny preached it at training, and over 24 months it worked pretty well.
"It was a great time to be here . . . That was clearly the most enjoyable time in my career, those first few years under Danny. You just loved being here. You wanted to come to training . . . you wanted to be around Spud.
"He was a humorous man . . . In the years since (his coaching stint), I reckon every time I bumped into Danny at the football, which was most weeks because we were working in the same sort of space, and also were on the All-Australian committee together, if it was a 30-second encounter with him, or a full day with him at an All-Australian meeting, you had a laugh and you walked out with a smile on your face. He just made you feel good, which was a great strength of his.
"He was an absolute beauty."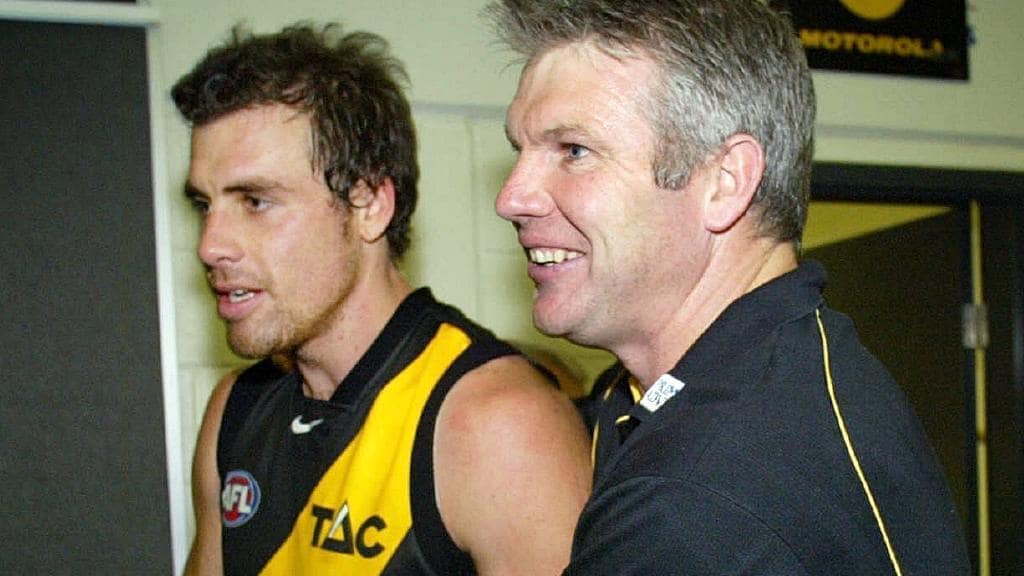 Wayne Campbell
"When anyone takes a chance on you, you never forget that. Danny took a big chance on me to make me captain. The biggest honour I've had in footy, as an individual, was to be captain of the Club. And I owe that to Danny. He took a chance and we formed a great relationship.
"Danny was a very good coach. He's been under-rated in the history books. He was a little bit before his time. He was a real relationship coach . . . When you talk today of the modern coach that forms relationships with his players, Danny did that in spades. He had enormous empathy for players. We talk about coaches being vulnerable now, that was Danny, before the word vulnerable became part of the footy lexicon. He was emotional, he'd cry in pre-games, tell us what his troubles were, and he was really open to that.
"And he also had a really good footy brain. Those first couple of years . . . we had a run to the 2001 prelim. and 2000 was really exciting as well . . . In 2001, he got the most out of the list that we had, and that's all that any coach can do.
"His passion was extraordinary. Again, people talk these days about story-telling, and that was him. He just made it fun. It was a fun time. We didn't win a premiership, but he's talked for the last three or four years about us having this reunion and had a bit of a joke about whether you should have a reunion for a prelim final. Lots of us have spoken over the last little while that we wish we had have. We'll do it now . . . we'll do it in honour of him.
"He didn't lose the players. When it's two, three, four (years) without playing in finals, and it's going downhill and the papers are coming for you and everything, the players still played for him. There was no we don't like Danny anymore or anything like that. We'd all come to the realisation that there needed to be a change, so that was okay. But it wasn't that toxic culture, where players are against the coach because, again, as everyone's said over the last little while, it's impossible not to like Danny Frawley. So, in the end, did we still love him? Absolutely. And I think every player that played under him would say the same thing. I don't think he would have had a bad relationship there. And for a coach that's coached for five years, and ultimately been unsuccessful in the end, I think that probably tells as big a tale as any you'll hear about him over the next couple of days.
"He was just truly unique . . . His legacy will be that he was a great man and a great football person."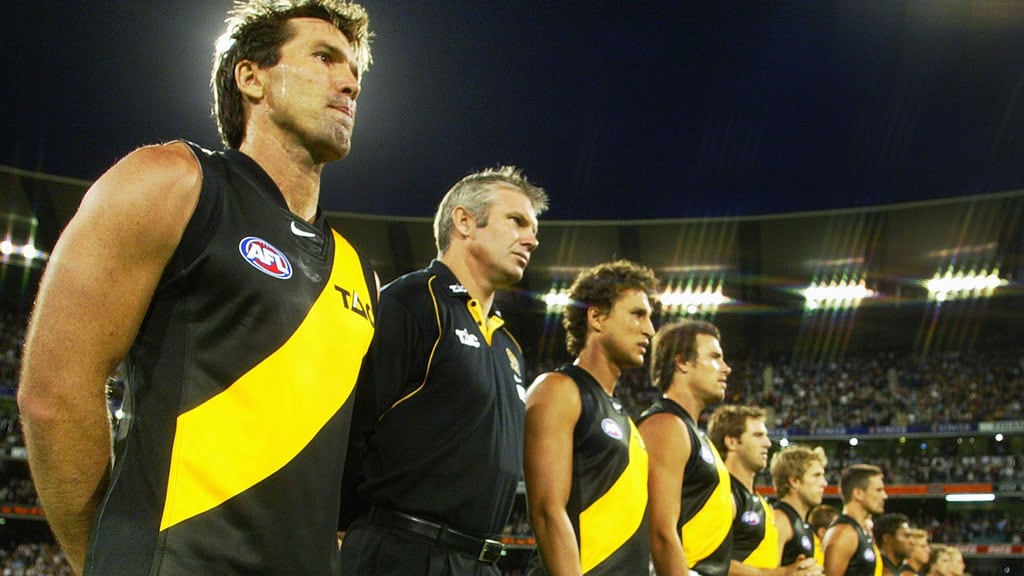 R.I.P mate. You gave me my first opportunity to play AFL. You took a punt on me, when no one else did. You were so supportive and always there for me and my family. I'm forever grateful. Condolences to Anita, Chelsea, Keeley and Danielle. Gone way to soon. R.I.P Spud pic.twitter.com/wHPMjfYqvl

— Andrew Krakouer (@andrewkrakouer) September 9, 2019

Joel Bowden
"I reckon Danny and (wife) Anita brought the Richmond Football Club together as a family club. Anita started working almost immediately with the wives and girlfriends, having functions. They started a fitness training session at the Club after hours. Danny, on the back of his work ethic, brought the playing group together very quickly and we played some of our best footy under him. By 2001, we played in a prelim final. He'd done that in two years, where we'd had probably the Richmond curse of finishing ninth again for years previously, and bottoming out a couple of times.
"He trained with us. We used to train at Sandringham a lot and I remember he'd always be running – with the slower group, that is. But he'd be doing the running after training with the boys and pushing them along. He'd actually beat a few of the guys from time to time and they'd get really annoyed and that would make them strive to get better. He was a bit of a we're-all-in-this-together guy. I'm with you. I can't play with you, but I'll support you. I've been looking at a lot of photos over the last 12 hours. I see a lot of photos with myself and other players that he coached with his hands on our shoulders. Just an added little something that he had. He certainly invested in the players. And we invested back into him.
"Danny really did look after the group. He encouraged you and entrusted you. I played my best footy under Danny Frawley in 2001, where he just let me go and pretty much run my own show in some respects. But he encouraged me to take on that position of playing on the wing and make it my own.
"It (2001) was the most enjoyable season we had as a group. I think we won half a dozen games by less than two goals that year. And, along with the assistant coaches he put around him, he was able to set a pretty good game plan. Not too over-complicated, but something that we could execute. And we were able to do well . . .
"He gave his all and did a great job for the Richmond Football Club, along with Anita. They were just central to the way that we developed as humans and developed as players.
"I can't thank him enough."