The VFLW Tigers have been outplayed by Melbourne Uni 1.3 (9) to 11.11 (77) on Sunday afternoon at the Swinburne Centre.
The 68-point defeat comes just six weeks after the Tigers defeated the Mugars by three points at Arden Street Oval in Round 4.
MEMBERSHIP Become one of the Club's first inaugural Women's Football Foundation members
Melbourne Uni burst out of the blocks with two goals in the first term as the Tigers struggled to match their opponents' opening intensity.
Both teams were met with cold and wet conditions which only continued to intensify as the game progressed, and the slippery conditions made for scrappy football.
A last-minute mark and after-siren major by Sabrina Frederick lit a fire in the Tigers' belly at the first break, and they grew hungrier for more.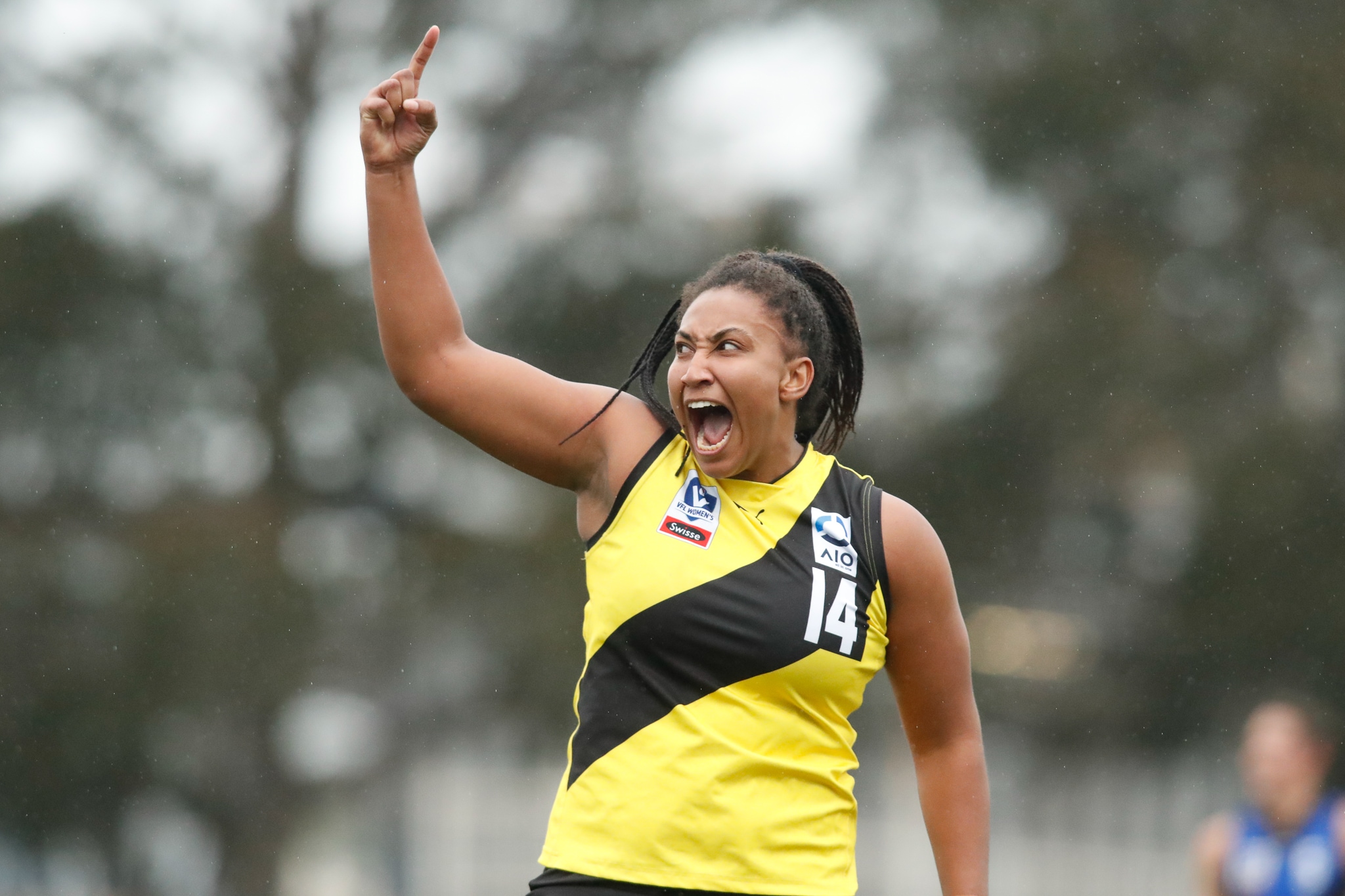 Richmond's hunger went unsatisfied, however, and the side was kept goalless for the remaining three quarters.
The second term kicked off with two Melbourne Uni goals in a matter of minutes, as the Tigers struggled to match the pace and contest of their opposition. By half-time, Melbourne Uni had accelerated to a 28-point lead.
The floodgates opened for the Mugars in the second half, as they adapted better to the wet conditions and piled on another six unanswered goals to run away with a comfortable win.
View this post on Instagram
Coach Tom Hunter said the Tigers struggled against a quality, experienced Melbourne Uni outfit and were unable to get the ball on their terms.
"We got beaten in the contest, and it makes it hard to compete across the ground if we're being beaten in the contest so easy," he said.
"[It was a] quality side today, we know Melbourne Uni have got some really great footballers at AFLW level, and they've got a really good connection with the Melbourne Uni girls as well."
While it was a disappointing result for the Tigers, Hunter said it was a valuable learning experience for the youngsters who led Richmond's midfield.
"We had a young midfield, Kodi Jacques, Grace Egan, and Maddy Brancatisano started on the inside. All 18 year olds and up against some really quality AFLW footballers," Hunter said.
"It was a great challenge for them and we wanted them to learn from that."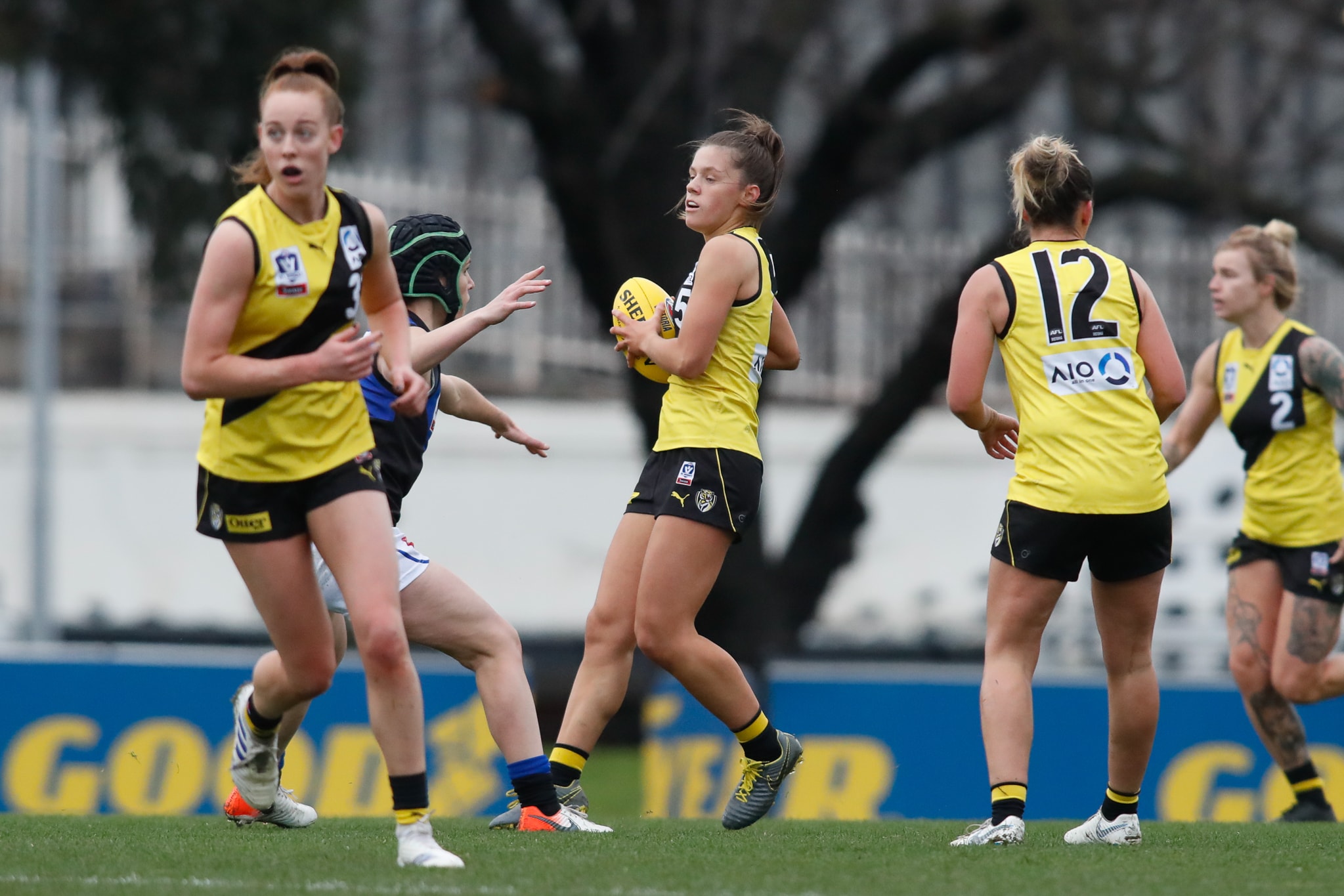 Egan showcased her gutsy nature as she collected 14 touches and laid six tackles.
Hunter commended her ability to assert her position in the midfield
"She's really strong on the inside, she gets the ball to the outside quite well, and she did some things today that were really pleasing," Hunter said.
Gabby Seymour's promising future in the ruck was once again highlighted by another powerful performance, racking up 43 hit-outs.
"We really value what Gab does, she just competes," Hunter said.
"She made some fantastic marks around the ground and we think she's done a great job as a 23rd player for the past couple of weeks…she's going to be a really talented player."
The VFLW Tigers' next challenge will be Hawthorn on Sunday, July 21 at Box Hill City Oval at 11.30am.
"We'll review the game and take the learnings away from it, and hopefully we can have a better performance next week… it's going to be another great challenge," Hunter said.