The VFLW Tigers have finished the season on a high, recording a three-point win against the Southern Saints on Saturday at Skybus Stadium, 4.1 (25) to 3.4 (22).
The Round 16 contest was a thriller, with both maiden sides vying for a win to round out their debut seasons.
It was a fierce arm wrestle from the get-go, which resulted in a lack of scoring opportunities for both sides as they went goal-for-goal in the first half.
Thick fog blanketed Sybus Stadium as the Tigers adapted to the skinny ground, playing with determination as they thrived in the contest.
Christina Bernardi spearheaded Richmond's plan of attack and sealed their first major with a monster kick that bounced all the way through.
By half-time, just one point separated the two sides.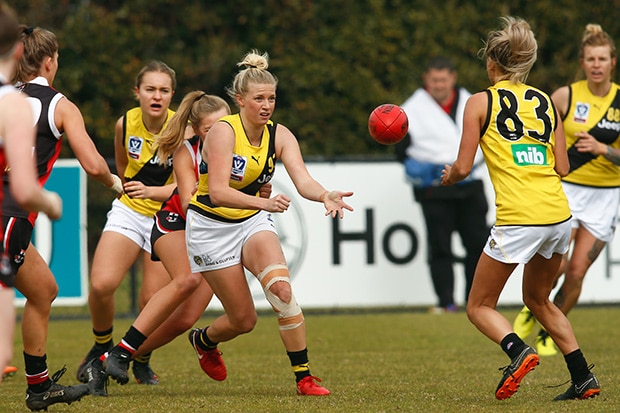 The Southern Saints broke away in the third term, thanks to a set shot by Gabriella De Angelis.
But Richmond fought back with a beautiful passage of play by Jacqui Graham, Christina Bernardi and Kate Dixon, to reduce the margin to two points at the last change.
Inspired by Coach Tom Hunter's message to make the most of the final 20 minutes of the season, the Tigers came into the fourth quarter roaring. They gathered momentum as they lifted their attacking pressure and communicated effectively.
Richmond took the lead for the first time when Bernardi executed out of traffic from 40 metres out, her second of the day.
Kate Dixon swiftly backed it up with her second, to extend Richmond's lead to nine points with just a few minutes remaining.
In nerve-wracking fashion, one final surge from the Southern Saints saw the home side bridge the gap to a mere three points in the dying moments.
But Richmond's fourth-quarter scoreboard damage was enough to secure the win.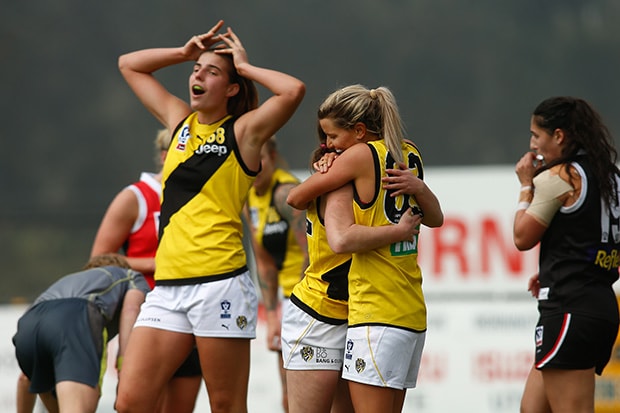 Coach Hunter said he was proud of the girls' efforts in bookending the season with opening and closing wins.
"It was an amazing of football, especially in that last quarter when it got really tense," Hunter said.
"The Southern Saints are a fantastic side, we knew they'd put a lot of pressure on the contest, and we think we matched that and we tried to get them on the outside."
Christina Bernardi displayed her football smarts as she hit her targets and amassed 24 touches, 18 kicks and eight tackles.
"She's come back from AFLW commitments and played mid forward this week for plenty of the ball this week and used it really well and hit the scoreboard," Hunter said.
Co-vice skipper and star forward Kate Dixon also played a pivotal role in forward line and showed composure in front of goal.
"Kate Dixon had a great game as well in front of the sticks. She's started and finished the year really well, a credit to all her work," Hunter
Alice Edmonds' authority in the ruck gifted the Tigers first use, and her excellent game sense, punctuated by 15 touches, illustrated once again why she is a rising star.
"Her growth over the year has been amazing. She's a really talented ruck and she's been developing her kicking, and just her contest work and her second efforts are fantastic ,and things that we really value," Hunter said.
But most importantly, Hunter praised the supportive, inclusive nature that his side has developed.
"It's a really special year to be able to start from the ground up. We wanted to establish a Richmond brand that trickles down from AFL to VFL and VFLW," Hunter said.
"We're really proud of that and I'm really proud of the girls."
RICHMOND 1.0 1.0 2.1 4.1 (25)
SOUTHERN SAINTS 1.0 1.1 2.3 3.4 (22)
Goals
Richmond: Kate Dixon (2), Christina Bernardi, (2)
Williamstown: Courtney Munn (2), Gabriella De Angelis