Roger Dean is Richmond's first Homecoming Hero for the 2017 season.
The Tigers will pay tribute to Dean during the pre-game build-up at this Thursday night's big Round 2 clash with Collingwood at the MCG.
Dean, a true Richmond great, will walk to the Punt Road end of the ground, where he'll receive due recognition from the Tiger Army.
He'll kick a ceremonial goal, then sign the football and present it to a Richmond fan in the crowd.
Highlights of Dean's illustrious playing career with the Tigers also will be shown on the MCG's screens.
Roger Dean was born and bred in Richmond and, as a youngster, idolised the Tigers' dual Brownlow Medallist Roy Wright.
Tickets are still available for our opening home game against Collingwood, from $25 (Adults), $17 (Concession) and $5 (Children).
Dean's time at Tigerland started when he tried out with the Club's fourths, as a 15-year-old, in 1956.
He played in the fourths premiership side that season and, the following year, completed an amazing, meteoric rise through the ranks at Richmond.
During the 1957 season, Dean graduated from the fourths, to the under-19s, and then the reserves, before making his senior league debut with the Tigers in the final home-and-away round against eventual premier team Melbourne.
It wasn't until 1961, however, that Dean firmly established himself as a regular member of Richmond's senior side.
Initially, he made his mark as a half-forward, winning the Club's leading goalkicker award in 1964.
He then had a successful stint in the back pocket, minding the opposition's resting rovers – and making life hell for them, through his tough, uncompromising style of play – before returning to the forward line for the final part of his league career.
Although only 175cm and 73kg, Dean was a 'pocket rocket'. He was a strong, bold, spirited player, whose win-at-all-costs attitude made him an inspirational leader.
In the book "Richmond F.C. The Tigers: A Century Of League Football", Dean told author Rhett Bartlett what motivated him on the field of battle . . .
"Even in the early stages, when we were second last or last, it could be the last game of the year and we could be 15 goals down and I still wanted to get another kick. It was pride. I never ever wanted to be beaten; even if we were beaten, I still wanted to get another kick.
"Someone said at a function I was at one day, 'It must be fantastic playing around Royce Hart, Francis Bourke and Kevin Sheedy, and must give you a lot of inspiration playing alongside them.' I said no. I've always felt if you need someone else to give you inspiration to play there's something wrong with you. It should be just your own pride. Every time I went onto the field I wanted to be best on the ground. I didn't care about anybody else, I couldn't control them. I wanted to be best on the ground because I didn't want to be beaten. If I could play well that meant it could help the side anyway.
"Tough is going for the ball at all costs at all times . . .
"First and foremost I felt I was a team man . . . It was always in me, when someone was there to handball to, I always handballed. Kevin Bartlett once said to me, 'I always tried to get close to you when you went in to get the ball, because I always knew the handball was coming out.' It was in me, I always felt I had to play a team game, and that's what it is, a team game."
Dean had played in just 30 wins in his first 103 games of league football, at a strike rate of 29%, up until the end of the 1965 season, when Tommy Hafey took over as Richmond's coach.
Hafey's arrival signalled the start of the greatest era in the Tigers' history.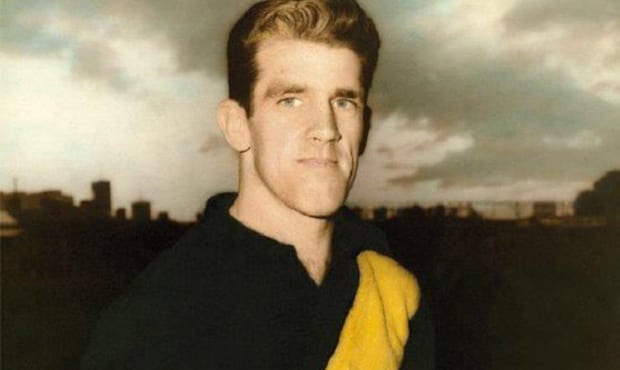 After finishing an unlucky fifth, with 13 wins and a draw from 18 games in Hafey's debut season as coach (1966), Richmond broke a 24-year premiership drought in 1967, defeating Geelong by nine points in a Grand Final classic.
At 27, Dean was one of the veterans (and vice-captain) of that '67 premiership side, yet, like first-year players such as Royce Hart and Francis Bourke, he had no finals experience going into that September campaign.
Throughout the vast majority of his first decade at the Club, a finals appearance was something he could only dream of, as he sat up in the stands watching players from the league's then power clubs – Melbourne, Collingwood, Essendon and Geelong – strut their stuff in September.
That all changed, in a mighty big way for Dean under Hafey's astute coaching guidance.
During the last eight years of his playing career, Dean played in 142 games, for 103 wins, one draw and 38 losses.
Dean's winning strike-rate during that period was 72.5% – a massive improvement on the 29% in his first nine years at the Club.
When Richmond's 1967 premiership captain Fred Swift retired after that glorious triumph, Dean, not surprisingly, was appointed the Tigers' skipper.
He went on to captain Richmond in 75 matches from 1968-71, including the 1969 Grand Final triumph over arch-rival Carlton.
Dean handed the captaincy baton to Royce Hart in 1972, but he continued to be a valuable contributor for the Yellow and Black until his retirement at the end of the 1973 season.
He'd played 245 senior games all-up, kicked 204 goals, and been a key member of two premiership sides throughout 17 seasons with the Tigers.
In 1999, when Richmond announced its Team of the Century, Roger Dean was named on a half-forward flank.
Dean also was one of the original inductees in the Tigers' Hall of Fame, and he's been a Club Life Member since 1964.
Legendary Richmond administrator Graeme Richmond described Dean as "pound for pound" the best player he saw in his time at Tigerland.
That was high praise, indeed, from the incredibly influential Tigers' power-broker, and further underlines why Roger Dean is Richmond 'royalty'.
Here is a list of Richmond's Homecoming Heroes since 2014...
| | | |
| --- | --- | --- |
| 2014, Rd 2: Michael Green | 2014, Rd 4: Kevin Bartlett | 2014, Rd 6: Bryan Wood |
| 2014, Rd 13: Kevin Morris | 2014, Rd 14: Wayne Walsh | 2014, Rd 16: Barry Richardson |
| 2014, Rd 19: Rex Hunt | 2014, Rd 20: Francis Bourke | 2015, Rd 2: Bill Barrot |
| 2015, Rd 5: Andrew Kellaway | 2015, Rd 7: Mark Lee | 2015, Rd 9: Derek Peardon |
| 2015, R12: Dale Weightman | 2015, R15: Matthew Richardson | 2015, R17: Dick Clay |
| 2015, R20: Barry Rowlings | 2016, R6: Matthew Rogers | 2016, R7: Jake King |
| 2016, R8: Nick Daffy | 2016, R12: Nathan Foley | 2016, R14: Dan Jackson |
| 2016, R17: Scott Turner | 2016, R20: Jim Jess | 2016, R21: John Ronaldson |
| 2016, R22: Graeme Bond | 2017, R2: Roger Dean | |