Oh we're from Tigerland
Stories of being Richmond
Kylie Maslen, 34, Brunswick (via Adelaide)
Favourite all-time player
Matthew Richardson – "Has to be Richo. But I've also a soft-spot for Nick Daffy because he played for all three of my teams. North Gambier, Glenelg and Richmond.
Favourite current player
Jack Riewoldt – "I love his cultural leadership. He was the one who spoke up in defence of Caroline Wilson after Eddie McGuire's comments, and he led the Triple M ban. I still think often about when he re-signed and Carly [Ziegler], his partner, wrote a piece about how they'd really thought about the Richmond culture and the Richmond community, and how important it was for them and their family, when they eventually have kids."
Kylie Maslen is a feminist and an unabashed football fan, and the two are not mutually exclusive, despite how sometimes the relationship is tested.
The connection is topical to Australian Rules football – a code priding itself on its female participation – and one Kylie has written of, in an essay for the Melbourne-based literary journal Kill Your Darlings, in which she skirts from the game as a traditional boys' club, to the AFL's Respect and Responsibility Policy (including its "commitment to address violence against women"), to Peggy O'Neal, the game's first female president (Hawthorn has since followed suit).
She also cites Anna Krien's Night Games, an award-winning book that ought to be read by all in the football industry. Following the rape trial of a footballer, the book shines a fearless torch on a dark side of masculine culture – from the behaviour of Sam Newman and Ricky Nixon, to the worst ways women have been treated.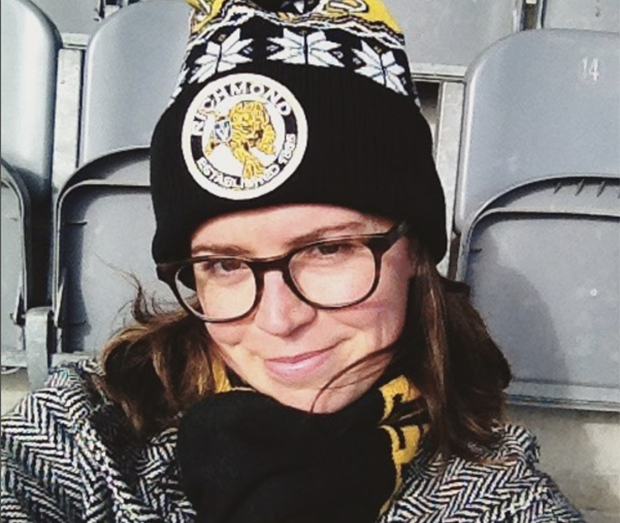 Shining bright: "One of the things I love most about Richmond is their inclusiveness."
"I'm a great believer in changing a culture from within," says Maslen, over a cup of tea in an empty MCG on a midweek morning.
"One of the things I love most about Richmond is their inclusiveness, their policies and very real actions about gender equality in the club. It makes me love them even more."
She returns often to this word - love - a visceral and cerebral emotion so many Richmond fans know so well. This past weekend, with no fix of Alex and Cotch and Dan Rioli, we've had to barrack instead for Carlton and Essendon (then shower afterwards) if only to enhance the ladder position of our beloved Tigers.
I ask Kylie her thoughts on "Benny and Peggy" and she positively swoons with approval.
"I just love them. I'm super nerdy and read all Peggy's chair reports and I think the work those two have done is extraordinary. In my eyes, it's like they're building this utopian community. One that's supportive of one another, that's cohesive, that's about being a team."
Her thoughts are instructive in that they represent so many in the crowd, and because she's aware how at times the game has served women poorly. They've been commodified, stereotyped, publicly denigrated – and all often at once on Brownlow night.
Talk veers to the comments made by Eddie McGuire this time last year, after the Queen's birthday game and its charity dunk. On radio, he said he'd pay $50,000 to see award-winning football writer Caroline Wilson held under water. Wilson is the daughter of former longstanding Richmond Football Club president, Ian Wilson. McGuire said she was "like the black widow".
Rebuke followed. McGuire had a few goes at apologising. Richmond Football Club made a public stand.
Kylie says she was proud of our club's response; to call out misogyny, its threatening language, a culture of abuse.
**
Kylie Maslen was born in Mount Gambier the week before the 1982 Grand Final, and as such is a flag-bearer for Richmond's 'lost generation' – a large cohort of fans who've never seen Richmond play in the sharp end of September. It's a longing that breeds black humour, if only to cope.
"My joke this year is we might lose two finals, instead of just one."
"There's just something very Richmond about the whole situation. We're always a bit like the kid that finally gets the ice cream, then the scoop falls into the sand. It's frustrating, but it also just makes you love them even more."
Kylie became a Tiger through a song, and colour association. As an Adelaide girl, growing up in Colonel Light Gardens, a few suburbs east of Glenelg, a grandfather of hers was a clubman for Glenelg's Tigers, where every Thursday night her family had dinner in the clubrooms. The only daughter of two public school teachers, both from working class families, her formative football memories where of Saturday afternoons with her younger brother and parents, barracking for 'the Bays' in the SANFL.
So, when she moved to Melbourne six years ago for work as an event producer for music and arts festivals, her support bled naturally to Richmond. With a home-and-away membership, she goes usually to games alone – anonymous in the crowd – sitting at the MCG's Punt Road end.
The game's routine, she says, quells pangs of homesickness.
"It gives me community. I haven't always had an easy time being in Melbourne, away from family, and whenever I'm at the G or among footy people I feel like it's a home."
Significantly, at the game as a single woman, she says she's always felt safe in a Richmond crowd, unthreatened. Female spectatorship is one of the defining features of the AFL, moderating gendered insults and making the game more accessible to all. Australian Bureau of Statistics figures from the 2010 season show 1.7 million males attended AFL games, and 1.2 million females. The AFL attracts twice as many women to the game than rugby league.
In numbers there's strength, and Maslen says the burgeoning place for women at football's upper-end has been led by an array of trail-blazers, from Elaine Canty (first and only woman to be appointed to the AFL Tribunal), Susan Alberti (vice-president of the Western Bulldogs) and Caroline Wilson ("she has fought so hard, and still has to fight hard every day"), to luminous-stars like Channel 7's Sam Lane and its newest recruit, Daisy Pearce, and journalist Sarah Ollie, and the Outer Sanctum, an all-female podcast started by six mostly Hawthorn-loving fans, now broadcast on the ABC.
Richmond, for its part, has set a target of a 50-50 female-to-male staff ratio within the next 10 years, and is lobbying for inclusion in the women's competition.
"I'm thrilled Richmond have taken-on Kate Sheahan to push for a team in 2019," says Maslen. "It would mean so much, Richmond being part of it."
The runaway success of the AFLW in its inaugural season has obviously been a Great Leap Forward for women in the game. Kick like a girl? That's some compliment!
"It's had an enormous impact on women who up until now might have been sceptical about the game," says Maslen. "It's so exciting to see clubs like the Bulldogs and Carlton embrace their women's team as part of the whole club. It's changed football, what people think the game can be."
**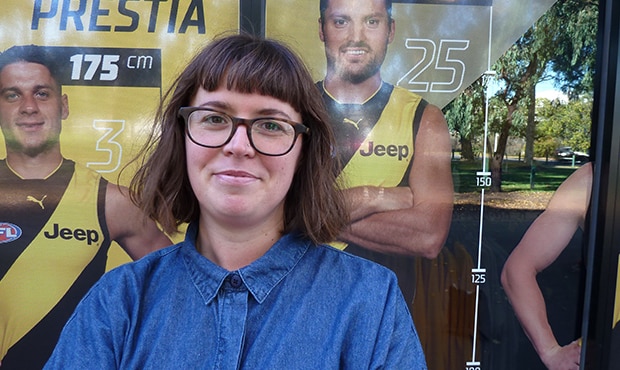 A woman among men: Kylie Maslen measures-up to three Richmond star recruits.
Feminism and football, for a bloke like me, is such an intriguing puzzle.
Reading Krien's Night Games gives a deeper understanding of all the nuances of sex and power in the game's wider sphere. In a discussion on the objectification of the body, the author quotes feminist historian Dr Margaret Lindley at length, about how a footballer is not stationary, and the significance of this.
A footballer, says Lindley, being interviewed on radio, is a "moving object that is powerful, that is surging, and that moreover is moving not for the sake of the observers – none of those players are moving for our sake, for our pleasure, they are doing something for their own, their team's purpose. And to some degree they are completely oblivious of us. They may hear us, but they're not performing for us in some sense… Now if you take the strip show: a woman or a man in a strip show is a posed object, even when they move. Every move is designed not to express themselves, their energy, their goals, their motives, but simply to – 'I think you will be pleased if I move in this way'."
Maslen thinks carefully about this line between admiration and idolisation, and where it might be drawn.
"The hyper-masculinity of the sport can be an issue off the field," she says. "But it's a contact sport and when you see Dusty knock someone to the ground with his fend, or a melee on the field, I get caught up as much as anyone. There's an admiration of that athleticism, of the beauty in what they're doing."
But as with others, in the game she sees also great tenderness, and a care and togetherness.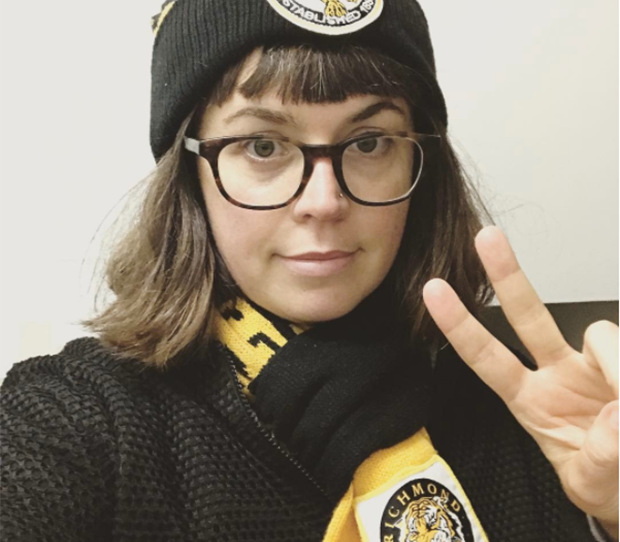 V for victory: a sign for this Saturday at the G.
At her last game, the win over North, she was struck by a group of early-twentysomething girlfriends behind her. "They were having a really fun night out at the footy, together," she says. "It was no different to a bunch of blokes going to the game. They were cheering, talking about the play, about what they were up to, enjoying each other's company. It was lovely."
And it was oh, so very Richmond.
Go Tiges!
And go Kylie Maslen at the G this Saturday arvo, back from her "Dusty-inspired bye round, where I go home and see my family".
If you would like to nominate a Richmond fan who has a story to tell about their barracking please email Dugald Jellie with details: dugaldjellie@gmail.com
For some words on the win over North Melbourne, and the season's state-of-play, see www.tigertigerburningbright.com.au